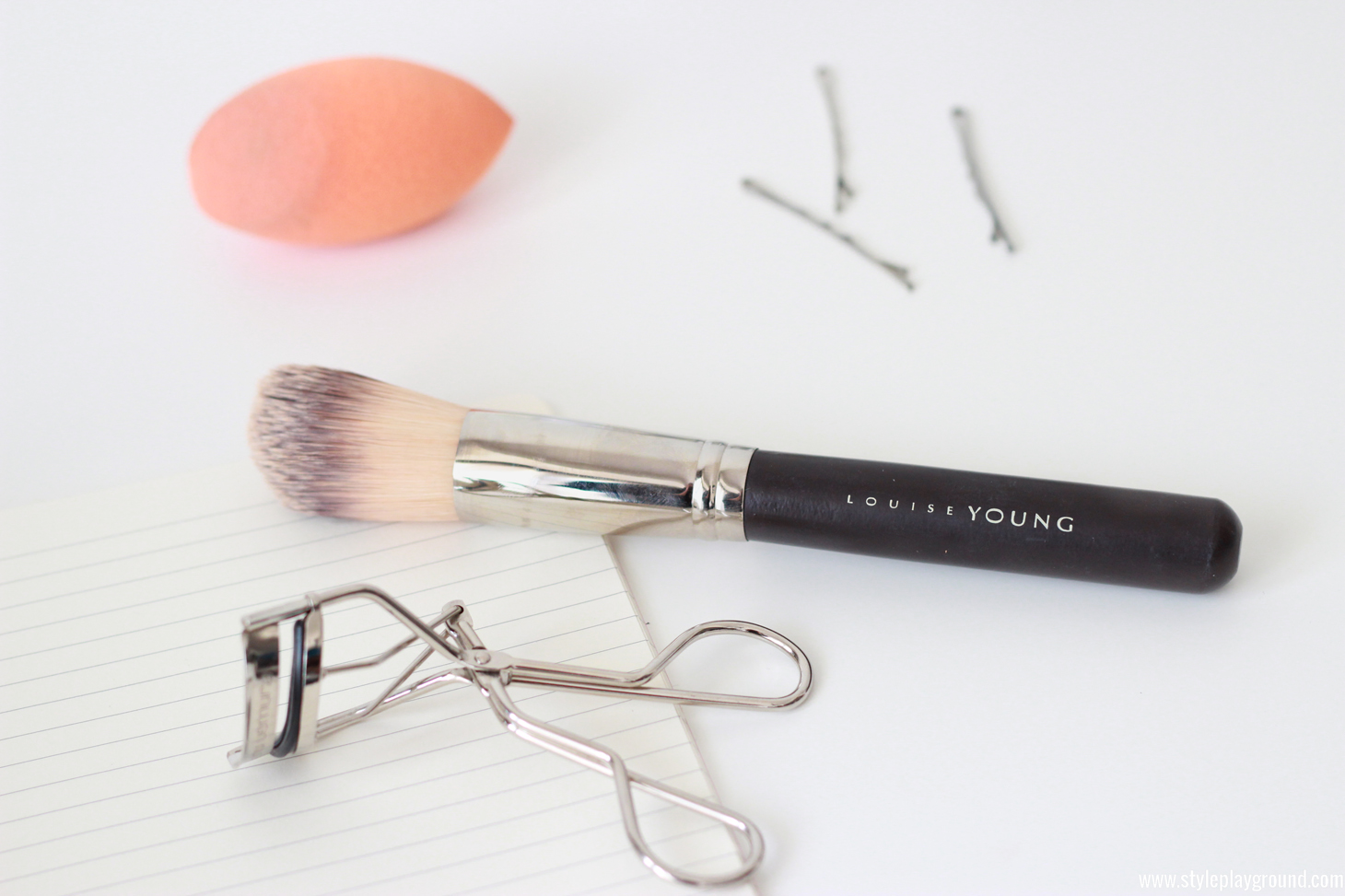 Whenever I talk makeup with my best friends, it seems that the main issues that they encounter could be easily solved with the right beauty tools. Something as small as a great eyelash curler or the perfect foundation brush can really transform your makeup instantly. Here are my 3 personal favorites that I reach for every.single.day.
Applying foundation flawlessly is probably one of the hardest thing when you're starting with makeup (with creating the perfect symmetrical eyeliner that is!). It can go on a bit patchy, act a little bit cakey around the eyes or the nose and overall be a full on nightmare. That's the reason why I adopted foundation brushes pretty early in my makeup routine. I've tried a lot, from flat synthetic brushes to big fluffy kabuki styles ones but this Louise Young one is the star of the show. It's big, I am not going to lie, which makes it quite a pain in the bum to travel with, but other than that, it is pretty fab. Its long synthetic bristles are perfect to reach those tricky areas, like around your hairline, while blending everything quickly and seamlessly. There are less expensive foundation brushes on the market (I also love this one) but if you're looking to invest in good quality brush, I really recommend this one.
I've been curling my lashes for as long as I can remember and I am convinced that even the worst mascara can be acceptable if you have curled lashes. It took me a while though to buy these eyelash curlers. Before that, I use to buy really cheap ones from H&M or Hema and I simply kept on repurchasing new ones whenever they would break. It's funny now that I think about it because I must have spent more money on these cheap ones than I did on these Shu Uemura ones! I finally caved in a couple of years ago and splurge for the real deal that all the beauty industry was raving about. And it turns out that these are as good as everyone says. The part where you insert your lashes is very curled, so you can grab all your lashes in one clamp and the strength of it is really strong without being too hard. I've been using the same ones for years now and I never replaced them, or the little plastic thingy. I simply clean them every once in a while with a cleansing wipe and voila!
I remember when the beauty blender came out, it was the hot topic in the beauty world. Everyone agreed to say that it was revolutionary and the secret to a flawless base. I personally never tried the original one, just because I prefer my brushes, but decided to give this one from Real Techniques, one of my favorite brands, a go. And I am glad I did. This sponge is the last step in my foundation routine now. I tab my face with it to make sure that everything is perfectly blended in, but I also sometimes use it to apply a cream blusher or bronzer for a more natural and dewy application. I personally use it dry but it works equally as fab when wet, as it doubles in size and makes for a perfect dewy finish.
Have you tried any of these products? And what are your essential makeup tools? Let me know in the comments below!