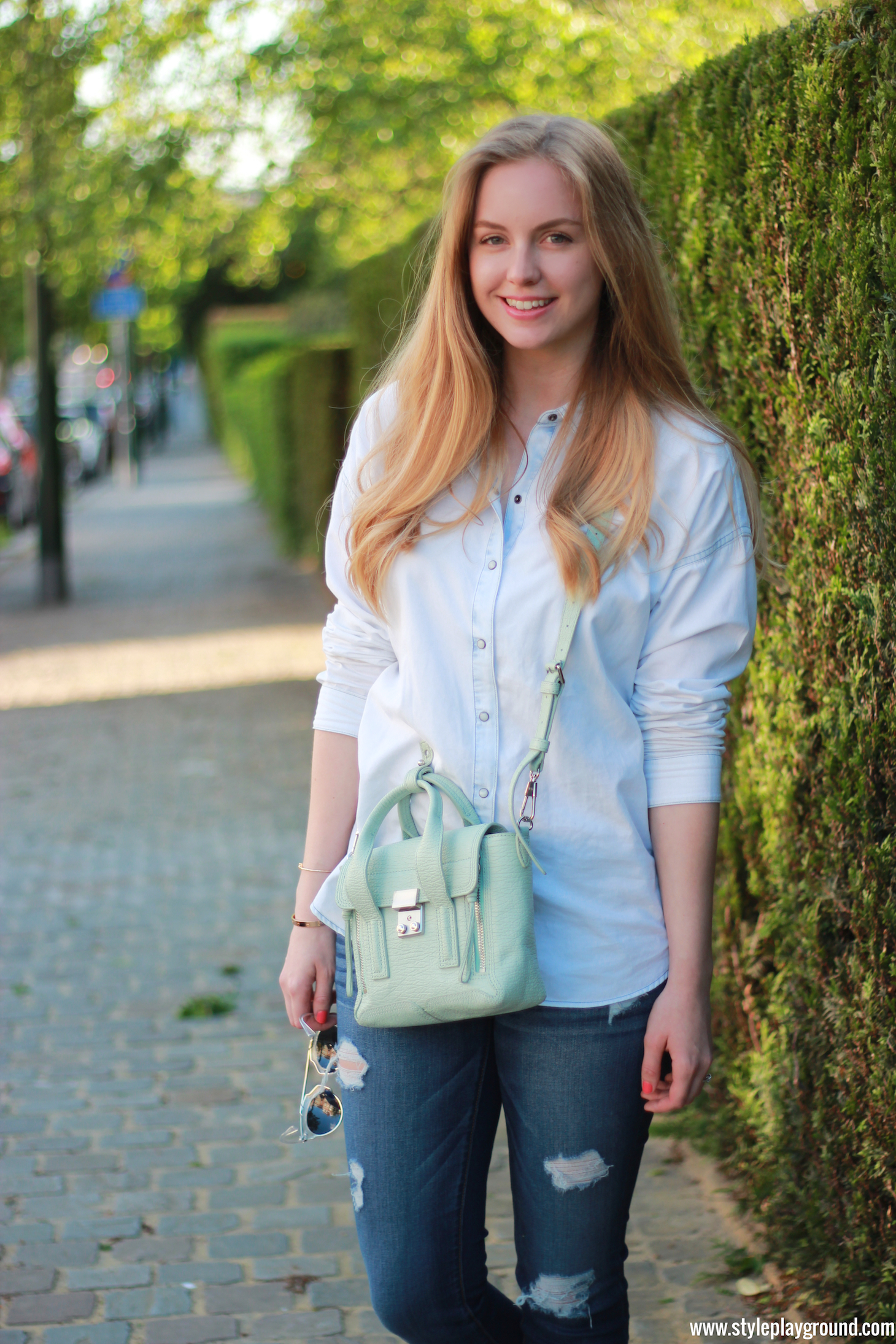 Wait… Could this be an outfit post? Yep, you're not dreaming! We shot these photos two days ago and I couldn't be happier about it. Since the beginning of the year, I've found shooting outfit photos harder than usual. There's always something getting in the way, whether it's urgent errands to run, a busy weekend with little to no free time or simply the Belgian weather acting up. But since Spring is back in full force, that means that we're actually able to shoot photos when Renaud get back from work, which is way better than shooting during the weekends in my opinion. The light is better, the streets are less crowded and we don't have to feel stressed about running out of time. The weather has been pretty unstable recently so coming up with outfit ideas is a little though. It could be pouring in the morning with thunderstorm and everything and then the afternoon turns out to be bright and sunny… The best option I have found so far is to mix my favorite denim shirt with a pair of skinny jeans and my brand new pair of Converse. I was way overdue for a new pair (my old pair was from my trip to Hong Kong in 2008!) and I simply adore them. I am not too keen on that whole Adidas trend but I find white Chucks to be perfect on an everyday basis.
It feels great to finally find some sort of normal schedule again. The past few weeks have been nuts (discover why in this video) and I truly appreciate getting back on track and being able to do things that I really enjoy like filming videos, going out for a run or cooking healthy meals!
Also, did you notice this new gorgeous bracelet on my wrist? This Tiffany & Co T bracelet is actually a belated birthday present from my mum and I couldn't love it more. It's made in delicate rose gold and looks super dainty, which means that it looks great paired with my Cartier love bracelet. For the longest time I haven't been a fine jewelry fan but ever since I got my Cartier bracelet, I've sort of developed a slight addiction. Sure, I still love handbags and shoes, but I think that a piece of jewelry is the perfect way to celebrate a new chapter in your life, whether it's getting married, turning 25 years old or landing your dream job, don't you think?