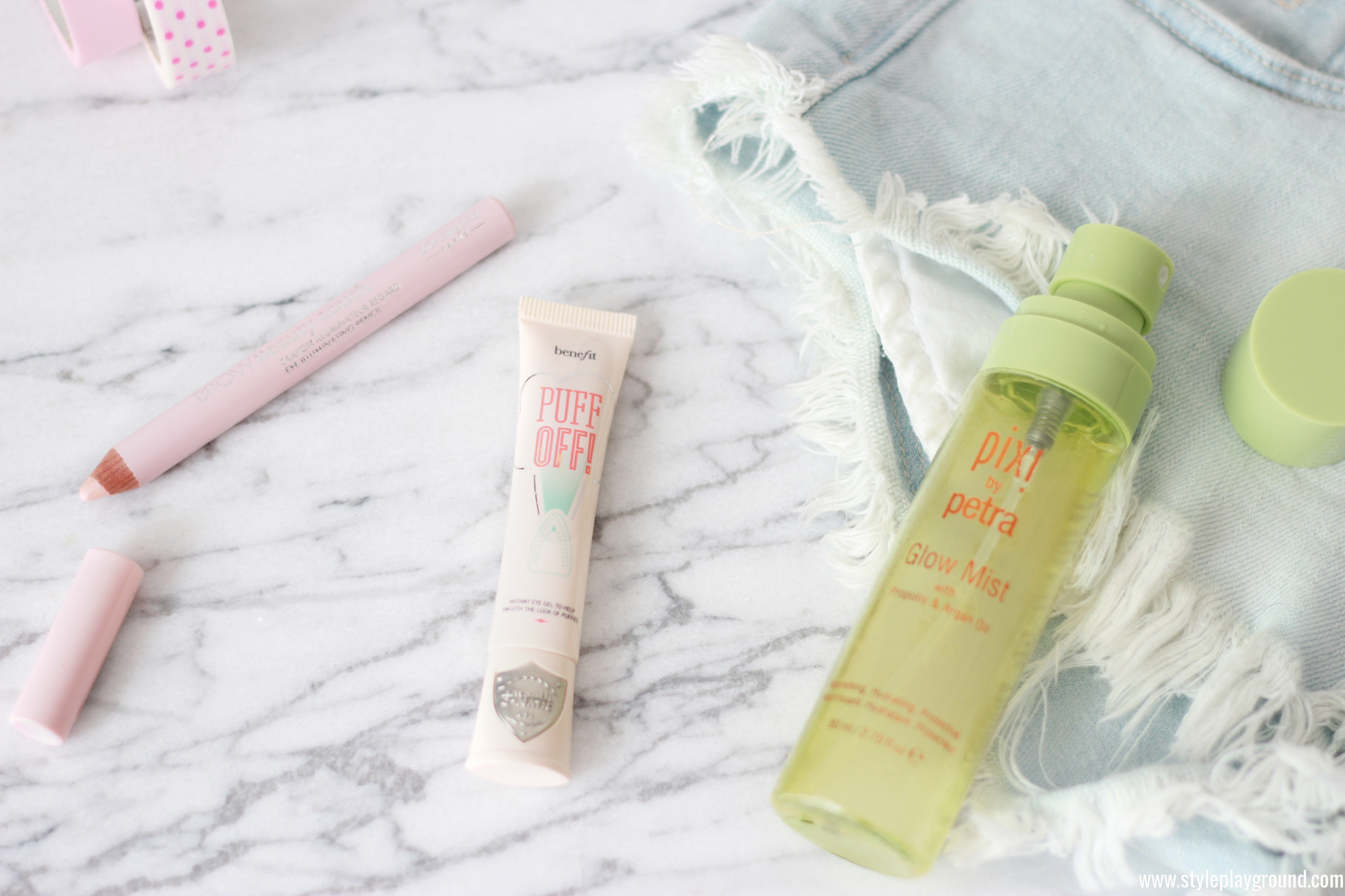 With summer here in full force, I changed things up a little bit beauty wise. Since we're working long hours in the new house to get things done asap, I've been wearing less makeup and concentrating more on good skincare that kind of doubles up as very light makeup. The Benefit puff off is the perfect example of that. This cool tinted eye gel is great to reduce the appearance of dark circles and to refresh the eye area. While I like it underneath makeup as it provides a perfect canvas for concealer, I absolutely love it on makeup free days. Since it reduces the appearance of dark circles, it is the perfect product to put on as a last step in my routine before heading out the door. While my dark circles aren't complete hidden with this, they're definitely less visible and this makes me look a tad bit more awake. Another product that I've been absolutely head over heels recently is the Pixi glow mist. I wasn't impressed with it at first and thought that it didn't compete with my Elemental Herbology 'flower harmonising mist' but, a few months down the line and I find myself using it both morning and night. While it doesn't have a spectacular effect, this fine mist really helps to rehydrate my skin, especially after cleansing. It feels both fresh & cooling but not particularly glowy to be honest. I've never tried it on top of makeup although I guess it would be just as fantastic.
Finally, for days when I've been wearing makeup,
the Bourjois brow beauty touch
 pencil has been a nice little addition to my routine. This big pastel pink crayon is designed to be used just underneath the brow arch to open up the eyes and illuminate the whole face. And it does exactly that. I apply it underneath my brows as well as in the inner corner of my eyes and ist does quite a bit difference. While this is something that I don't do on a daily basis, it is really nice when I haven't had much sleep!
 Have you tried anything new recently? Make sure to share in the comments!