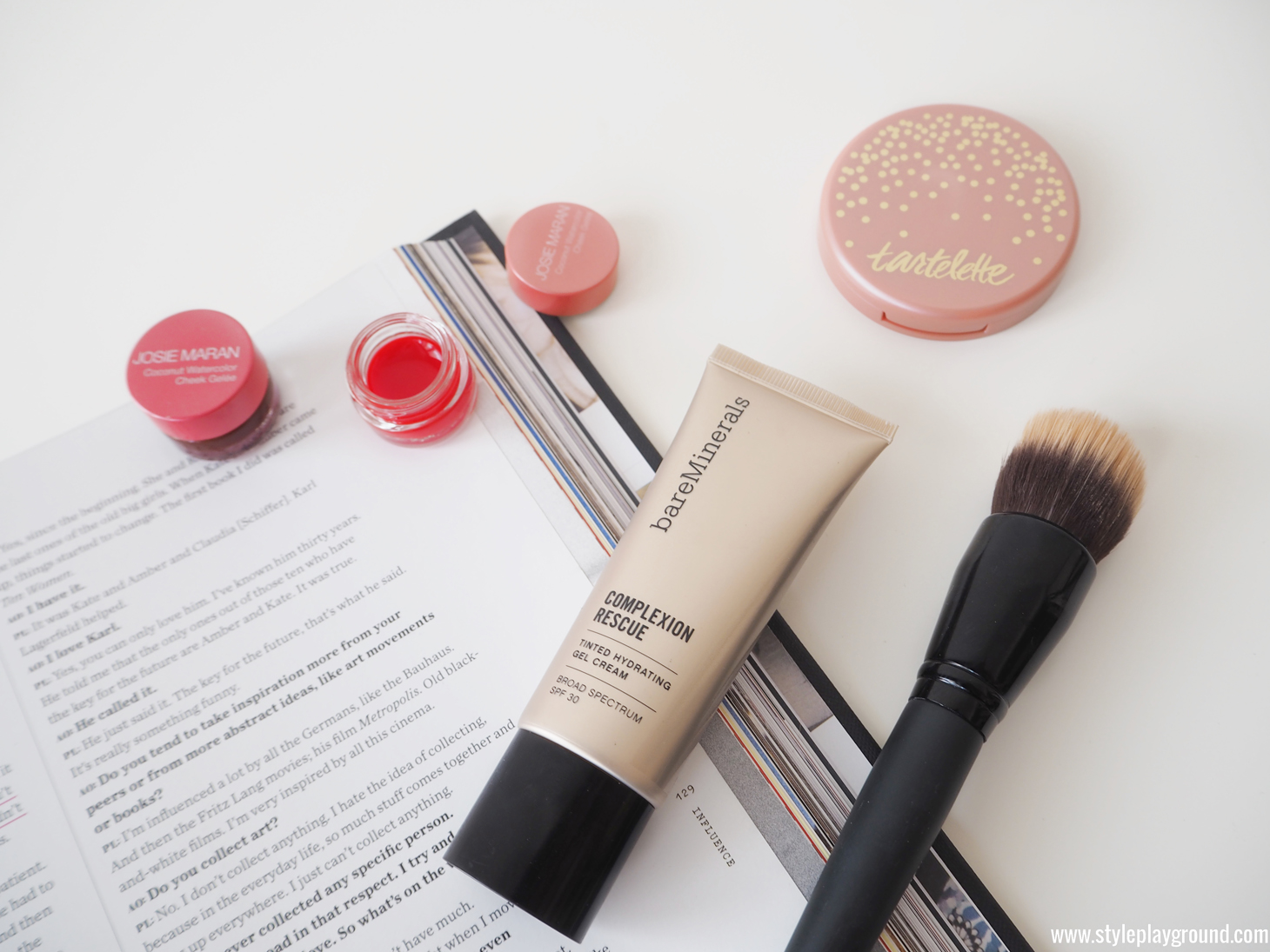 Last week during a lunch meeting, someone asked me when I started blogging about beauty. Truth is that Style playground started off as a fashion blog but beauty quickly came in as well. When I moved to Paris, I was pretty much already obsessed with beauty products. I remember popping into Monoprix during my lunch break and spending hours in pharmacies and at Sephora looking for new beauty products to try out.
Fast forward a few years and here I am, blogging my heart out about all the beauty stuff that I like. My beauty stash is slowly taking over my shoe collection (who would have thought that such a thing was possible) and writing about my favorite products is one of my favorite things to do. I know that you guys really enjoy my beauty posts and I am so glad that you do! But enough rambling for now, let's talk about these 3 fantastic products that you need to try asap!
I am the kind of girl that always wear some sort of face makeup. I've learned to love my skin and take care of it through the years but honestly, I feel better when I can hide my imperfections with a good base. But that doesn't mean that I want my skin to disappear underneath a heavy layer of foundation either! The main issue that I get on an everyday basis is that my face products are either hydrating but don't have much coverage or, on the contrary, have good coverage but highlight all the dry patches that I sometimes have. Thankfully for me, BareMinerals seems to have find the answer to all my prayers and created the complexion rescue. This hydrating gel does everything it says on the packaging. Its very fresh texture glides on the skin and is very easy to blend. The coverage is surprisingly good but you'll need to build it up a little if you want to conceal any red pimple or scar. But the real surprise here is how hydrating and comfortable this product feels on the skin. It doesn't dry it out and the best thing is that you don't feel it sitting on your skin at all. The finish is simply fantastic as it adds a bit of glow to the complexion without turning you into a human disco ball! Last, but not least, it applies beautifully with your fingers. I am personally a huge fan of brushes, so I use the BareMinerals smoothing face brush to apply it and it's a match made in heaven! Oh, and did I mention that it is paraben, oil & silicone free?
The second product that I am totally loving right now is the tartelette blush from Tarte. After hearing so many beauty junkies raving about Tarte blushers, it was time to give them a go. And although I had initially ordered the shade exposed, I decided to return it to pick up tartelette instead. The two shades are very, very similar but this cute packaging is what really drew me in. This powder blush is as creamy as a powder can be and pigmented just enough. The color, a beautiful warm peach, is so natural that you can't really tell that you're wearing something yet you look somehow more healthy than usual. I love to wear it whenever I want a subtle makeup look and I find it to last longer than most blushes. Next time I am in the States, I am definitely picking up some new shades! Finally, I've been falling back in love with the Josie Maran coconut watercolor cheek gelee. The first shade that I picked up was poppy paradise, a bright cherry red shade. While I find it a bit too red for my cheeks, I absolutely love it on the lips. But recently I picked up the shade pink escape and this is pure love. The color is less pigmented than poppy paradise and a lot more pink. I love to apply it on my cheeks if I look extra pale or use it as a lip product or even as a lip base. I absolutely adore the gelee texture that keeps my lips hydrated while leaving a subtle color stain behind. Plus, these are packed with great ingredients like argan oil, to keep the skin supple and healthy.
Have you tried anything new lately? Share your thoughts in the comments!