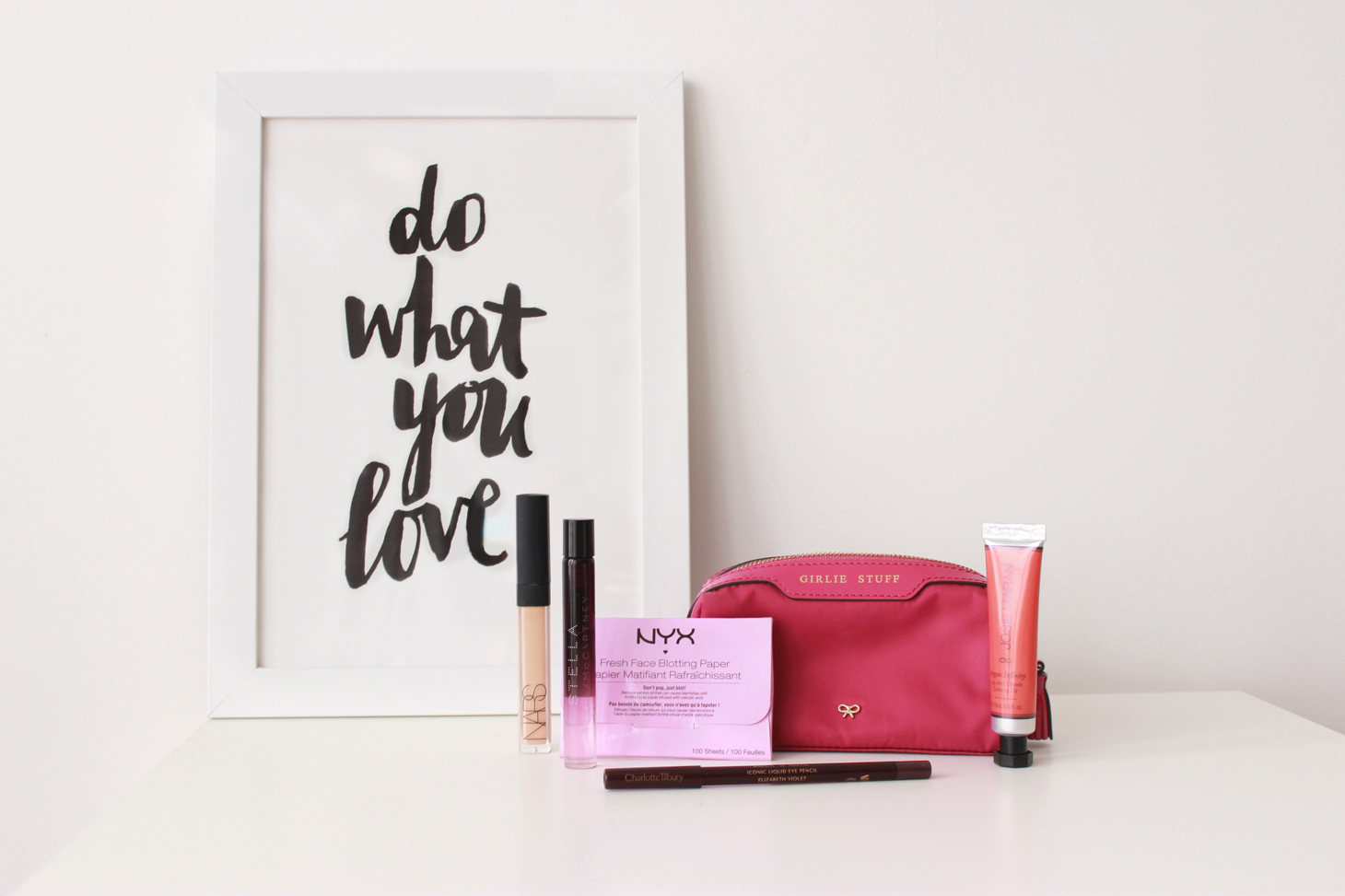 Although I always admire ladies that always have a makeup bag packed with great products in their purse, I've never been one of them. Since I switch up my bags pretty much everyday, I like my 'on the go' makeup bag to be small, light but packed with great essentials. I narrowed it down to 5 products that multitask and, trust me or not, I always have exactly what I need on hand!
The first goodie is my beloved Nars 'radiant creamy concealer' in the shade custard. I love how light & creamy this concealer is while doing a great job at hiding almost everything. I like to apply a bit underneath my eyes and on any blemish when needed. I never reapply foundation during the day as it tends to look a bit too cakey on me, so if things are looking too shiny, I grab one of these NYX 'fresh face blotting paper' and blot any excess oil very gently. These are great to keep in your purse at all times and they take little to no space! If I need a pop of color on my cheeks, I'll go for the Josie Maran 'creamy argan oil' in timeless coral. This creamy oil (there's no better way to describe it) delivers a beautiful peach sheen to the cheeks but also doubles up as an intensive lip treatment. If I am heading out for drinks straight after work, I like to intensify my eye look with a quick swipe of the Charlotte Tilbury 'rock 'n khol iconic liquid eye pencil' in the shade Elizabeth violet. It's more subtle that black and it really makes my blue eyes pop. I like to apply it at the root of my lashes for a slight undone look. Finally, my last essential is the 'Stella by Stella McCartney' rollerball perfume. This scent is the perfect mix between the freshness of peonies and the sensuality of amber. It's very easy to wear but really unique in the same time…
What are your handbags essentials? I would love to know!