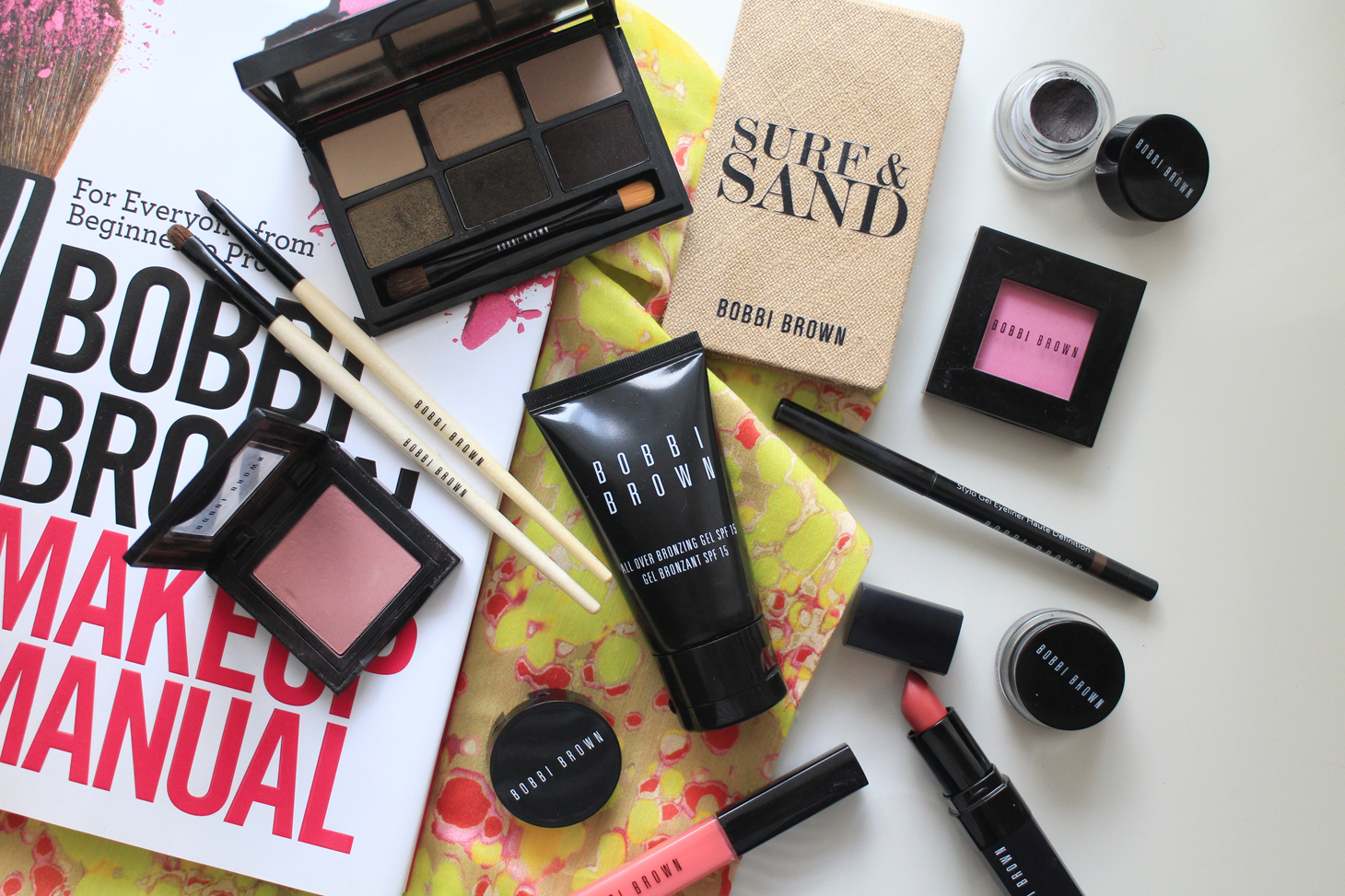 I first discovered Bobbi Brown thanks to my bestie Aurore. As I told you in my '5 makeup brushes you need' post, she dragged me to their counter in Sephora when I was 18 years old and she got me hooked on their gel eye liner. My love for this eye liner & its coordinating brush, the 'ultra fine eye liner' one hasn't aged a bit in 6 years. But during those 6 years, I got to get a bit more familiar with the brand, bought the Bobbi Brown 'makeup manual' book and even got my mum hooked on the brand (she currently uses about 6 of their products daily and she looks fab!). But why is Bobbi Brown so good? Let's find out.
Now first of all, Bobbi Brown is a total babe. Not only does she look gorgeous, she also seems down to earth and simply happy.  Her philosophy and the motto behind the brand is to help each woman to look fabulous and naturally beautiful. And her products are exactly that: natural beauty & fresh face in little black pots. Her Youtube channel is packed with great tutorials, from the art of black eye liner to mastering concealer for everyday. I love the fact that she enhances the natural beauty of women rather than hiding it behind bold colors and layers of foundation.
But Bobbi Brown always understand something that is really important to us, busy ladies of the 21rst century. We are busy gals. We're always running somewhere, from meetings to drinks with friends, from glamorous nights in the city to long days at work. We want makeup that is easy to use and that stays the same for the whole day. Her range of long wear product is impressive and always delivers when it comes to great lasting power. Her gel eye liner for example, is one of the best long lasting eye liner on the market.
Last, but not least, Bobbi Brown is one of the best enablers on the market. Everytime one of her new collection hit the shelves, I want to try everything. Smokey eye? Yes, please! Surf goddess glow? Count me in! Beautiful red lips? Of course! I love that for her, wearable makeup doesn't mean boring and that it is fun to try new things, and switch up our makeup look every once in a while.
New to Bobbi Brown? Here are 4 products that you must try:
Her eye brushes
I claimed my love for her 'ultra fine eye liner' brush before, so I won't be too long on that one. It is simply the best eye liner brush ever. The tip is really fine and therefore precise while the handle is long enough to be easy to maneuver. It's really easy to clean and last very well (mine is over 6 years old and looks as good as new). Another one of her brushes that I am obsessed with is the 'smokey eye liner' brush. As the name suggest, it is the perfect brush to smoke up any eye liner look. I love to use it over pencil lines to soften the whole look or take a bit of eyeshadow on it to define my lower lash line.
Her eye palettes
If Bobbi Brown is the queen of something, it must be palettes, especially eye palettes. Every time she comes up with a new collection, I am always head over heels about her palettes. My most recent acquisition is the 'sand eye palette' which has 8 gorgeous shimmery & matte nude shades and has beach babe written all over it! Another one of my favorite is the 'rich caviar eye palette' which was part of a collection released a couple of years ago. I still use it really often and I find it to be perfect for travelling. I am sure that a quick look at her website will sold you on that matter.
Her gel eye liners
You know me and my love for these 'long wear gel eyeliners'. 'Black ink' is what you'll find on my eyes most of the time but 'caviar ink' is equally as beautiful. I actually learned to apply eye liner with these and I still find these to be the easiest way to apply eye liners nowadays. Also, these have the best lasting power -think a good 6 hours of no budge.
Her corrector
Bobbi Brown always says that 'concealer is the secret of the universe' but I always think that her corrector is really the secret of the universe. This little pot is a game changer for me. Its salmon tone cancel any blueness of your dark circles and literally takes them away. With just a bit of concealer on top, it looks like you had your 8 hours of sleep, even if you didn't.
Follow my blog with Bloglovin