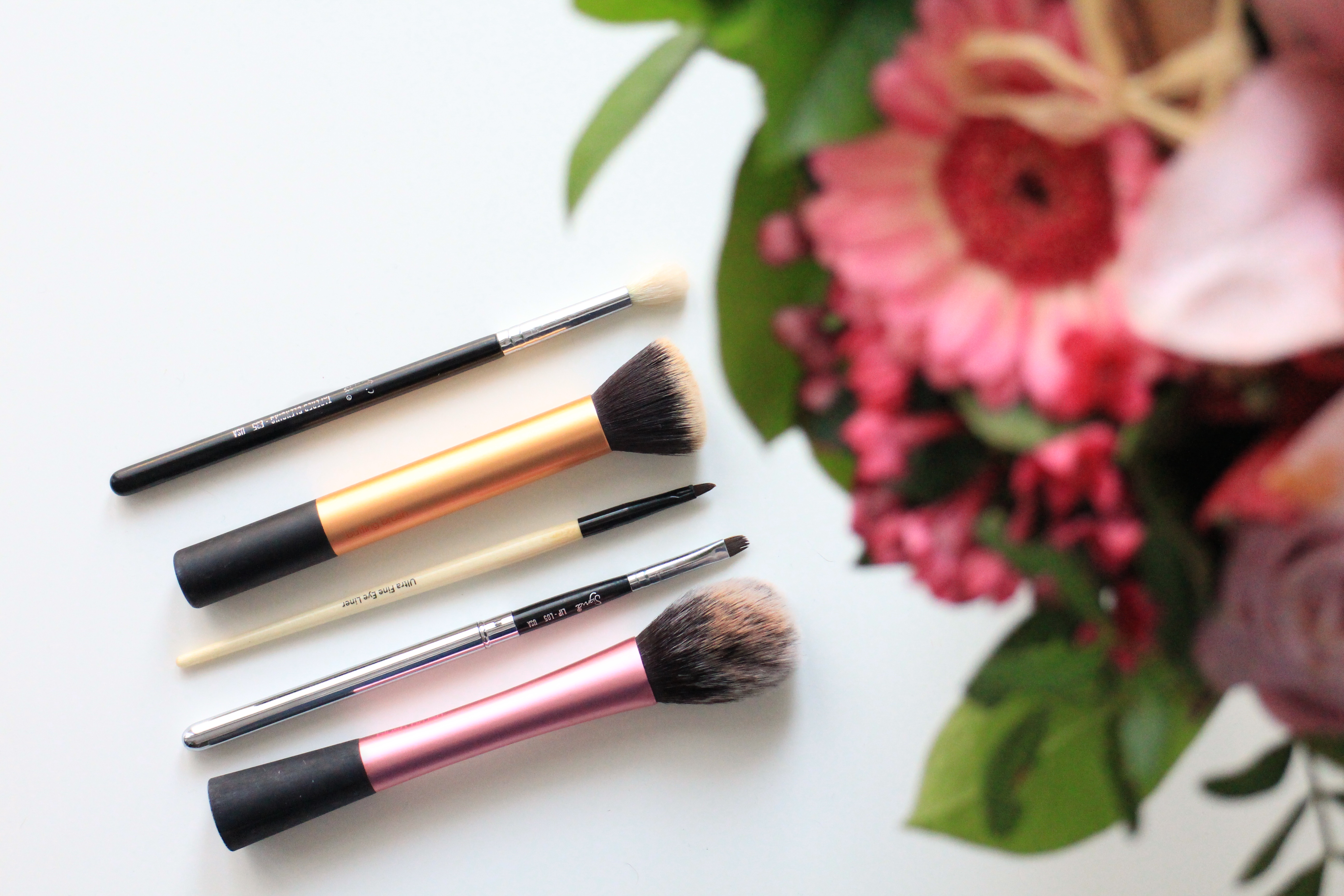 When I moved to Paris as a 18years old girl, I was blown away by the abundance of shopping that was available at my doorsteps. I lived in the heart of the city, in the famous Rue Saint Honoré to be precise, and I could walk to any boutique that I love. I would often be found browsing the makeup section at Chanel but I always ended up in the mothership – aka Sephora– for hours. It was then that I signed up for a one hour makeup lesson at Make up for ever. At the time, I found it really hard to get a beautiful fresh look on my skin. The lesson itself was really good and I learned a lot of tips that I still use everyday. One of them was to use makeup brushes for almost everything. And it has changed my life. It might sound a bit silly to say that, but it really did. I discovered that by applying a base with a flat foundation brush, it would reduce the appearance of my pores. I learned that buffing my foundation into my skin was the key to a flawless base. And I mastered the art of contouring thanks to a good fluffy powder brush. Ever since that special day in my makeup history, I've been obsessed with makeup brushes. I've tried a lot of them, from very cheap -and crunchy- ones to fabulous -and expensive- MAC brushes. And today, I decided to share with you what I believe are the 5 makeup brushes that you need in your life.
I discovered Real techniques during a city trip to London. Being the beauty junkie that I am, I can spend hours in the aisles of Boots, much to my mum and fiancé despair. I knew that these brushes were a new release from the talented Youtuber Samantha Chapman (I am sure that you know her, she runs the channel Pixiwoo together with her cutie sister Nic). I decided to give them a go and got the 'core collection', a set of four makeup brushes in which this 'buffing brush' is available. And it was love at first application! This brush is the secret to a flawless face. Used in circular motions all over your face, it will blend your foundations and other tinted moisturisers within the blink of an eye. It gives a super natural finish to the skin and is also great for blending concealer, applying cream bronzer or even cream blusher! Trust me, it's worth getting the kit just for this brush (but don't worry, the other three are equally as fab!).
If you love applying a bit of bronzer but always find it to look a bit too much, this is the answer to your prayers. This massive brush takes just the right amount of powder and blends it really nicely onto the skin. I love to use it with my favorite bronzer –Nars 'laguna' if you're wondering- and apply it on my cheekbones, on the top of my forehead and on my chin as well. It is so great that it practically does the job for you. One thing though, this isn't great for applying blush as I find it a bit too fluffy for a precise application.
My best friend Aurore is pretty much the queen of eye liner. Whenever we go out for drinks together, she always has the most flawless eye liner that you've ever seen. Not only does she master the classic black cat eye look, she also plays with colors as well – I am jealous of how great she looks with a metallic grey or even an electric blue shade on her lids! She's actually the very first one who introduced me to eye liner. One day, during one of our endless Sephora trips (we both lived in Paris at the time), she took me to the Bobbi Brown counter because she wanted a new shade of gel liner (you know how this is going to end, don't you). The makeup artist applied a beautiful smokey brown shade on her lids and she looked so good that I wanted to give it a go. Now, before that, I had only tried eyeliner once and though that I looked like a drunk drag queen -not a good look. 5 minutes later, I was a the till with a pot of black gel eyeliner and what would become my all time favorite makeup brush, the 'ultra fine eye liner' brush from Bobbi Brown. If you've never tried eyeliner before or if you want to be able to draw a precise fine line, this is what you need. Trust me. The only reason I love eye liner now is this brush. It has the finest tip ever, takes just the right amount of product and washes really well. This brush has been in my collection for six years now, and it still looks brand new! If you're not into gel eye liner, this brush works equally as well with eyeshadow, which will allow you to recreate the effect of eye liner without all the fuss!
Sigma 'tapered blending E35'
I discovered Sigma brushes during my early days on Youtube. At the time, every single lady that I watched raved about their brushes and, when we headed to New York 3 years ago, I ordered a few of them. While I loved everything that I got, the 'tapered blending' is by far my favorite. Its silky smooth bristles blend eyeshadow like nothing else and I even use it to apply eye shadow all over my lids if I want a more natural look. I love it so much, that I now have two of these in my collection and I use them every single day.
It wasn't until a couple of years ago that I got into the whole bold lip trend. Before that, I would always end up with lipstick on my teeth and my lips will look like a smudge mess after a few hours. But things have changed ever since this retractable brush made its way to my makeup bag. Its flat and tapered tip is perfect to apply any bold color to your lip without looking like a clown. It is super precise and delivers a flawless result every time. And here's my tip for you: if you're heading out the door with nothing else than a bold lip and a tiny clutch, pack a bit of lipstick onto the bristles and pop it into your bag. It will hold enough product for one retouch during the night and will save you some serious place in your bag!