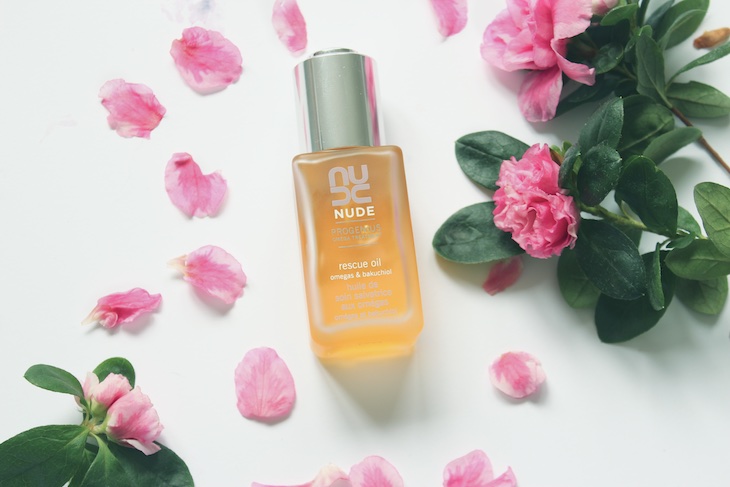 Winter is definitely here and my skin is freaking out. It seems that even if I take good care of it, it will get dry and feel tight as soon as the temperature drops. And for those days, I always reach for an oil. While I use Josie Maran's argan oil light all year round, I've been using the new Nude rescue oil lately and I am hooked.
The texture of this one is quite different as it feels more like a dry oil. The packaging is beautiful but also very practical since it comes with a little pipette that dispenses just the right amount of product. I love to apply 6 to 7 drops all over my face, concentrating on my forehead before going to bed but I absolutely love it mixed with my current moisturiser. It takes quite a bit of time to sink into to the skin but when it does, my skin feels more comfortable instantly. This all natural, vegan oil is made with bakuchiol, a natural ingredient that helps to repair & refine the texture of the skin. And indeed, within a few days, my skin was back to normal, my spots were nearly all gone and it felt smooth to the touch. The other star ingredient is rosehip seed that help to gently exfoliate the skin. While I first doubted it would be enough for my skin, I find it as efficient as my usual exfoliating toner without being as harsh on the skin.
Quite a few of you wanted to know how makeup applied on top of it and I am happy to report that it goes on smoothly, without creating weird patches or looking too shiny. All around, this is a fantastic product to oomph your skin care regimen this winter!
Have you been switching up your skincare routine recently?