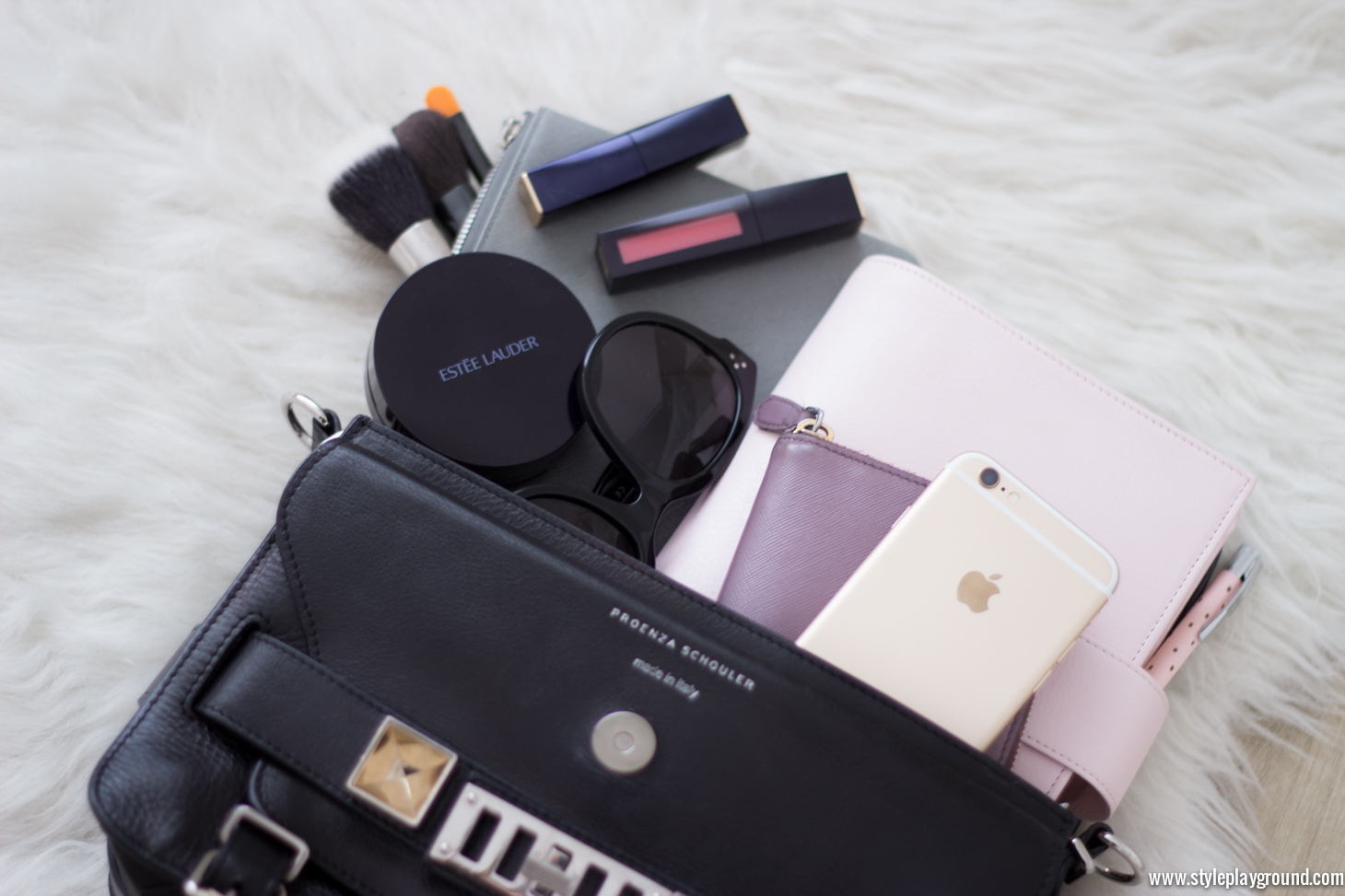 Lately, I've been running around like a maniac. Whether I am off to work, running some errands or getting things done for the new house, I feel like I am always on the go and I live out of my handbag. So that means that I like to come prepared and always have a few key items on me to be able to say yes to any spontaneous occasion.
First and foremost, I am never without my iPhone. I recently upgraded to the 6S and I couldn't be happier about it. The screen is larger than on my previous one, which means that it's a lot more comfortable to use it. I use it mainly to take notes or shoot photos but I also have my GPS on it as well. Then, I obviously always have my wallet on me. I keep cash and credit cards in it as well as some receipts and my business cards.
Then comes my planner. I recently switched to this beautiful Gillio Mia Cara in a pale pink color. While this is much bigger than my previous Kikki K one, I find it super practical since I can carry everything in it. Whether I grab a card of a nice little coffee place or make arrangements for our upcoming wedding, everything gets in there.
Then, I keep a few essentials in a little leather pouch. The new Estée Lauder double wear to go compact is always in there in case I want to get a bit more coverage before a meeting or if I went for a very natural look in the morning and want a bit more coverage before heading to dinner. I also keep two very different lip products to be prepared for any occasion. The Estée Lauder pure color envy shine in the shade blossom bright is my go to during the day. This beautiful soft coral pink is perfect for any casual occasion and instantly lits up my entire face. These are described as sculpting lipsticks and they really are. The bullet is slimmer than usual, which make it very easy to apply on the go. Plus, the formula is very moisturising which is an absolute must for me. Oh, and the packaging has one of those magnetic closure which makes the most satisfying noise ever… It's the little things, right?! Then, as I told you in this recent video, I've been wearing bold lips a lot more than usual. I've always been a fan but I always found myself touching it up every hour and feeling very conscious about it. But lately, this has changed since I found a couple of products that are long lasting and don't need any touch up. And the Estée Lauder pure color envy liquid lip potion in lethal red is one of these. This liquid lipstick applies beautifully onto the lips and dry within seconds. And while it lasts hours on the lips, it keeps all the moisture in and even makes them look a bit more plumped than usual. The dual sided applicator is quite unique as well since it has a rounded edge to define the lips and a more curvy one that stores a bit more product for an intense color payoff.
Finally, I also keep my favorite pair of sunglasses from Céline in it since we have an incredibly sunny autumn over here in Brussels. I like these because they have polarized lenses but look stylish and elegant at the same time.
What do you always keep in your bag? Is it a special lipstick, your favorite foundation or your iPad? Let me know in the comments down below!
This post was created in collaboration with Estée Lauder