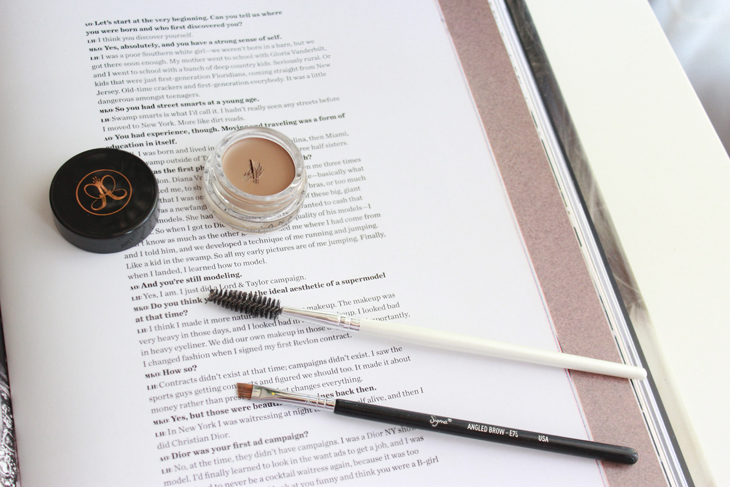 It's seems that I am on a never ending quest to find the perfect eyebrow product. The Hourglass 'arch brow pencil' in soft brunette is close to being perfect, but this time it might have a serious competitor in the shape of the Anastasia 'dip brow pommade' in blonde.
The Anastasia dip brow pommade is like no other thing I've tried before.  Its texture is an hybrid between a mousse and a gel, really creamy but really light in the same time. When applied in light, feathery strikes with the Sigma 'E75 angled brow brush' it looks like actual hairs which looks flawless every time. I used to dip the brush into the little pot but I now prefer to lightly slide it across the top as I find it easier to apply  it evenly that way.  While I love the consistency of the product and the fact that it keeps my brows in shape for the whole day, the application takes quite a bit of time so I tend to reach for it for special events or when I have a bit of extra time on my hands. The color match is pretty perfect for me (I have the shade blonde), although it makes my brows a bit more intense. The secret to keep everything well under control is to brush away any excess product with a spoolie brush (my favorite one is the ELF one).
If you're getting started on filling in your brows, I highly recommend having a look at Anastasia Beverly Hills products. They have an insane range of brow products, from transparent wax pencils to tinted gel, and are easily available at Sephora & Cult beauty.