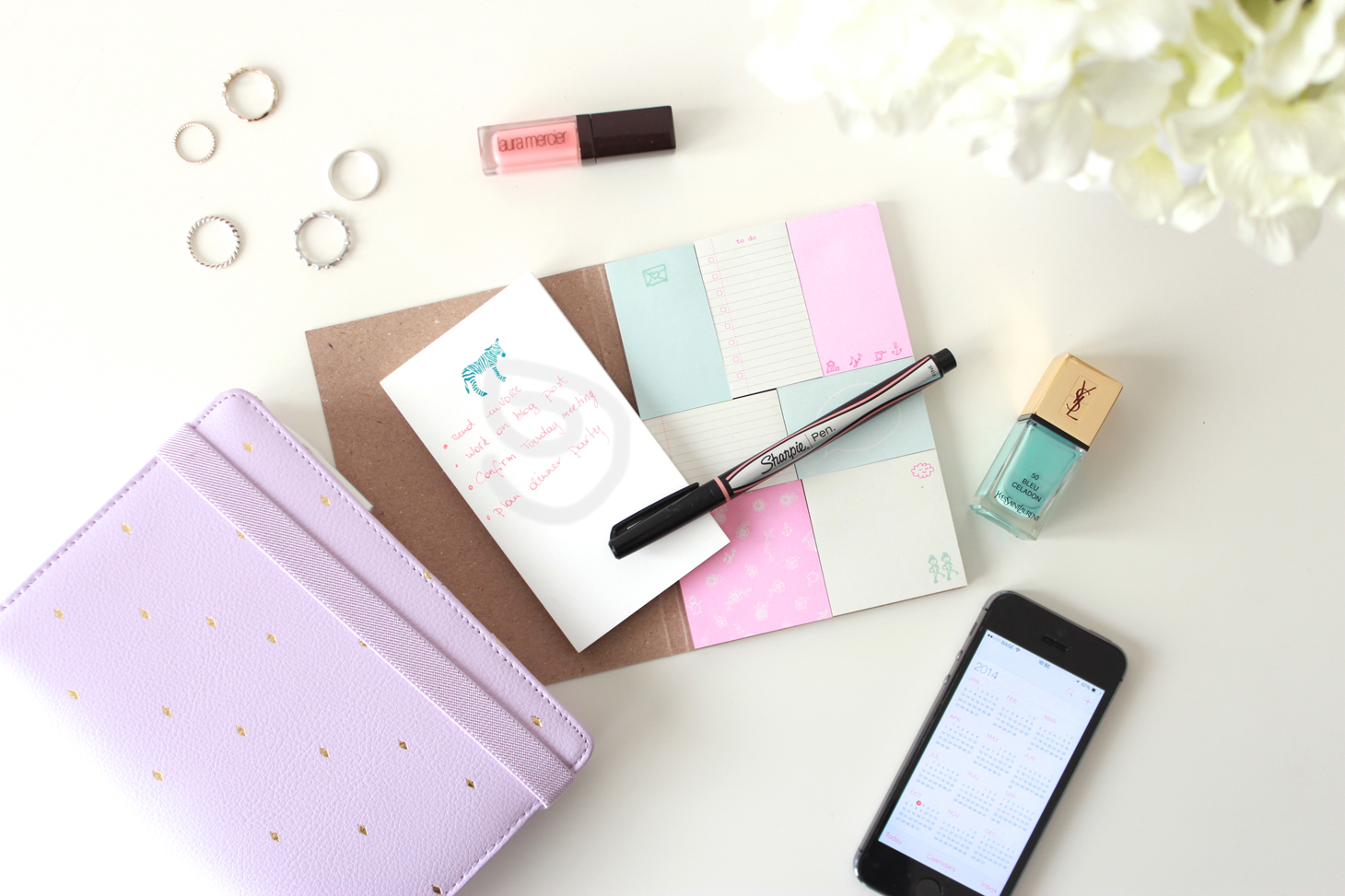 Working from home has its perks, I am not going to lie. A 30 second journey to work every morning, the comfort of sweat pants & slippers (no one has to know) and an endless supply of soy latte (or so in my case!).
But working from home can also be tricky. Not so romantic nights behind your screen, no boundaries between your work life & your private life and the sweet call of your bed all day long… After more than three years spent working mainly from home (crazy huh?), here are some of my personal tips to get things done properly, quickly & efficiently. 
Get a proper work space
The main tip that I have for you is to get a proper work space. Whether it's a small corner of your dining room table or an actual desk tucked in a corner of your place, having a space that is entirely dedicated to work is the key to success. I started working on a laptop on our dinning table but quickly moved to a desk in our bedroom as I found it quite annoying to move my stuff every time we wanted to have diner… Turns out that a desk in our bedroom was just the ultimate temptation to go back to bed in the middle of the day… So, I recently moved to a larger desk (and a big iMac!) in my closet and I love it there! There's enough light to keep me energised, the proximity of my shoes remind me constantly of how much I love what I do and I can close the door at the end of the day and leave my work behind for just a couple of hours.
Set yourself a schedule
When I started to work from home, I was all over the place. I would wake up late, say yes to any plans and spend really late evenings behind my screen to get things done in time. What I thought was heaven at the time turned out to be a really bad life choice. My insomnia got worse, I was late on schedule and felt constantly guilty of not working. Having a real schedule helped me to get back on track and I now feel better and more productive than ever. Set yourself times to start (and stop) work, set aside a couple of minutes a day to take a break and allow yourself a full hour for lunch. That being said, don't be too hard on yourself and listen to your own needs. If you're not a morning person, don't over pack your morning with a lot of to do's and do leave some room for impromptu get togethers with your best friends!
Get organised
Being organised takes off a lot of stress, trust me! I find that when I have a clean work space and know that everything is well organised, I can really focus on work. Try to keep your desk as clean as possible, invest in a couple of desk accessories (Muji has some great options) and get a planner. Allow a couple of minutes each days to go through your desk, file what you're done with and trash what you don't need. Keep essentials (post it notes, pens & paper clips) on hand and make your space pretty by adding a frame with a cool quote in it.
Know when to log off
In 2013, I had a phase when I was constantly stressed and checked my phone every 10 seconds. It wasn't until my phone broke down during a one week ski trip that I actually realised that I was the one generating all that stress and tension for nothing. Seven days without my phone taught me that life goes on no matter what, that no email is so urgent that it needs to be answered right away and that spending time with your loved ones is better than anything. Since then, I make sure to put my phone away as much as I can when I am meeting friends for lunch and I've learned to say 'this can wait'.
Get ready first thing in the morning
It might seems obvious for a lot of you to get up and get dressed first thing in the morning but trust me, the temptation to stay in your pjs all day is real. I can't count the amount of times that I spent an entire day in sweatpants and didn't get ready until 1PM. Yup, it's all true. This, of course, let to some pretty awkward moments, like answering the door with dripping wet hair or welcoming friends in my Christmas pyjamas in March… Now I make a point to be fully dressed and ready to work by 9AM!
Do you have any tips on how to stay motivated when working from home? If so, don't forget to share them in the comments section!