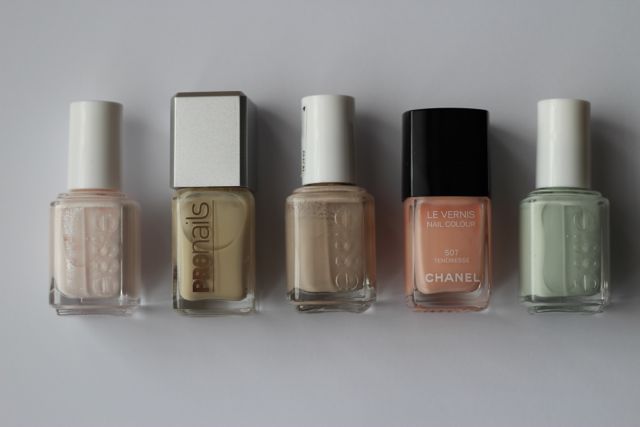 When it comes to nail polish shades, I ain't easily scared. I am tipically sporting a fun neon shade or an overly glittery polish but this season, I am going for something a bit different.I am talking about nearly nudes, barely there polishes. With just a hint of color, these are my picks for the season.
Essie – Instant hot (here)
This Essie shade is the latest addition to my nail polish collection. While I believe this was limited collection as part of the bridal collection in 2012, I managed to track this one down over on beauty bay for a purse friendly price tag of 8€, not bad. This overly sheer pink color has just a hint of glitter but sadly it doesn't show on the nails. This color is so light that it actually appears a bit off white on my nails, which looks a bit scary on my pale skin but will look incredible with a bit of tan!

Pro nails – #249 (here)
This Pro nails shade has been sitting in my nail polish rack for some time now but somehow didn't really get a good try. This issue was solved when I painted it away on my nails a couple of weeks ago and found myself reapplying it for two weeks straight -exceptional enough to be mentioned. This shade is probably the trickiest one of the bunch though. The color is a nearly flesh tone which in my opinion is either a hit or a miss.
Essie – Sand tropez (here)
Essie Sand tropez is without any hesitation my favorite color of the bunch. This little bottle is well loved over here as it makes my nails appear much longer than they really are thanks to its incredible greyish nude color. The application is super duper easy thanks to the large brush (as for all Essie diffusion line nail polishes) and the color gets perfectly opaque with two coats. If you have to own a handfull of color from Essie, this is definitely one to pick!

Chanel – Tendresse (here)
Chanel polishes aren't the best one on the market in terms of quality but they sure are in terms of color choices! This tendresse shade is everything you could except from its name, it is a tender light, really sheer pink but you can get a good opaque color with 4 coats (er yes, four!). 

Essie – Absolutely shore (here)
Another new addition to the collection is Essie absolutely shore. Just by reading the name of this shade I already knew that I was sold. In my eyes, it is the perfect mix between a super nude color and Essie mint apple candy. This pastel mint shade translate beautifully on the nails and is the perfect pick for a softer minty look.
Well I think that now a good episode of Revenge and a little at home mani session is on the menu for tonight!