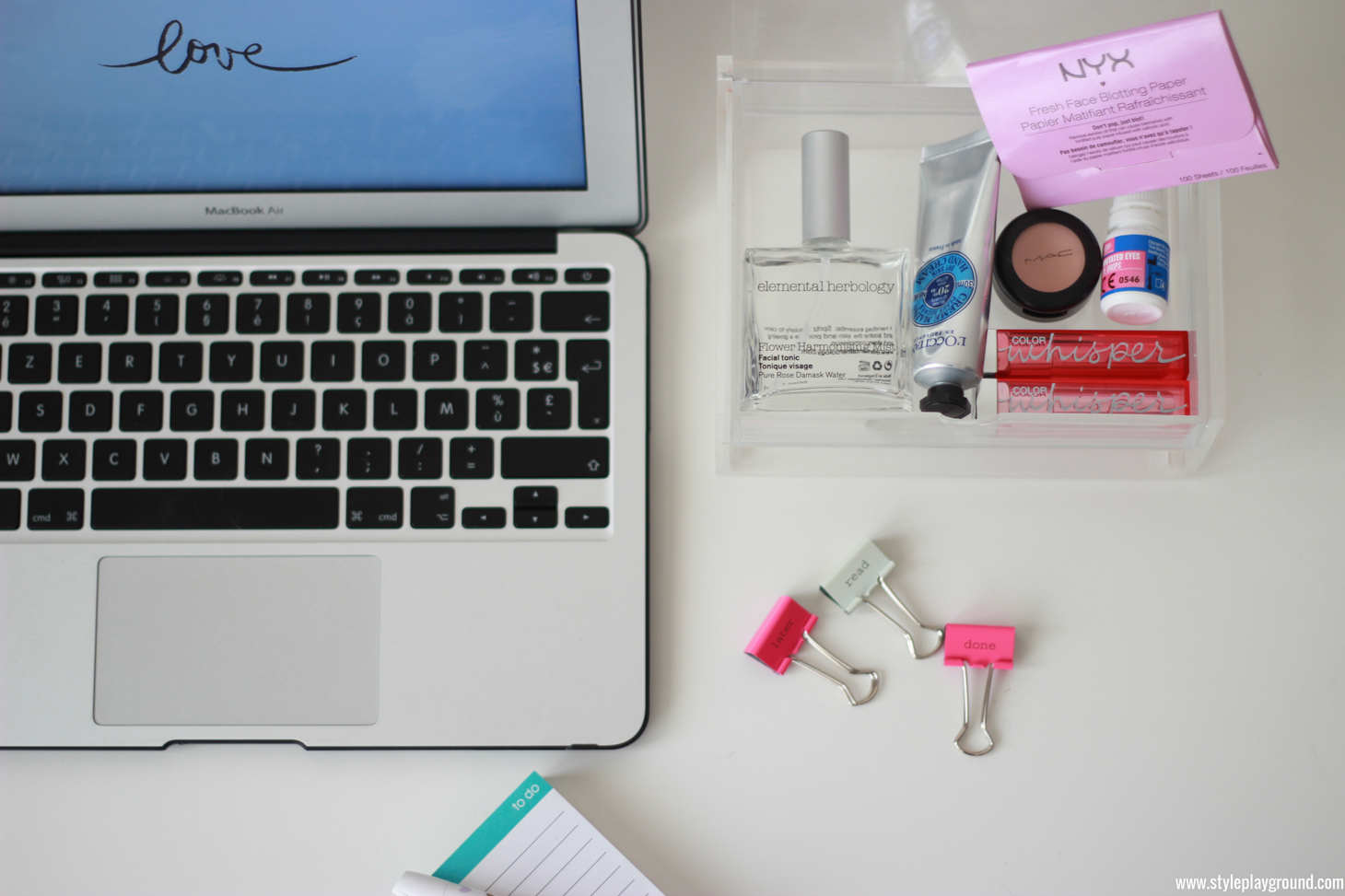 I spend most of my days behind my desk. Whether I am at work or working on the blog, you'll often find me stuck behind a screen -not complaining though, I love it. Therefore, I like to keep a handful of beauty essentials right where I work. Nothing too fancy, just daily essentials that keep me going through the day or help me to go from my desk to happy hours without worrying about a thing.
First up is the much raved about Elemental Herbology 'flower harmonising mist'. This little spray is a regular on this blog and it's because it's simply fabulous. With only a few sprays, my skin is plumped again and my makeup look as good as when I applied it. The smell is really botanical and helps me to relax. Then, my beloved l'Occitane 'shea butter hand cream' has a special spot on my desk. My hands get really dry really quickly and this is a saviour. It's definitely on the greasier side of things but really does the job, big time. Then, we get on with the useful stuff. The MAC 'studio finish concealer' in the shade NW20 is my go to concealer when I am behind my desk. This creamy formula hides everything, from blemishes to dark circles, and never looks cakey. I end to apply it lightly with my fingers and it does the job just well. On the more practical side, I keep a mini bottle of eye drops from Boots on hands. My eyes tend to get itchy & red when I spend a lot of time behind a screen, so I always make sure to keep eye drops on hand. If things are getting too shiny, I blot my face with the NYX 'fresh face blotting paper'. I prefer to use blotting paper over powder when I am on the go as it never interfere with my makeup but keeps shine at bay. Last, but certainly not least, I keep two of the Maybelline 'color whisper' on hand. These lip balms are moisturising and deliver a beautiful wash of color as well. 'One size fits pearl' is a nice baby pink shade that is great for any time during the day. The other shade that I keep on hand, 'who wore it red-er' is my 'out of the office' shade. If I know that I am going out for drinks after work, I pop this on and instantly feel more put together.
Do you keep any beauty essentials by your desk? If so, what are those? I would love to know!