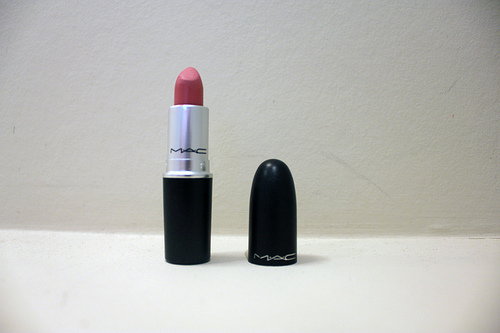 I've been a fan of Mac's products for years now so I decided to share with you my all time favourites!
The best thing with Mac is that you can find the perfect shade and texture for you.First, my new lipstick. It's the Please Me Matte. I don't usually wear lipstick but this one is perfect for me. I love the color, the matte finish and it lasts for hours!


Je suis une fan des produits Mac depuis quelques années maintenant alors j'ai décidé de partager avec vous mes produits fétiches! 
Le gros avantage de Mac c'est qu'on y trouve toujours la teinte ou la texture adaptée à nos besoins.
En premier, mon nouveau rouge à lèvres. C'est le Please Me Matte. D'habitude je ne porte pas de rouge à lèvres mais celui-ci est parfait pour moi. J'adore la couleur, le fini mat et en plus il tient des heures!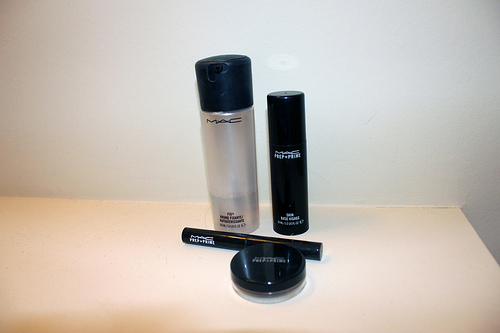 Another great thing at Mac is that they have the perfect line to prep your skin for your makeup. My favourites are the Prep + Prime base which is great to smooth and prepare your skin for your foundation, the Prep + Prime for eyes which helps your eyeshadow an your eye liner to stay in place all day! I also love the Fix+ and the Prep + Prime for lips. I don't use all of them everyday, I mostly use them when I go out or when I wear a really strong makeup!
Une autre chose géniale chez Mac c'est qu'ils ont la gamme parfaite pour préparer votre peau au maquillage. Mes préférés sont la base Prep + Prime qui adoucit la peau et la prépare pour le fond de teint, le Prep + Prime pour les paupières qui permet aux ombres à paupières et autres eye liner de tenir en place toute la journée! J'adore aussi le Fix + qui agit comme une "laque" pour le maquillage et le Prep + Prime pour les lèvres.Je ne les utilise pas tous tous les jours, c'est plutôt quand je sors ou quand je fais un maquillage plus fort!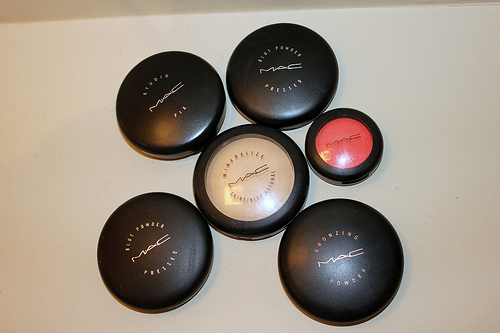 Here are all my powders and blush. I have a lot of them just because my skin isn't the same everyday! I love the Studio Fix which is a powder foundation great for light makeup or quick fix during the day! I mostly use the Mineralize powder but I love the bronzing one for summer when I get a little bit tanned! The Blot powders are great if your skin is a little bit too shiny, I use one in dark for contouring!
Voici toutes mes poudres et mon blush. J'en ai beaucoup tout simplement parce que ma peau n'est jamais vraiment la même! J'adore le Studio Fix qui est en fait un fond de teint en poudre, parfait pour un maquillage léger ou pour une retouche dans la journée! J'utilise principalement la poudre Mineralize mais j'adore la poudre bronzante quand je suis un peu bronzée en été! Les poudres compctes Blot sont idéales quand on a la peau qui brille un peu trop, j'en utilise une dans une la couleur "dark" pour creuser les joues!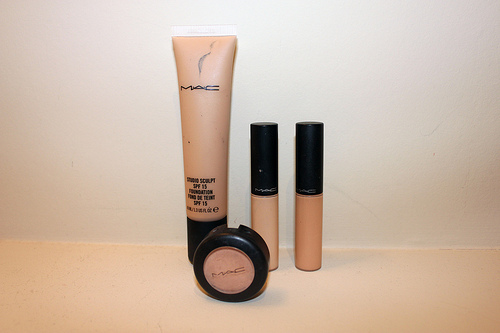 Here is everything to have a perfect flawless face! Studio Sculpt foundation which really moisturise your skin, and concealers!
Tout pour un teint zéro défauts! Le fond de teint Studio Sculpt qui hydrate vraiment la peau, de l'anti cernes et un correcteur!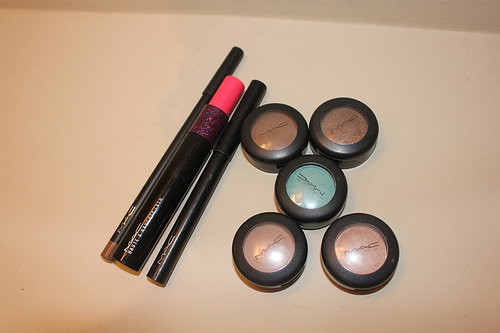 And finally eyes! I love the Haute and Naughty mascara! It has two different brushes, one makes your eye lashes look natural and the other is really dramatic, perfect to go out or to do a smoky eye! I also use the penultime eye liner and the brows pencil. My favourites eyeshadows? Malt, Naked Lunch, Cork, Aquadisiac and Dazzlelight.
Et pour finir, les yeux! J'adore le mascare Haute and Naughty! Il a deux brosses différentes: une pour un effet naturel et l'autre pour un effet beaucoup plus dramatique, parfait pour le soir ou pour un smokey eye! J'utilise aussi l'eyeliner penultimate et le crayon à sourcil. Mes ombres à paupières préférées? Malt, Naked Lunch, Cork, Aquadisiac et Dazzlelight.