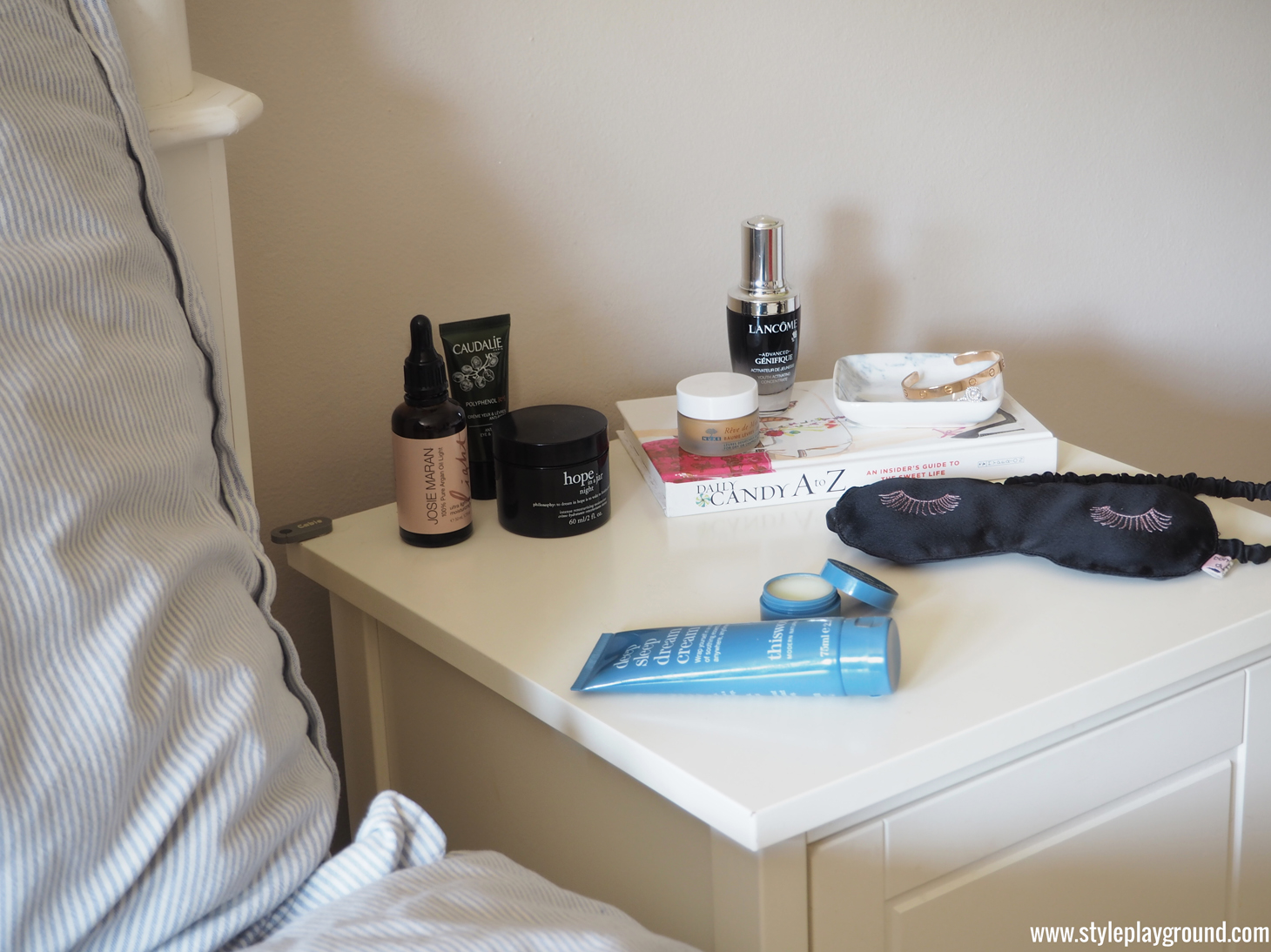 If you're a beauty junkie like myself, chances are that your bedside table looks a little something like this. Well, not exactly like this, since these products tend to live inside my bedside table, but you get the idea… It wasn't until a few years back that I really started to understand the importance of a good skincare routine, especially at night. Your whole body regenerates while you sleep and so does your skin. Therefore, it's the perfect time to get it really clean and to target any specific issues to wake up to beautiful glowy skin. But, as much as I preach that, I am a lazy bum. I like to get into my bed asap and the idea of spending as little as 10 minutes in my bathroom sometimes sounds like a daunting task. For those kind of nights, I keep a few beauty staples by my bed. These products are highly effective while being quick and easy to apply, even from the comfort of my bed.
The most important thing for me before going to sleep is to get some moisture back into my skin. After a long day of wearing a full face of makeup, my skin sometimes feels unhappy and even a little sore. Nourishing it intensely at night is an obvious task for me and for that, I rely on two products. The Lancôme advanced genefique serum is a very powerful serum that glides onto the skin. It feels fresh on the skin and sinks in quickly to really work onto the deeper layers of the skin. I find it to really helps with breakouts and uneven skin tone and its packaging is absolutely great. If things are really bad, I reach for the Josie Maran argan oil light over anything. You must be pretty tired of hearing me talking about it over and over again, but it is the best.thing.ever.
Then, I like to make sure to keep my eye area really well hydrated. It helps with dark circles and avoid any concealer creasing during the day. But finding an eye cream that does the job without feeling too heavy on the skin is quite a mission. I am currently using and loving the Caudalie polyphenol C15 eye & lip cream as it is light but really hydrates the skin. It is really effective on dark circles and I always wake up with a bright look in the morning. After all of that, I slather on the hope in a jar night cream from Philosophy all over my face and neck before applying some Nuxe rêve de miel onto my lips.
Lastly, if I am feeling a bit nervous or stressed, I like to use products from the deep sleep range from This works. I'll either use the deep sleep dream cream as a body moisturiser, focusing on my arms and legs or massage the sleep balm on my wrists, neck and cuticles. The scent is very relaxing and it really helps me to go to sleep.
Do you keep any beauty product by your bed as well?