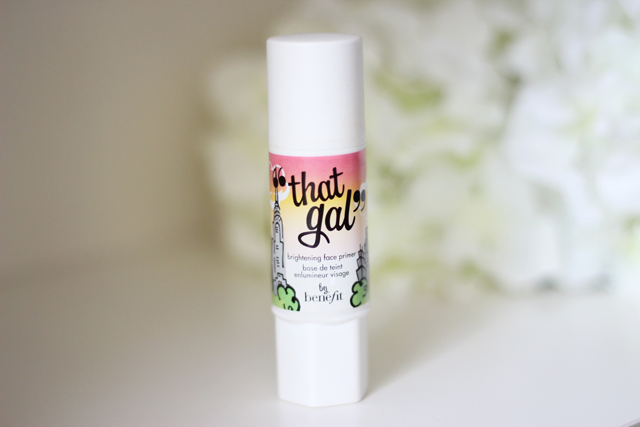 I cannot believe that summer is almost here. I am leaving for Miami in less than 20 days and I am starting to think about what makeup I want to bring with me. From what I've been reading, Miami is really hot, and not just because of its trendy night clubs. So packing a good primer is a mandatory step…
Enter Benefit 'that gal' brightening face primer.
I am pretty picky when it comes to primers, as I don't want them to be packed with shimmer or leaving my skin too matte. That gal is the perfect in between. It primes my skin and makes my foundation flawless while brightening my whole complexion. Its pink based formula is great for evening out your skin tone and I  love that it comes in a twist up tube. I find that a tiny bit goes a long way with this one, so I tend to grab a flat foundation brush (like the Sigma foundation brush F60) to apply it. I mainly concentrate it in the center of my face as it is where my foundation seems to go off through the day.
So it goes without saying that this primer is coming with me to Florida! It's gonna be my best friend for hot summer days in the city and endless nights by the beach!
Do you use primers? If so, which one do you like? Like me know in the comments section!