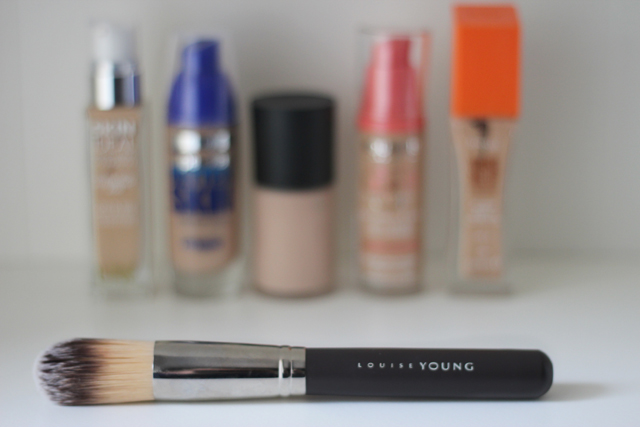 My makeup brushes collection is probably a good indicator of how crazy I can be about something. Every time friends come over, they end up making fun of me for having more makeup brushes than a makeup artist. Although that is not completely true, I have to say that I do like a good makeup brush, and especially a good foundation brush.
The latest addition to my stash is the Louise Young 'LY34 super foundation brush'. After seeing it in action in a couple of Anna's videos, I knew I wanted to give it a try and when it finally came in the mail, I might have done a little victory dance.
Now this brush is huge. The bristles are extra long and it's probably twice as tall as your average foundation brush but boy, this is lovely. The bristles are really soft and flexible, and the fact that the brush is tapered means that you are able to apply your foundation all over your face and even in hard to reach places like around your nose or at the base of your hair. This brush is perfect to achieve a flawless and very natural finish with almost any base product that you have. I find that it works best with tinted moisturizers and light foundations but I am happy to report that I also use it with my Laura Mercier 'silk creme foundation' although I go over it with the Real Techniques 'miracle complexion sponge' afterwards to make it perfect.
This brush is also easy to clean whether it is with a spot cleanser or during a more intense weekly deep clean. It dries quicklier than a flat kabuki brush which makes it overall a great brush to add to your collection.