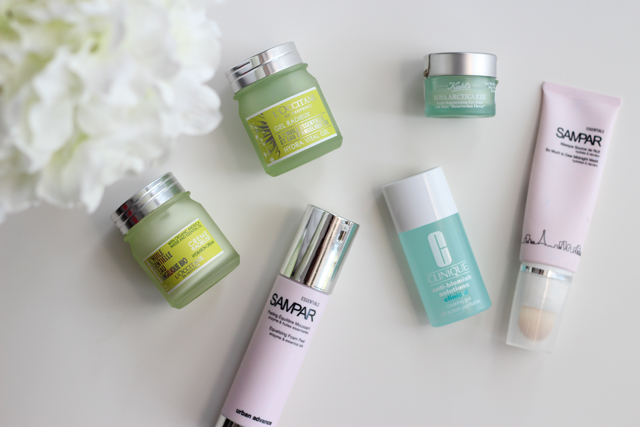 One of the worst beauty decision that you can make is choosing your skincare based on its packaging, color or scent. Yet, I recently noticed that my current skincare favorites are all packaged in pretty pastel colors… Maybe it's the spring weather or simply a new trend in the beauty world, but I thought I would share with you which pastel bits I've been loving lately.
First off, I have not one but two new favorite moisturizers. I've been loving the l'Occitane 'crème radieuse'* at night as it has a really nourishing formula while being fairly light on the skin. It leaves my skin smooth and plumped by the next morning. My new day moisturizer of choice is also from l'Occitane, and it's their 'gel radieux'*. It is from the same range as the crème radieuse, but the texture of this one is just on point. This pale green gel is really light and sinks into my skin within seconds. It feels fresh on the face but does a good job at keeping it moisturized.
For yes, I've been falling back in love with the Kiehl's 'rosa arctica eye balm'*. I love it because it is a rather thick balm that intensely nourishes the eye area without being overly greasy. I use it day & night and it has been a real saviour.Once or twice a week, depending on my skin behavior, I've been using the 'essentials equalizing foam peel'* from Sampar. I apply it all over my face and neck with an old foundation brush, leave it on for 2 minutes and then gently rinse it away. It leaves my skin really clean and fresh without being too drying. I find that it helps with blemishes as well but if it's a really nasty one, I always reach for my Clinique 'anti-blemish clearing gel'*. I apply a bit of product directly onto the pimple and a couple of hours later, it is nowhere to be seen.On the other hand, if my skin has been a bit dry, I slap on a good amount of the Sampar 'so much to dew midnight mask'* and go to sleep with it on my skin. Don't worry though, this stuff is clear on the skin, so there's no terrified boyfriend running around! I love the fact that it comes with a built in brush on the end, which makes it really easy to apply (I really like to take this with me on the plane, more on that later).
Do you feel like there is a consistency in your skincare at the moment? Are you using products from the same brand or do you like to mix things up?