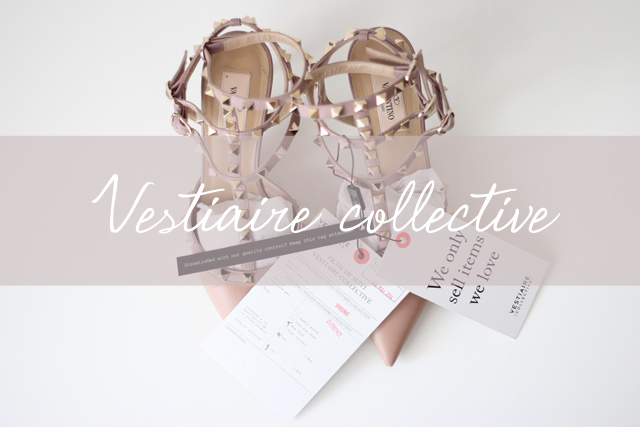 Vestiaire collective (formerly known as Vestiaire de copines) is a second hand luxury e-shop. I know that shopping online for second hand, and especially designers items, can be stressful. You're never sure that the item will arrive in good condition and the stress that it might just be a cheap counterfeit is something that we all want to avoid. Thankfully, Vestiaire collective takes away all the stress as they go through every single item that you order before they send it to you.
Here's the deal: you see an item that you love on the website, you order it and pay for it. The seller send it to Vestiaire collective where someone check its size, its state, and most importantly its authenticity. They send you an email during the process to keep you updated and if anything is not as described on the listing, they immediately drop you an email about the issue. Then, once the whole process is complete, they ship your order through Fedex and voila, you're ready to sport your new treasure!
I've been using the site for years and years now and I got some of my favorite designers bags and shoes on there. Like this Chloe bag, my YSL arty ring or this pair of Isabel Marant sneakers for example.
Last week, I took the plunge and got myself a pair of Rockstud from Valentino. I've been eyeing these for quite some time but I didn't want to pay the full price for them. Turns out, after weeks of emails alerts from Vestiaire collective (yup, you can set custom alerts on specific products or brands) I found these beauties for a more reasonable price. They're in great condition as they only have a few scratches at the tip of the toe (not visible when you wear them) and have this gentle worn in effect. Truth is that I love to have beautiful bags & shoes that are not totally brand new. Nothing is worse for me that paying full price for a designer handbag in beautiful leather only to scratch it a few days later (and trust me, it has happened to me a lot). They came in yesterday, carefully wrapped in tissue paper in their original box, complete with a dustbag, an authenticity card and the quality labels from Vestiaire collective. This quality check label is a new feature I believe and I love it. If you think something isn't as great as it should be, you can contact the consumer service and tell them exactly who made the control and when it was made. Last but not least, the whole process was really really quick and my shoes came in in less than a week! Love it!
What to get: it bags, sold out shoes and vintage jewelry.