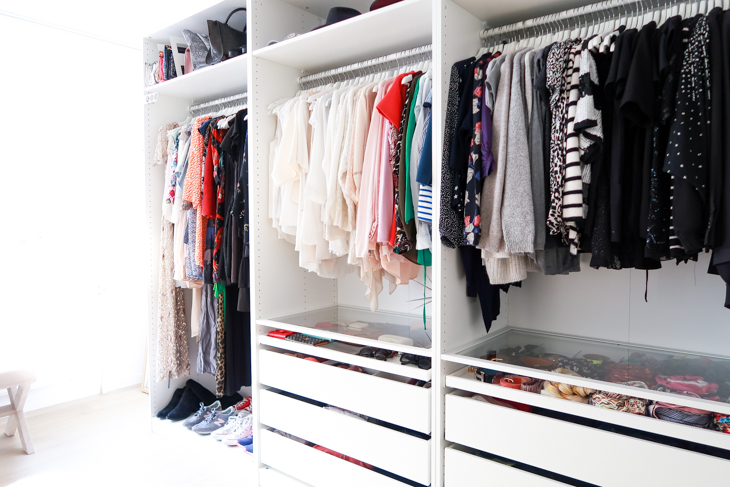 Ever since we moved into our house, a little over a year ago, I knew that I wanted to have a beautiful white closet. We have this room in between our hallway and bedroom that was perfect for it but although I knew what I wanted, it took me ages to finally get it. But let me tell you that it was worth the wait!
Renaud & I decided to build it last December (you can see it in this video) and headed out to Ikea on a Sunday. It took us a little less than a day, from start to finish, and we're both thrilled about it. Although Renaud has his own wardrobes in our bedroom, he really enjoys going through a neat and tidy room before heading to the bedroom!
But let's talk a bit more about the closet, shall we? As much as I would have loved to go custom as the room is awkwardly shaped, it was a bit too expensive for us right now so I decided to go for the Ikea Pax system once again. This time, I didn't make the same mistake as in our flat and got all the furniture in white. It brings so much light to the room and just looks better in my opinion. Before buying anything, I made a list of every category of clothes and accessories that I own and thought about how I wanted to store everything. I knew that all my clothes except my jeans would be on hangers but I also thought about storing my favorite bags, shoes & scarves. This really helped me to design the perfect space for me.
But enough rambling, I'll leave you with the closet tour video and some more photos! If you want me to do more videos or blog posts about tips to organize your closet or if you have any other request, make sure to pop that in the comments below!