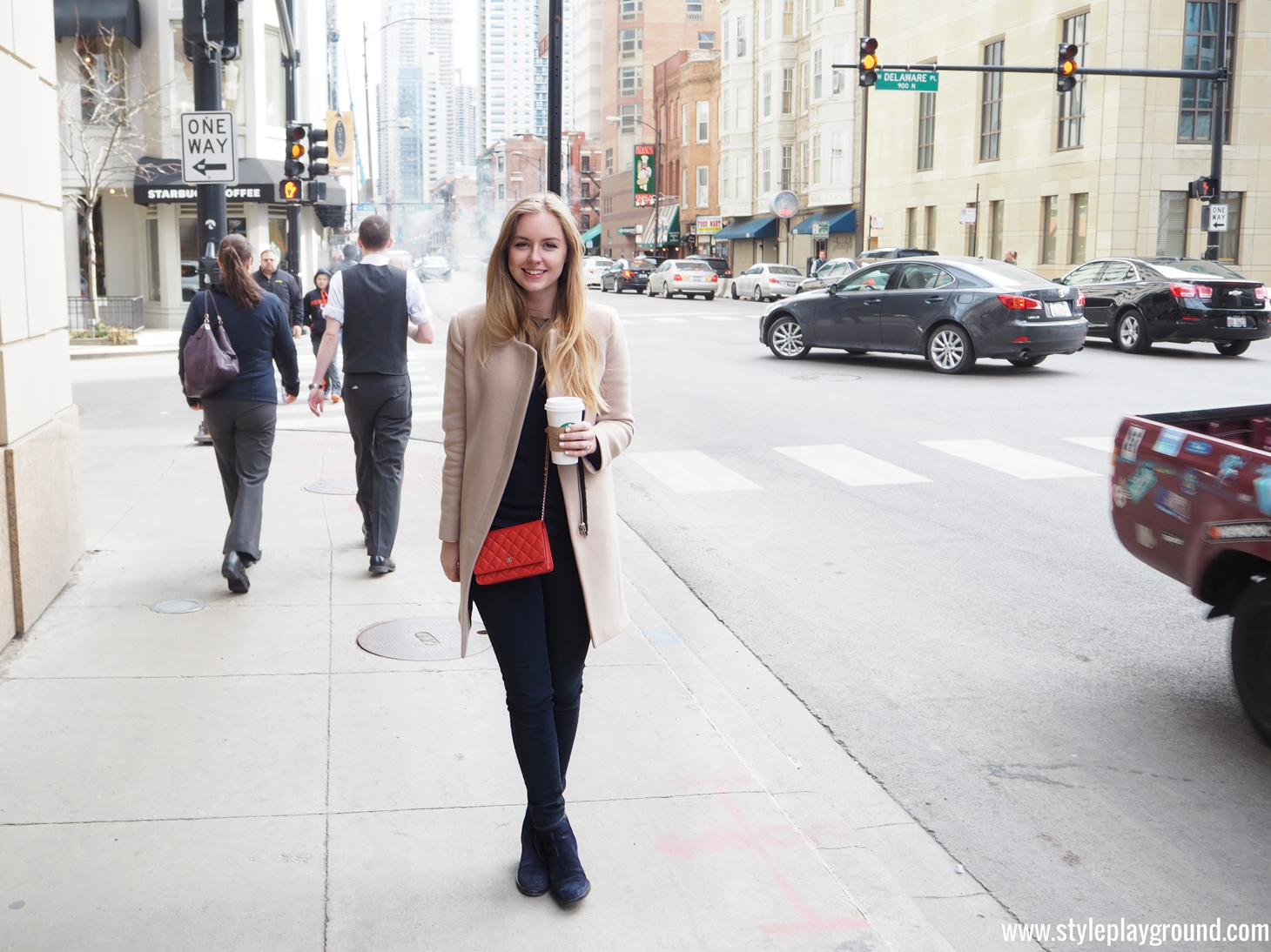 If there's one thing that I love to do when I am in Chicago, is go out for a coffee run. Luckily for me, there was a Starbucks literally next door to our hotel, so I headed over there pretty much every morning to get my soy latte. A few of you have reached out to me to know if what I packed my Chicago (and shared over here) turned out to work for this trip, and the truth is that it did! I packed super light for this trip as I knew that I would probably come back with a few new things (haul coming your way very soon!) and only took a handful of very basic fashion pieces. I wore this camel coat pretty much every day and I didn't get bored of it a single minute. It's very versatile and looks great against black or more colorful outfits. I finally decided to pack my pair of Acne Pistol boots in blue suede and I am glad that I did because they were the perfect pair of boots to pair with blue skinny jeans while being comfortable enough to walk around town.
I also packed my Chanel WOC (full review of it here for those of you who asked!) and I wore it a couple of times. Although I could have done without it and only wear my Proenza Schouler bag, it was nice to change things up a bit. I was a bit skeptical about its small size, as I thought it might not be the most practical thing for a city trip, but I managed to fit all my stuff in here without any issue. The only thing that obviously didn't fit in there was my camera but I had it hanging on my shoulder and it worked out just fine since I was snapping photos of the city all the time anyway.
I am a bit sad to be home already as I feel like this week in Chicago flew by. I love it so much over there and I honestly already can't wait to go back! A few of you have asked for my tips and favorite spots in the city and don't worry, a few posts about this wonderful town are coming your way very soon!
Zara coat • Mango sweater • American Eagle jeggings • Acne Pistol boots • Chanel WOC