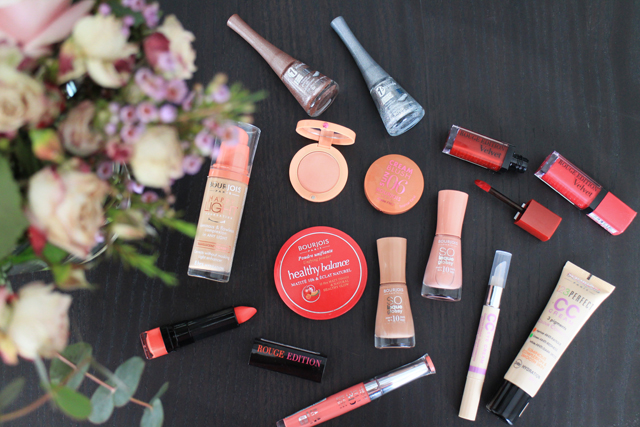 Since a lot of you often ask me questions about my favorite drugstore beauty picks on my Youtube channel, it was about time to tackle this never ending topic and share my favorites with you. Today, we're starting off with Bourjois!
Now Bourjois was actually the very first makeup brand that I purchased. I was 11 years old and saving all my euros to get a blue eyeshadow and a bronze mascara. While my taste in make up has changed, my love for Bourjois hasn't. Whenever I hit the drugstore, I am always drown to their pretty packaging and cute names. But there's more to the brand than just that!
The face
When it comes to bases, Bourjois is killing it. Every single product that I tried from them is just that good. Let's start things off with the Happy light foundation. We all know what we like when it comes to bases, and my requirements are pretty simple: a great lasting power, a decent coverage and a dewy finish that isn't too shimmery. And guess what? This baby ticks all the boxes! It delivers a a beautiful sheen on the skin that makes you look healthy and glowing. The shade range is a bit blah, but if you manage to find your perfect match, this is definitely one to try (mine is #51 rose vanilla). If my skin looks more oily than usual, I like to apply a bit of the Healthy balance powder with a duo fibre brush like this one from MAC. Lightly brushed onto the T zone, this powder adds just a bit more coverage while making everything a bit more matte.If you're lucky enough to wake up with great skin, then these new goodies are just what you need. The CC cream & the CC eye cream are the perfect match for a 'no make up' make up day. Starts by applying a bit of the concealer underneath your eyes to fake a 'I slept 12 hours last night' effect as it cancels all the blue tones while highlighting the area. Then, apply a bit of the CC cream with your hands for an undetectable result. The formula is really liquid so it sinks into your skin within seconds to even out your skin tone. If you fancy some blush, go for their Cream blushers. One of the hardest product to find in the drugstore is a good cream blusher but the Bourjois ones are pretty damn good!. While Revlon has some really good ones, I  have to confess that these little cream blushes  come close seconds. With a cream to powder formula, these are a dream come true for any blush junkie like me. My favorite shades are #01 nude velvet -a light peach that looks dreamy on light complexions like mine- and #06 tropical coral -a new addition to their range that acts as a cream bronzer.
The nails
Then, let me introduce you to the greatest glitter nail polishes ever. That's a big statement but I am fully ready to endorse it. Glitter polishes are something a bit tricky. I often end up with a sheer wash of glitter on my nails that takes hours to properly take off. But these 1 second nail polishes are the exception. They're creamy, easy to apply and transform your fingertips into disco balls with one simple coat. Who knew glitter polish could be so simple? My favorite shades are #43 champagne shower & #39 it's raining stars.While we're talking about new releases, let me introduce you to two new shades of the ever so popular So laque glossy, #13 tombée à pink & #12 pina chocolada. With such cute names, these couldn't be disappointing, could they? The colors are exactly what every girl needs in her collection. Tombée à pink is a beautiful deep ballerina pink that makes even shorter nails look incredible  while pina chocolada is the perfect muted brown that goes with any outfit.
The lips
Please, tell me that I am not the only one with an extensive lip products collection. Pretty please. As far as I can remember, I've always loved lip products. They're fun to play with and a great finishing touch to any makeup look. For every day, I like to reach for the Gloss 3D in #59 rose allegoric. Believe me or not, this is actually a great dupe for my beloved Clarins lip perfectors -read creamy, moisturising and not sticky. If I want to go for a bold look, I turn to the new Rouge edition velvet. These apply like a stain but dry to a highly pigmented matte color. The shade #05 olé flamingo is a true Barbie pink while #08 grand cru is the perfect oxblood color. Sadly, these don't have a great lasting power but are easy to re apply on the go.Finally, the Rouge edition in #11 fraise remix, is the perfect bright coral lipstick. I like to pair it with a natural make up look and a simple outfit for a fresh look this spring.
Bourjois cheat list

Go for: foundations, concealers, blushes, nail polishes & lip products.
Stay away from: mascaras & liners
Have you ever tried anything from Bourjois? Did you love it? Hate it? Let me know in the comment section below!