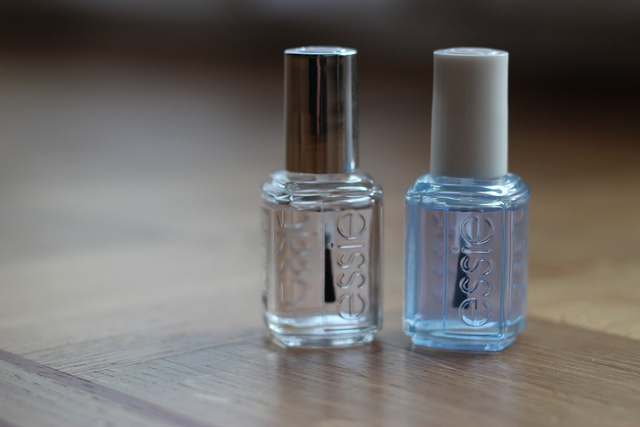 I think that my obsession with nails started as a kid. I always wanted to paint my nails in a birght pink or a shimmery blue (go figure) and it hasn't really changed since then.I am the kind of girl that never goes out without some sort of color on her nails and that has a pretty extensive collection of Rimmel 60 seconds polishes in her car… And you must remember this video in which I built my own nail polish rack, don't you?Anyways… Over a month ago now, I literally exploded my bottle of sèche vite on the floor in our appartement (I let you imagine the boyfrien'sd face when he realized what just happened!). After a good cleaning of the floor and a sad goodbye to the remains of my beloved top coat, I headed to the drugstore to find a good replacement.I ended up coming back home with 2 goodies from Essie, grow richer -a nourishing growth base, and no chips ahead – a chip free top coat. And these new beauties have turned out to be the best combo I ever used on my nails!
The grow richer base is a really liquide polish that goes on like a charm. I have really weak short nails and although it didn't really help me to grow Jerseylicious nails, it did help to avoid any breakage. I let it dry for a couple of minutes before applying any color on top and it really does help your color to look more vibrant while protecting your nails!
Once I am done with my traditionnal two coats of color, I like to apply a good coat of no chips ahead.  The texture is definitely thinner then the Sèche vite, but the finish is pretty similar as it leaves the nails super glossy and shiny. It dries pretty quickly, in around 4 minutes and I would say and does a great job at preventing chipping.
What are your tips for a good looking and lasting manicure?