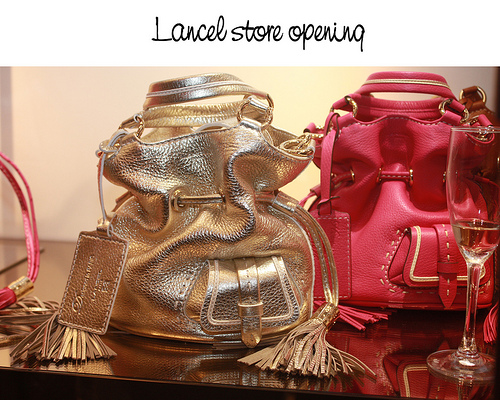 Yesterday night, I was invited to the new Lancel store opening (Bvld de Waterloo) in Brussels.
The shop was crowded with bloggers and fashionable people, all drinking champagne and listening to old Brigitte Bardot songs mixed by Beatrice Ardisson.The staff members were all dressed up in a typical BB outfit with a pink and white vichy skirt and flats.
It also was the perfect occasion to meet with fellow bloggers Marie, Kathleen, Eva,Valérie,Sophie and Dorothée.
Beyond that, even if the store is not that big, it really looks amazing! It's full of mirrors, silver shelves and beautiful photos.
Talking about my outfit, I took my Prada parade heels out for the very first time, and so far so good, everyone loved it! Because of these statement shoes, I kept the rest of the outfit very simple and all black.
Hier soir, j'étais invitée à la soirée d'inauguration de la nouvelle boutique Lancel de Bruxelles (Bvld de Waterloo).
La boutique était envahie de bloggeurs et autres fans de mode, en train de boire du champagne tout en écoutant de vieilles chansons de Brigitte Bardot mixées par Béatrice Ardisson.Tout le personnel féminin était relooké à la BB pour l'occasion: jupe en vichy rose et blanc et petites ballerines.
Mais cette soirée était aussi l'occasion rêvée d'une petite rencontre entre bloggeuses avec Marie, Kathleen, Eva,Valérie Sophie et Dorothée.
A part cela, même si la boutique n'est pas grande, elle est vraiment magnifique. Remplie de miroirs, d'étagères argentées et de photos incroyables.
En ce qui concerne ma tenue, j'ai porté mes escarpins de parade Prada pour la toute première fois et, "so far so good", tout le monde les a adorés! Puisque les chaussures contenaient déjà pas mal d'informations, j'ai gardé le reste de ma tenue simple et noir.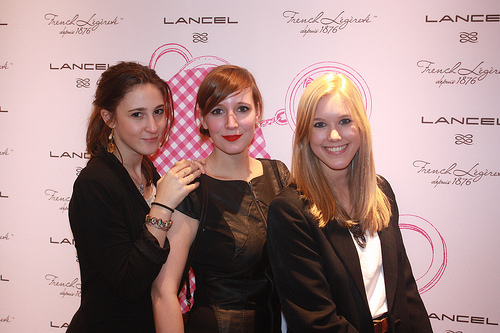 My BBF (best blogger friends) Eva Kathleen Marie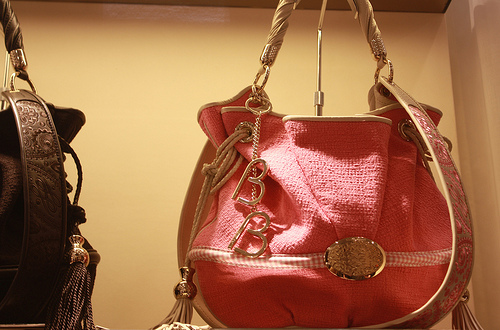 The Brigitte Bardot bag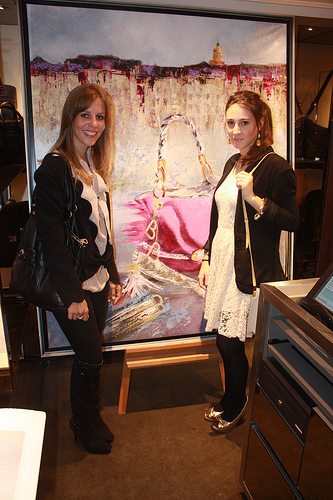 Valérie and Eva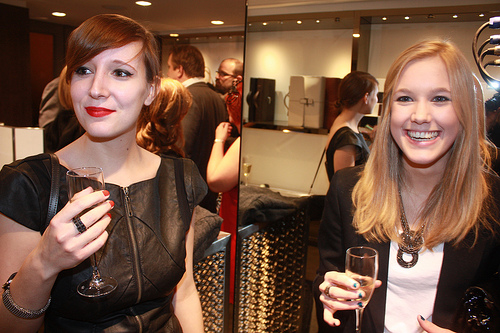 THE photo I am so proud of!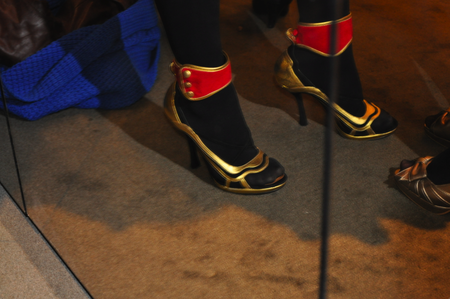 My Prada heels (photos stolen from the sweet Sophie)
Prada parade heels
BCBG Max Azria dress
Zara black blazer
CC Skye onie messenger bag
Fendi bag charm
Lola by Marc Jacobs perfume ring