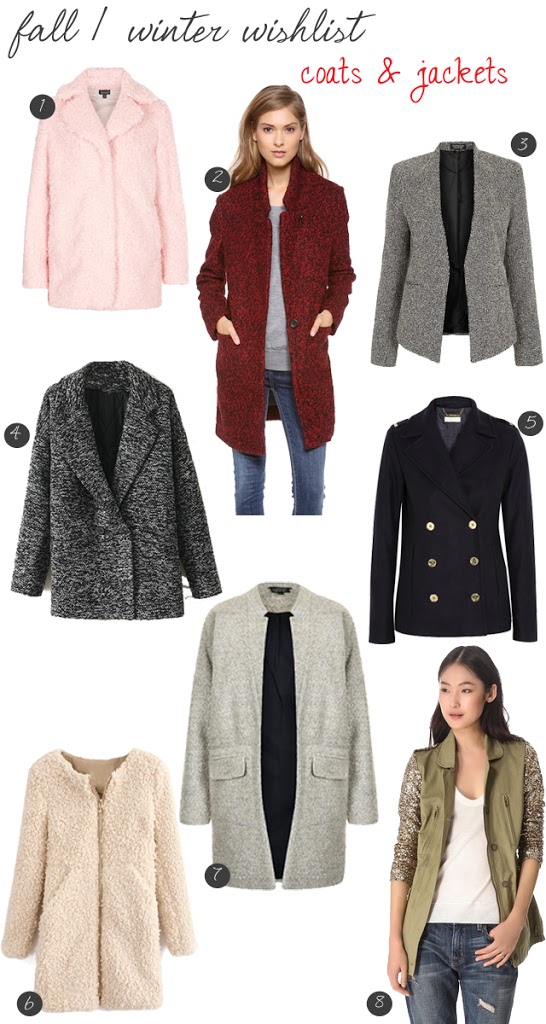 It is fair to say that we definitely need a coat to keep us warm by now. Being a Belgian girl, I have a rather extensive selection of coats and jackets in my closet but each year, I can't help but crave new items.
A good kaki jacket with a feminine touch like this one, is the perfect transition piece. It makes the simplest outfit look pulled together with no effort while a light pink coat will beat those "I don't have anything to wear" days.
This season, I am also craving well cut coats in basic colors. This double buttoned peacoat from Michael Kors will look amazing worn over a pair of jeans while this Topshop grey one will look incredible against burgundy and deep green tones.
What kind of coats are you eyeing this season? Let me know in the comment section below!
1) Topshop pink coat, $158
2) Maison Scotch burgundy coat, $275
3) Topshop cropped blazer, $116
4) Romwe wollen coat, $32
5) Michael by Michael Kors peacoat, $375
6) Romwe fluffy coat, $42
7) Topshop thrown on coat, $170
8) One by Faubourg du Temple jacket, $143