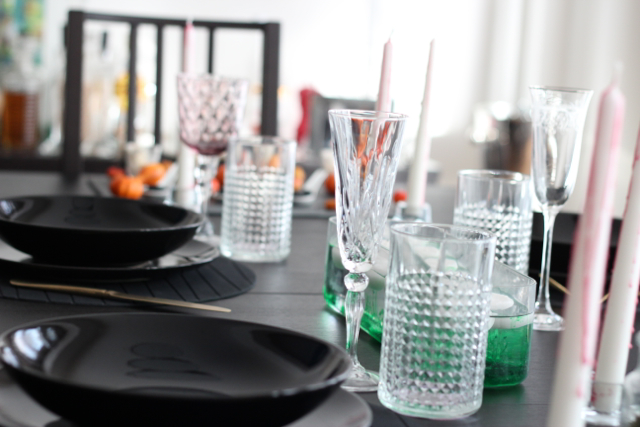 This Thursday, I am throwing my very first Halloween party since we moved into our place. I can't believe that I haven't done it sooner but I am looking forward for a fun night later this week!For this party, I decided to gather my best girlfriends over a casual dinner. I knew that I wanted a relaxed night, filled with good food, spooky movies and poisonous cocktails, so here are my best tips on how to throw a great Halloween party.
Think outside the box
Instead of going for an obvious black and orange theme, try to think about new color themes and decor. A few details, like a fake spiderweb or a creepy skull can transform your space within minutes. My favorite place to get inspiration is Pinterest (you can follow me here). I even created an Halloween board where I pin everything Halloween related, from decor to recipes.
Plan ahead
Halloween is a very popular holiday and you don't want to end up canceling your party because everyone is already taken that night, so send your invites as early as possible and think about the kind of party that you want to have. Do you want a big costumed party with a lot of people? Or do you prefer a casual get together? Plan your food and drinks accordingly. Martinis cocktails are perfect for a small dinner while large dispensers filled with sangria are probably best for a larger party.
Think about your meal
Halloween is the perfect night to have fun in the kitchen. I like to serve unusual appetizers like ricotta & herbs or spoons filled with seaweed pearls. For the main course, I always go for something easy and quick to make as I want to spend as much time with my guests as possible. This year, I am thinking home made spinach raviolis with passatta. For dessert, I like to go overboard and create fun little cupcakes as well as home made peanut butter cups.
Get crafty!
As it is pretty difficult to find great Halloween decor in Belgium, I decided to do things myself. I created blood dripping candles by pouring red wax over white candlesticks (see the full DIY project here). For my centerpiece, I used floating candles and added green food coloring to the water and I also taped eye pictures on the bottom of each glass (tutorial here). To complete the look of my table, I used black dinner plates and used mismatched wine glasses.
Think about entertaining
For me, Halloween night is all about watching scary movies and eating tons of candies. This year, I decided to stock up on classic horror movies like Psycho and the Shinning. But you can also decide to create a horror movie based quiz or even go trick or treating with younger folks!