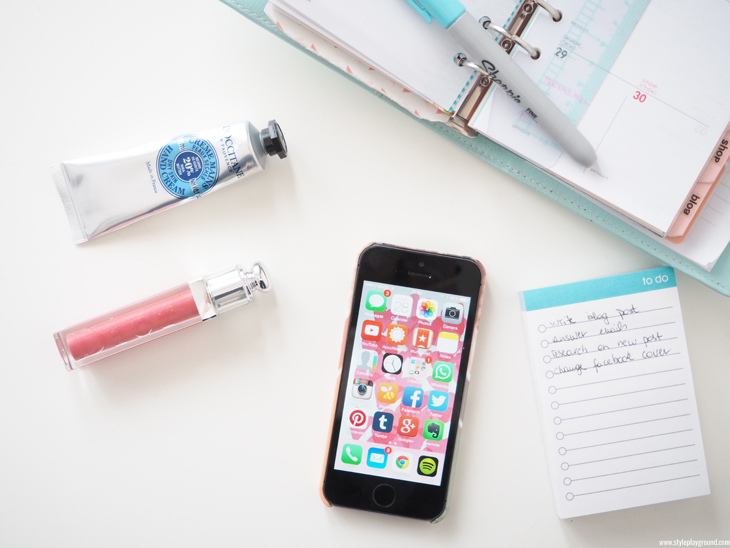 When I got my first iPhone, I immediately fell in love with it. I had just moved to Paris and I was so happy to have the whole world in my pocket. I used Google maps all the time to find my way around my new city and use to spend hours reading blogs on Safari. Fast forward 6 years and I still love my iPhone very much. Of course, it's not the same one anymore (my very first one got stolen in a nightclub) but this little guy follows me everywhere I go. Since I love it so much, I though it was time to give you a good overview of my all time favorite apps!
The obvious ones
Instagram I really don't think that instagram need an introduction anymore. I love it because it's very visual and allows me to get daily updates from my close friends and people that inspire me. Make sure to follow me @styleplayground and discover my top ten instagrammers here.
Twitter  I have a love/hate relationship with Twitter but this app is always on my home screen. I love to share little updates on my everyday life on there but also chat with you guys!
Tumblr Tumblr has been my favorite app for those sleepless nights. I could spend hours browsing the feed and reblogging all sort of images, from cute kittens to fitspiration.
Spotify  I've been subscribed to Spotify premium for quite a few years now and I simply adore it. I've always believed in buying your music but since I love to change my playlists quite often, it quickly became quite a budget. Now, for less than 10€ a month I get listen to Will Smith or The Kills as much as I want to!
Pinterest  To say that I am obsessed with Pinterest is an understatement. I spend hours browsing the site and thinking about home decor and brainstorming DIY projects. Make sure to follow me here for endless inspiration!
The practical ones
Accuweather  Accuweather is the best weather app I've ever had. Not only does it gives you the current temperature as well as the forecast, it also displays the real feel, the sun & moon times as well as practical advice for outdoors activities.
Chrome  Google Chrome is my favorite desktop browser so it's no surprise that I love it on my iPhone as well. It syncs with all my computers which allow me to access my bookmarks and favorite websites anywhere, any time.
Tripit  Tripit is an app that I discovered thanks to this video by Allisson Anderson and I am so thankful she shared it. This app helps you plan your trips and basically does all the job for you. It syncs with your email and retrieves any flight/hotel/event booking and import all the infos into the app. I use it every time I am travelling and I honestly don't remember how I did beforehand!
Parcel  Parcel is a simple but efficient app to keep track of all your parcels. From processing to 'out for delivery' notifications, this app is great if you're an online shopping addict.
Staying organized
Wunderlist  Wunderlist is a great app to quickly jot down to do lists while still organising them into different categories. You can even set a due date to be reminded of your tasks
Evernote  Evernote is by far the most efficient notes app across all devices. You can organise all your notes into different notebooks, add tags, create tables and all of these sync between your devices!
Photography
Whitagram  A simple app to make any photo fit into instagram.
Afterlight  This is my go to app for editing my photos on the go. It has some great filters as well as handy options like brightness, contrast and cropping.
OI Share  My Olympus Pen EP-L7 quickly became an extension of my arm and this app is one that I use every single day. It connects wirelessly to my camera and allows me to import photos directly to my phone or to use my iPhone as a remote controller for my camera.
For bloggers
Mention  Mention is a great app to keep track of mentions of your name or your blog's name over the internet. Simply define your search criteria and Mention will alert you each time something new pops up about you!
Dropbox  Dropbox is a great app to use to store important files on the cloud. I make sure to keep a few handy documents such as my blog Media Kit on there at all times to access it easily on any device.
Bloglovin  Chances are that you are as addicted to blogs as I am. If that's the case, Bloglovin is certainly the easiest way to keep track of new posts on your favorite blogs. I love to use it whenever I have to wait somewhere (at the doctor's for example) as it allows me to quickly browse new content from my favorite bloggers.
Healthy living
My Fitness pal My Fitness pal is a food diary directly on your phone. I use it pretty much everyday to keep track of what I eat, how long I exercise for as well as monitoring my water intake. It is a great app to use if you're trying to make healthier choices or to detect any food intolerance that you might have.
Nike running+ I started running frequently last year and I strongly believe that this app really helped me get into it. It connects to your Nike sneakers and keep track of all your runs, gives you feedback but also helps you to achieve your goals.
Sleep cycle Sleep cycle is a great app to monitor your sleeping patterns. This app will create statistics about your night by dividing it into awake, sleep & deep sleep phases. Furthermore, it will wake you up at the most suitable time based on your sleep!
Entertainment
9gag I am totally addicted to 9gag. Here, I said it! If you love it as much as I do, get the app, I promise that it will keep you entertained for hours!
Audible Audible is an app developed by Amazon that allows you to listen to audio books on the go. When I first downloaded it, I didn't think that I would get that much into it. Nowadays, whenever I am in the car or cleaning around our place, I always love to listen to a good audio book!
Kindle I love reading but I hate to carry books around with me, especially when I am travelling, so this Kindle app is a dream come true for me. To be honest with you, I use it more often on my iPad but whenever I am in a waiting room, I like to use it just as much.
IMDB Whenever I am watching a movie or a TV show at home, I spend all my time on IMDB. This app is packed with info about the movie, the actors and some trivia as well. I simply adore it!
What are your favorite iPhone apps? Make sure to leave your recommendations in the comments down below!