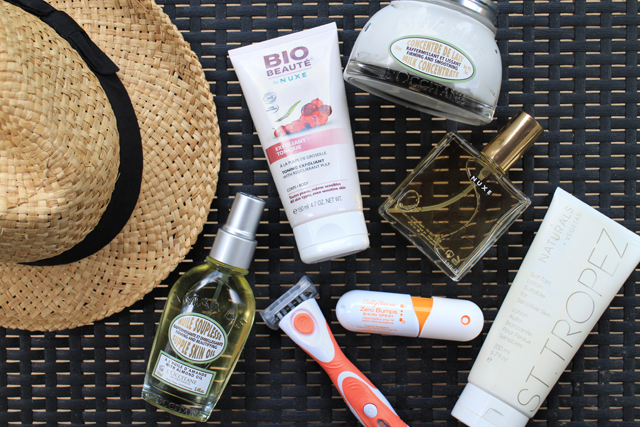 I declare bikini season officially open! And things are getting quite urgent here since in exactly seven days I'll be by the pool of our Miami hotel. While it's a bit too late to get on a crazy diet, I've compiled my favorite products to get bikini ready in only a few minutes!
It all starts with beautiful and smooth skin. The first part of my routine is exfoliating. Indeed, you'll get a closer shave and a more even tan. My product of choice recently has been the Bio beauté by Nuxe 'toning exfoliant'. Packed with great natural ingredients, this gets the job done without leaving my legs feeling dry or sore. Afterwards, it's time to get rid of nasty hairs. I've tried my fair share of hair removal methods, and at the end of the day, I am a razor kind of gal. I find it quick, easy and I always have smooth legs. The best razor for bikini season is, without a doubt, the Wilkinson 'quattro for women bikini' one. Not only does it comes with a super effective razor, it also had a built-in trimmer that works with a simple battery!Once I get off of the shower, I like to use a bit of the Sally Hansen 'zero bumps bikini spray'. I spray a bit of product on any area that is prone to bumps and it leaves my skin nice and smooth. Then, I reach for my favorite combo at the moment, which is from l'Occitane. I start with a few sprays of the 'supple skin oil' and once that has penetrated my skin, I go back with the 'milk concentrate' from the same range. It makes my skin look incredibly healthy and the scent is heavenly.
If I look like the lost sister of Casper the ghost, I like to use a bit of the St Tropez 'self tan lotion for sensitive skin'. While this asked for a bit more work than their tanning mousse, I find that it doesn't irritate my skin and keeps it moisturized in the same time. Last, but not least, if I want to enhance my tan while keeping my skin healthy, I always use a bit of the Nuxe 'huile prodigieuse'. As you all know, I swear by this oil for so many things and it comes quite handy during summer time to give you beautiful legs!
Do you have any products that you like to use to get bikini ready?