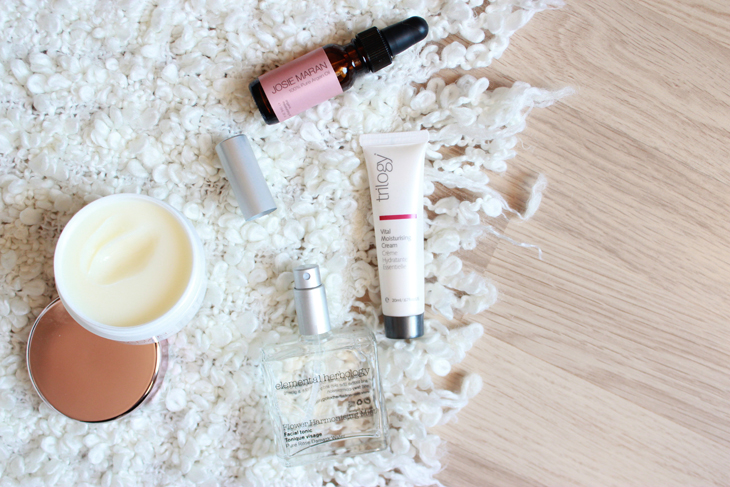 Ever since I started my new job, I've been a bit overwhelmed. Adjusting to a new schedule while working on the blog and making a few improvements at home hasn't really been the most relaxing combo there is. Coming back home late after long hours meant that I often reached for my Bioderma and nothing else. Yup, you read that right, I took my makeup off and passed out on my bed. No cleansing, no Clarisonic & no moisturizer. And let me tell you that I highly, highly regret it now. My skin has been acting up a lot recently and that's all my fault. It has been very dry, flaky, spotty and it feels really tight most of the time. As a result, I pile up the makeup, and end up with a cakey face at the end of the day. Nightmare.
Over the last few days, I've been back to my usual skincare routine and really listening to what my skin needs. My Clarisonic is back in my everyday routine (oh gosh, how I missed it!) and so are my moisturising weapons.
To take off my makeup before going to bed, I've been reaching for the Josie Maran 'argan cleansing treatment' over anything else. This super buttery cleanser gets rid of every little bit of makeup while nourishing my skin. I like to take a few extra minutes each night to really massage it into my skin and enjoy the moment. I rinse it all off with a muslin cloth and my skin feels happy again. I then follow up with a few sprays of the Elemental herbology 'flower harmonising mist' which plumps my skin and makes it super fresh. A few drops of the oh so wonderful Josie Maran 'pure argan oil' later,  my skin looks healthy and glowy again. I concentrate this wonderful oil mainly on my forehead, as it is where my skin really shows off dehydration, and I simply cannot live without it. I've tried my fair share of oils before, and I even used argan oil before, but this one is like no other. It sinks into the skin and leaves it nourished rather than oily. I finish things off with a pea size amount of the Trilogy 'vital moisturising cream' that I apply onto my face and neck. This stuff is seriously lovely and smells amazing as well.
Since I started doing this whole (natural!) skincare regime at night, my skin has been back to its normal state and does look even better than usual. And yes, it takes an extra 5 minutes or so at night but the result is so damn good that I am ready to commit.