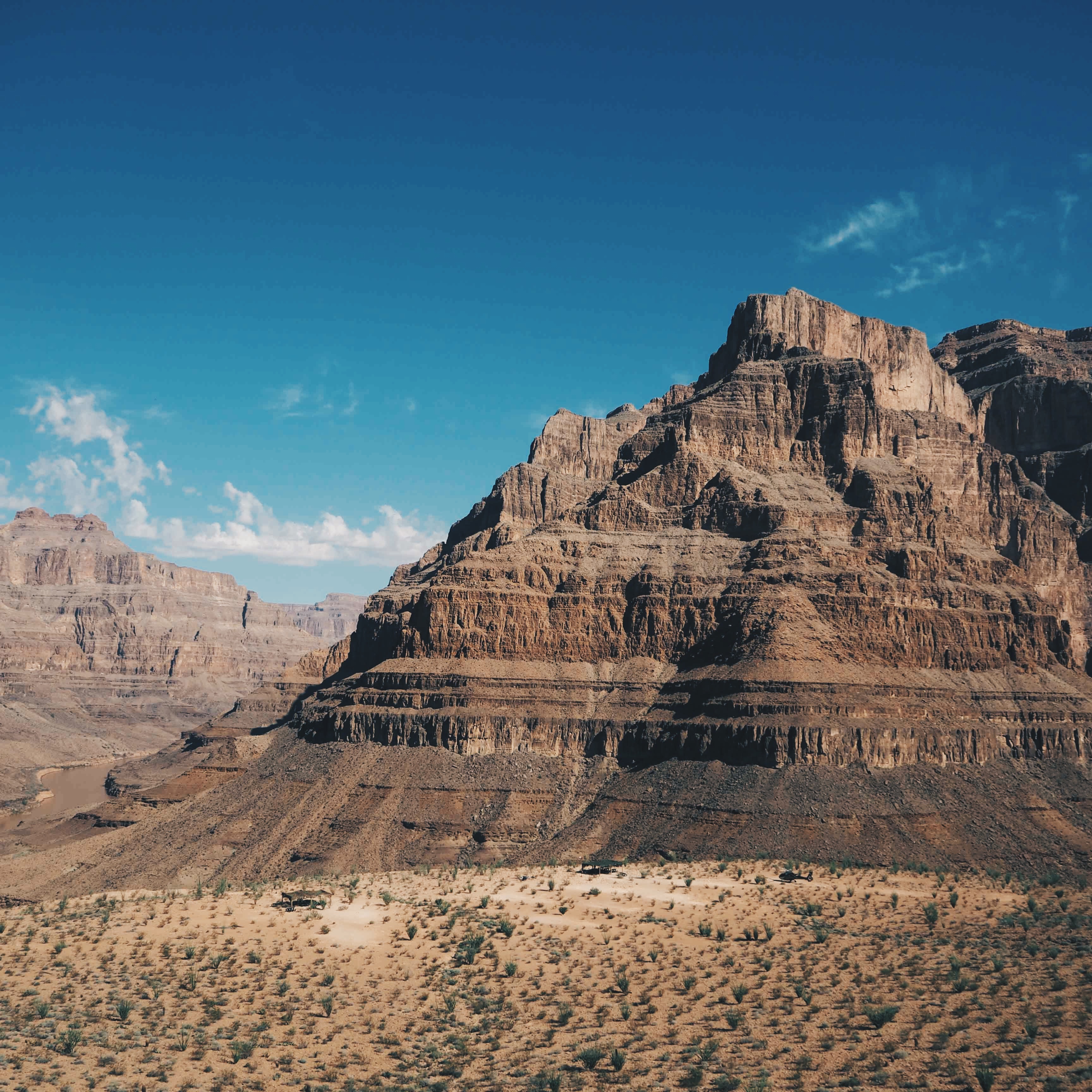 Seeing the Grand Canyon has been something that I wanted to do ever since I was a kid. I remember seeing it in many movies and I just knew that I had to experience it myself. When the moment came to finally make plans for our honeymoon, we immediately knew that the Grand Canyon had to be a part of it. It was on both our bucket lists and it felt like the right time.
While we had originally planned to see it on the last day on our trip, which meant waking up at 3 AM and only spending 2 hours there, we finally decided to bite the bullet and splurge for a helicopter ride instead. So on our third and final full day in Vegas, we woke up extra early to embark on this breathtaking adventure. We chose to fly with Mavericks, a company that was highly suggested by everyone and I clearly see why. They offer the best service I've ever seen including a pick up at your hotel. Their whole staff was very friendly and experienced and our pilot was great as well!
We started off our journey flying over Las Vegas which was simply incredible. While the city looks crazy enough when you're wandering around its streets, it takes a whole other dimension from the air. We then headed to the Hoover Dam, a giant Dam located outside the city. And then, it was time to see the Canyon. I remember Renaud & I smiling frantically at each other and just giggling at the idea of seeing it for the first time.
The best part of this trip was the landing in the Canyon. It was the main reason we chose to see it by helicopter and I am so grateful that we did. We landed safely next to a little pic nic area that was complete with snacks and champagne. Yup, you read that right, we stopped for champagne right in the middle of the Grand Canyon. It was a real pinch me moment for both of us and I am so thankful that we got to do it together. We spent 20 minutes or so just taking in the sights, chatting with the pilot about the landscape but also about living in Nevada and what daily life looks like for him.
We got to see so many incredible sights on the way back that it would be difficult to explain. We saw tiny cities in the heart of the desert, men living on their own in an RV in the middle of nowhere but also caught a glimpse of wild horses and other wildlife.
We landed back safely in Las Vegas after a 3 hours experience with a huge smile on our faces. We celebrated crossing it off our bucket list with a lunch at Shake Shack where we spent the entire time just talking about it.
Have you crossed anything off your bucket list recently?