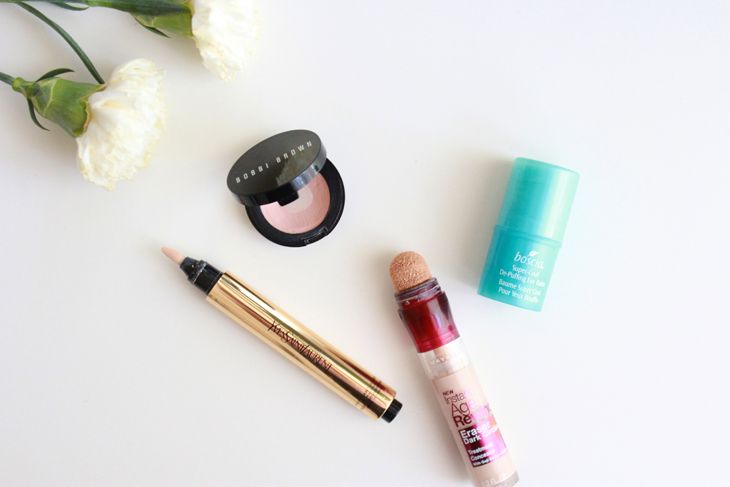 The past few weeks have been jam packed on my side. I started a new job, I came back home after a long month in the country and the blog had a real facelift (I hope that you like it!). I had a hard time squeezing everything into my schedule but I finally feel like I am getting back on top of things.
But all of this left quite a statement on my skin. My skin felt a bit sore & unloved while my dark circles have never worse. I find that drinking a lot of water and cutting back on processed food really helps but sometimes a quick fix is exactly what we need.
First and foremost, keeping the eye area hydrated is the key to long lasting concealer that doesn't crease. My new weapon of choice is the Boscia 'super cool de-puffing eye balm'. It comes in a great chubby stick that twist and applies in 2 seconds, chrono. It feels really fresh on the skin and, because it is so quick and fun to use, I tend to use it more than any regular eye cream. Also, and this is really important especially when we're talking about the eye area (as the skin is slimmer there), it is packed with natural ingredients and no nasties, score!
Then, I move on to the real hiding process. I start by applying a bit of Bobbi Brown 'corrector' in the shade light bisque underneath my eyes and I blend it into the inner corners with the Real Techniques 'pointed foundation brush'. This will cancel the blue tones of your dark circles and will help your concealer to last that bit longer. Then, comes the concealing part, and I have a new favorite concealer from the drugstore! The Maybelline 'age rewind dark circle eraser' has been on my wish list for months but I finally picked it up while I was in Miami. I loved it so much that I went back and got the matching foundation, which is just as lovely. While I am not the biggest fan of the spongy applicator, it does a great job at applying the right amount of product. One swipe on the left, one swipe on the right and then I blend everything together with the Real Techniques 'contour brush'. Finally, if I have enough time on my hands, I'll pop a bit of the YSL 'touche éclat' underneath my brow bone to give my eyes an instant lift effect. And voilà, dark circles done!
Do you have any great tip to share about dealing with dark circles? If so, pop it in the comments section below!