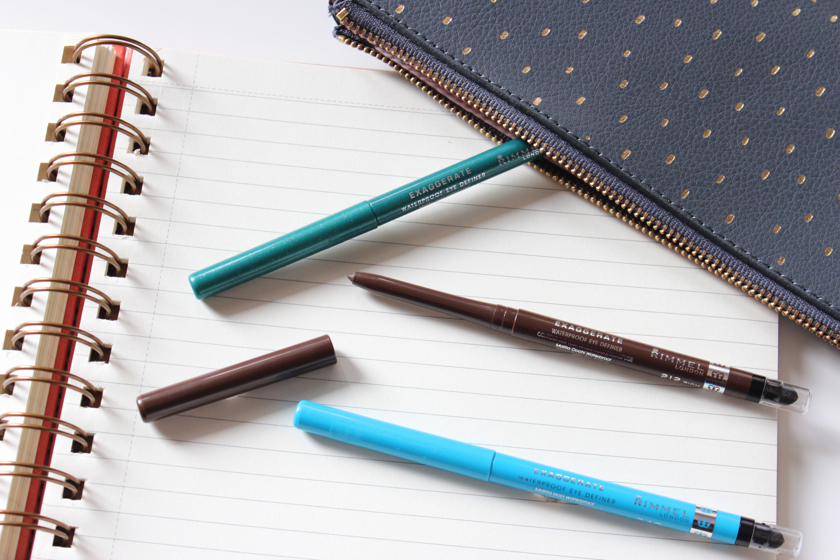 It's no secret that Rimmel is one of my favorite makeup brands. I am obsessed with their 'lasting finish lipsticks' and I own my fair share of their '60 seconds nail polish' bottles. But one of my most recent discovery are these three new shades in their 'exaggerate waterproof eye definer' range.
I usually play it pretty safe with my eye makeup: a classic black eyeliner and a subtle shimmery gold shade all over the lid is my go to look but when this fun shades landed on my desk, I was ready to be a bit bolder. Aqua sparkle was probably the most risky shade for me but it was the very first one that I used. Nothing too crazy here, I simply used it to thigh line my upper lash line to give my classic black eye liner a twist. The color is really rich and although it has a shimmery finish, it didn't look too 2002 when applied on the eyes. Emerald sparkle is a great shade to spice up your every day look. I find it best when paired with a bronze smokey eye as it takes the whole look to a new level. Finally, rich brown is the safe bet of the bunch. This creamy matte brown is rich enough to be used on its own as an eyeliner but it blends so well that I love to use it with the little smudger that comes on the other side of the pencil to create a very subtle smokey effect. This shade has already found its way to my on the go makeup back to transition any day time look into a night time one.
Enough said about the pencils, it is now time for the giveaway! The lovely people at Rimmel are giving away not one, not two but 6 packs of these pencils to you! How exciting is that? To enter, simply use the little handy widget below and don't forget to read the terms and conditions. Good luck everyone!