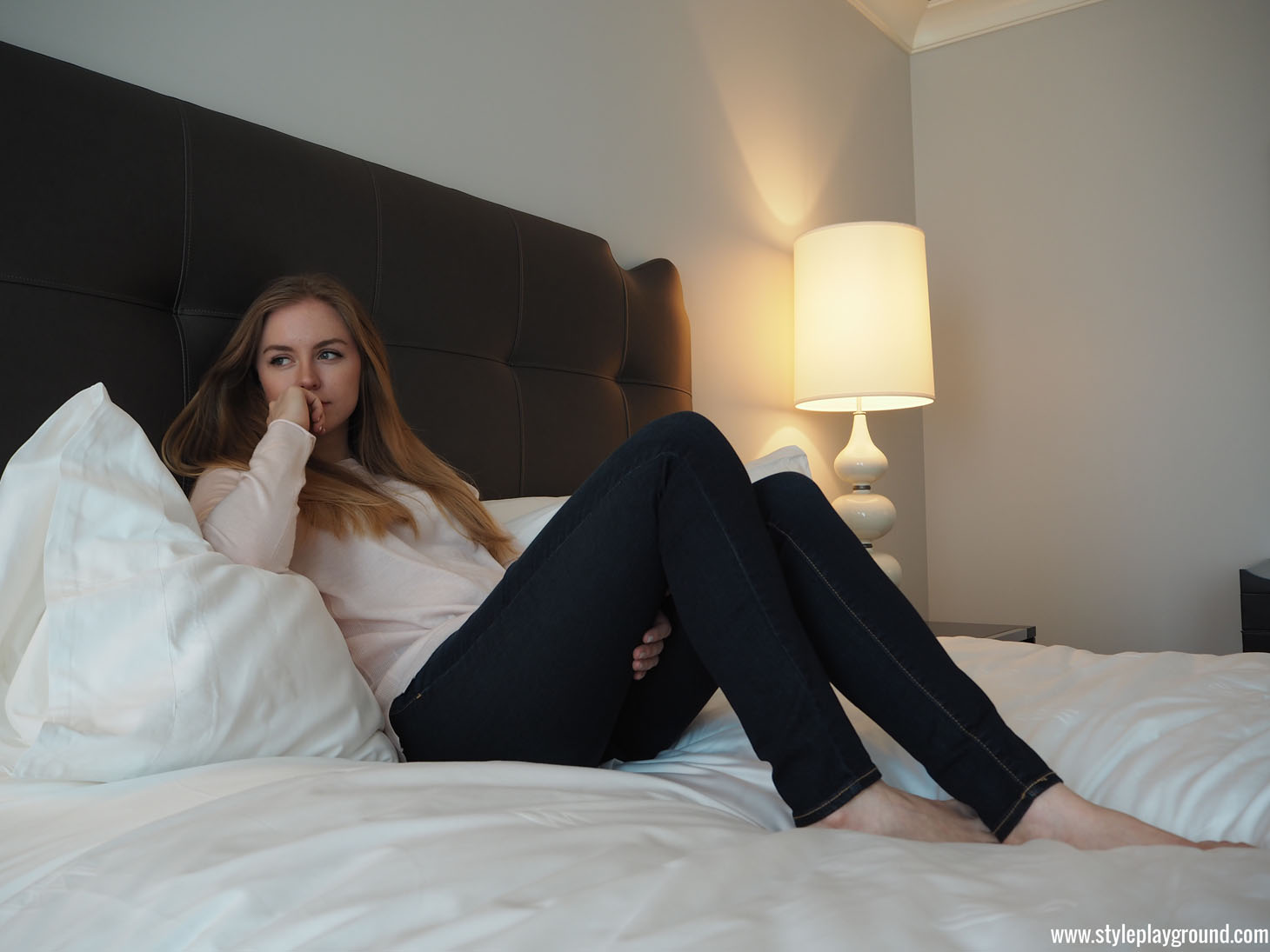 As much as I enjoy travelling, I tend to always feel a bit overwhelmed by it. I love discovering new countries, meeting new people and trying new food but all the fuss about airport security, check in times and bookings takes a bit of the fun away. But over the years, I've learnt that overpacking is never chic, that it's not the end of the world if you don't experiment everything that a place has to offer and that it is vital to choose your hotel wisely.
We shot these photos back in April at the Waldorf Astoria Chicago but I never posted them before… This place feels like my second home, although I wish mine also had a swimming pool and a private driver! But since I feel so good over there, it made me think about the things that I do to feel more relaxed when travelling…
Feeling at home anywhere in the world is a real challenge. To me, it means feeling great, energised and confident. I am a naturally stressed person but I always make sure to be fully prepared to avoid feeling overwhelmed once I am there. When I start planning my trip, I always take time before booking a hotel. First, I make a list of things that I absolutely want like a really good location, a metro station nearby or even a swimming pool. Once that list is done, I go online and do a bit of research about hotels and locations. Once I am pretty set on a hotel, I read a handful of clients reviews before booking anything. I've had some bad surprises in the past so I like to spend a bit of extra time making sure that everything will be alright. But with these coupons everything always works and a huge discount is guaranteed! Then, once everything is booked, I use my Tripit app as a reference. This iPhone app has all my hotel, flights & restaurants bookings in it which makes it so helpful. I have everything at the touch of a finger, whenever I want it and it has made a big difference for me.
Then, I'll start packing as early as one week before my departure. This way, I don't feel rushed and I can add or remove things from my suitcase all week long. I've been doing that for years now and I never forget anything anymore! I also use this checklist to make sure that I have everything that I might need.
Whenever I hop on the plane or on the train, I always rely on my Bose noise canceling headphones. These cancel all the background noise around you which makes you feel less tired and more relaxed. I also always make sure to pack all my valuable items in my carryon, such as my camera, laptop, phone & chargers so that in case my luggage gets lost I always have essentials on hand.
Once I reach my destination, I like to take an hour or so to get settled down. Of course, I always want to rush out the door and do a million things but having this little moment to myself makes me less anxious. I always unpack my suitcase and organize everything so that I don't lose hours trying to find my camera charger or my pair of sneakers during the trip.
Another thing that is important to me is having my beauty routine with me. This might sounds silly but I am a creature of habit and having my favorite products with me feels somehow soothing. I always stock up on travel sizes when I can & I like to take a bit of time to pamper myself even when I am away from home.
With time, I've also learnt that it's ok not to do everything. I always feel a bit pressured to visit that museum that everyone was raving about or to visit this neighborhood which is the new place to be but over the years I've been trying to end this 'fear of missing out'. Sure, it's not always easy but it's ok to have a night in, order room service and watch TV. After all, you're on holiday, right?!