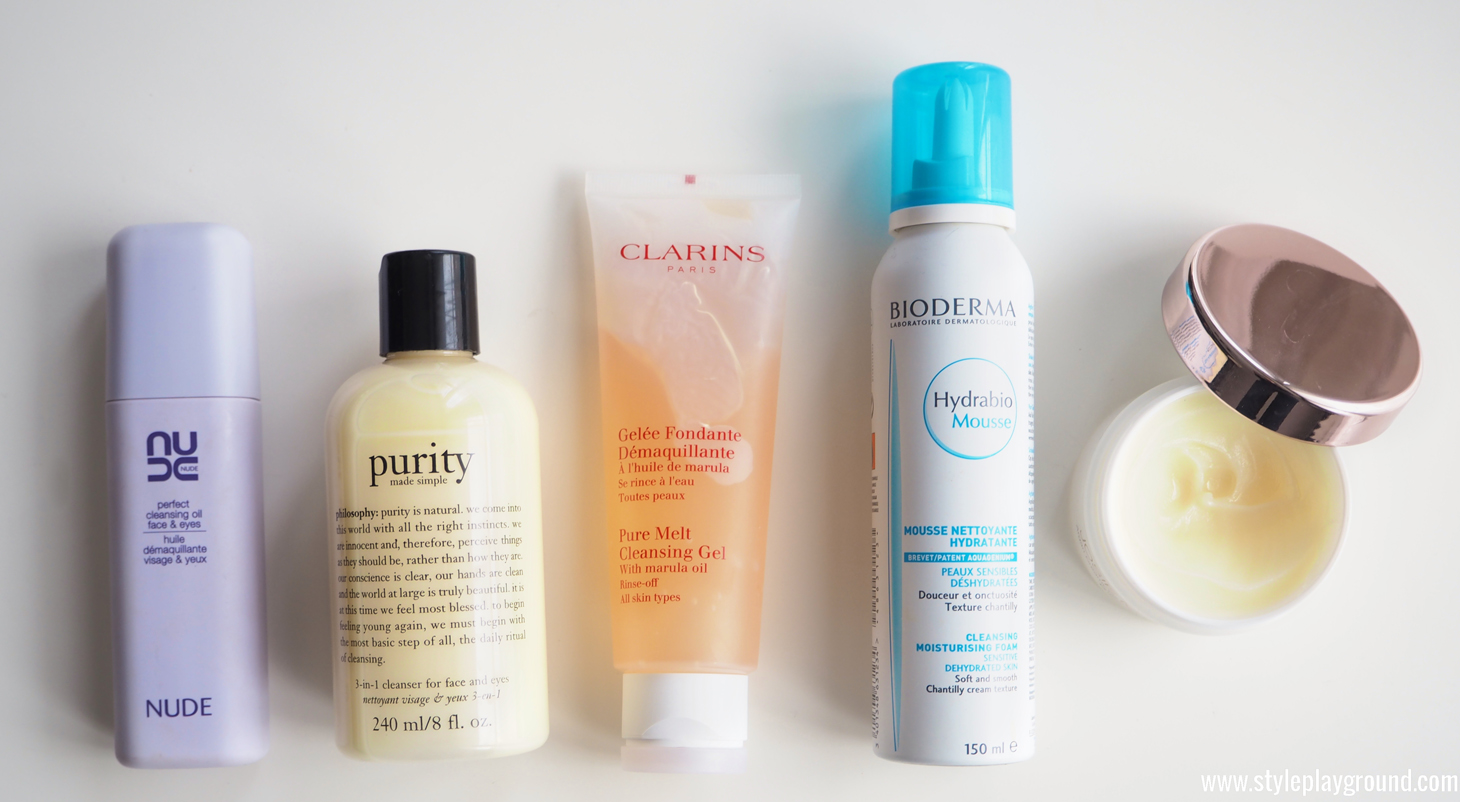 Cleansing is probably one of the most important steps in your beauty routine. It gets rid of any residues of makeup and leaves your skin clean & fresh and ready to absorb any skincare product that you will put on afterwards. But finding the perfect cleanser can be quite a challenge… Trust me, I've been there. And today, I am sharing all my tips to help you find your perfect cleanser.
If you wear waterproof makeup
The Nude nourishing cleansing oil is all sorts of wonderful. It's very rich and smells absolutely amazing. It's packed with natural powerful ingredients that really dissolve all kind of makeup, including waterproof mascaras and long lasting foundations. This one comes with a pump, which makes it very practical to use but I find that using a couple of pumps is necessary to get the right amount of product. I use it on both my skin and my eyes and I find that it leaves your skin nourished rather than oily afterwards.
If you love your Clarisonic
If you're like me, chances are that you're pretty much addicted to your Clarisonic. And in case you don't own one yet, trust me, you want to try it out! I find that this Philosophy purity cleanser is the best thing to use with it. It's very liquid so it coats all the bristles of the Clarisonic and deeply cleanse your skin. The formula is mild which is great because it doesn't feel too harsh on the skin. Although it says on the bottle that you can use it on your eyes as well, this is not something that I would recommend as I find it quite tingling on the eyes.
If you're a lazy bum (like me)
The Clarins pure melt cleansing gel is the best product that I've discovered last year. I picked it up on a whim at Vienna airport but I've been using it non stop ever since. This gel comes in a squeezable tube, which makes it super easy to use and to travel with. I usually take a pea size amount and rub it between my fingers before applying it all over my face, including the eyes. It turns into a thick oil onto the skin and literally melts your makeup away. I then damp my fingers and massage it in circular motions onto my skin which almost transforms it into a cleansing milk. I then rinse it off using a hot cloth and I am left with very clean skin that doesn't feel stripped at all.
If your skin is very sensitive
My skin isn't sensitive per se, but it sometimes go a bit crazy and I get red patches and skin rashes no matter what I do. For these kind of days, I reach for the Bioderma cleansing moisturising foam. The best way to describe it is as a delicate cleansing chantilly for your face. The texture is airy and rich in the same time and cleanse your skin pretty damn well without feeling harsh or drying. I tend to take my makeup off before using it but if you tend to go for a light base and just a bit of mascara, this might double up as a makeup remover as well.
If your skin is very, very dry
My love for Josie Maran is endless. I discovered the brand thanks to Anna's blog a couple of years ago and I've been hooked ever since. Her makeup range is lovely but I only started using her skincare line last summer and boy, I am impressed. The argan cleansing treatment just blows my mind. This balm is very thick and very rich compared to most cleansing balms on the market. It's packed with amazing natural ingredients like argan oil which makes it the ultimate treat for dry skin. I like to rub this all over my face and massage it for a little bit. I tend rinse it off with a hot cloth and I am left with beautiful plumped and moisturised skin. I love it so much that I often use it in the mornings as well!
There you go, a good roundup of my all time favorite cleansers later I hope that you are inspired to find your perfect cleanser. And in case you have already found it, make sure to pop it in the comments!