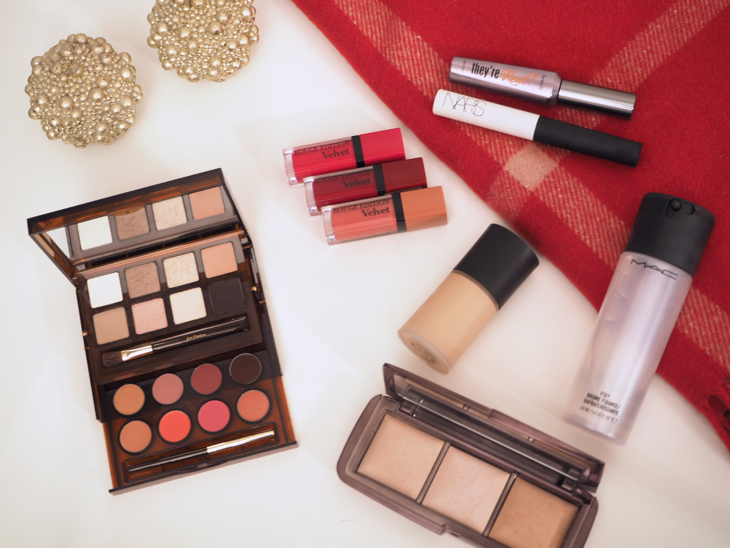 I feel like every time December rolls back around, everyone is running around and always feels a bit stressful. Whether you're on the hunt for the perfect Christmas present or busy getting your tree up, worrying about your makeup is the last thing that you want to think about. Luckily for you, I've got you covered with great long lasting products that will make you the star of the show.
First, to start things off on the right foot, a great primer has to be thrown into the game. The Clarins 'beauty flash balm' is probably my favorite one during this time of the year as it brightens your whole complexion while making things last a very long time. I personally prefer to apply it with a flat foundation brush in quick motions. Next up, a great foundation is the key to hide any blemishes or redness. The Giorgio Armani 'luminous silk foundation' is the one foundation that ticks all the right boxes. A medium coverage base that looks very natural on the skin and a formula without any SPF in it, to avoid any weird white flashback on photos.
To set everything up in place, I reach for my Hourglass 'ambient lighting palette' over anything else. This palette contains three powders that are designed to recreate the effect of candle light on the skin. The result? A beautiful slightly dewy finish and minimized pores. I use the left shade as a setting powder all over my face, the middle shade as a subtle highlight and save the darker shade to warm my complexion a bit more.
For eyes, I always make sure to pop a little bit of the Nars 'pro-prime smudge proof eyeshadow base' underneath any eyeshadow that I apply. It helps things to stay in place a lot longer while truly showing off the colors of your eyeshadows. For mascara, a great option is Benefit 'they're real'. This mascara truly looks like you have put on fake eyelashes without all the fuss. It holds the curl very well and looks as black as when you first applied it all night long.
For lips, I highly recommend going for something matte as these tend to have a better lasting powder than any other formula. My weapon of choice this season comes from Bourjois. The 'rouge edition velvet' deliver vibrant color and have one of the best lasting power that I've ever seen. While the bold colors are probably the best out of the bunch, the nude shade 'happy nude year' has a beautiful pink finish that looks as gorgeous as any other shade.
Finally, the 'MAC fix+' acts a bit like a hairspray would. This fine mist sets your makeup in place and helps it to stay as fresh as possible a bit longer.
Of course, I had to include the Bobbi Brown 'deluxe lip & eye palette' in this edit. If you're travelling this season (or any season really), this might be the best thing to put in your suitcase. This palette holds 8 eye shadows shades, 8 lip shades & two (surprisingly good) makeup brushes.