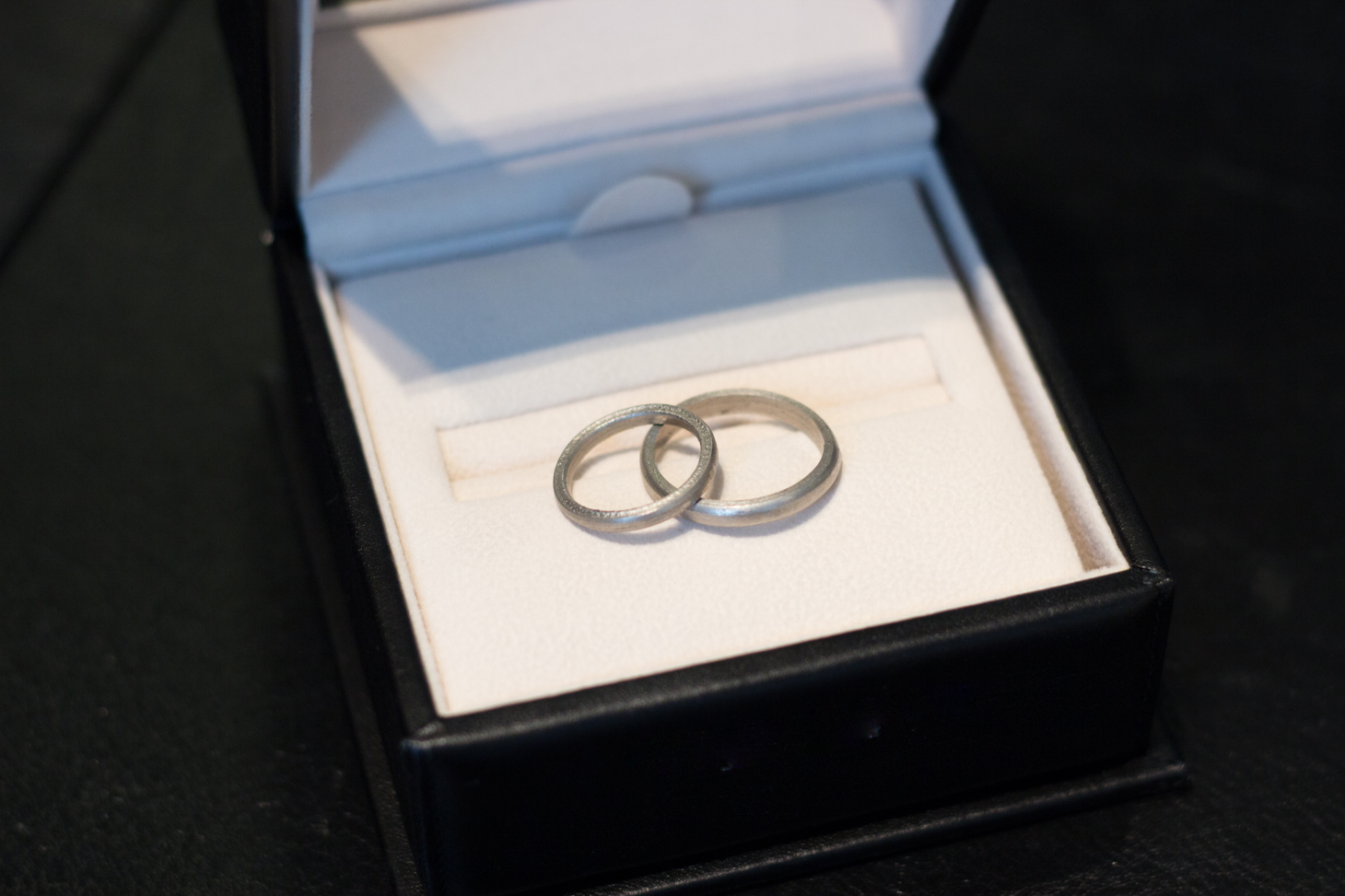 Planning your wedding is full of highs and lows. I am not gonna lie, some things are really boring and stressful to do while others are a real experience in themselves! Trying on your perfect dress, deciding on your first dance, getting a bite of your wedding cake… All of these are precious moments but I had the chance to live an even more exceptional experience with my then husband-to-be as we made our own wedding bands.
Yes, you read that right, we actually made our wedding bands. From scratch. I have to confess that we didn't entirely made them as we left the final touches to the real experts, but we were totally  involved in the whole process, from choosing the right material to actually making them.
It was really important for us to choose the perfect ring. After all, you're wearing it all day, everyday, so it better be perfect! So when the opportunity to work with Holemans arose, we were both so excited. Holemans is a beautiful jeweler from our home town, Brussels. They've been around since 1922 so they really know what they're doing. While some bigger brands can sometimes feel a bit too distant, Holemans is quite the contrary. They're a small company where everyone knows everyone. They have faithful clients that come to them to celebrate milestones with a beautiful piece of jewelry. Births, engagements, weddings, anniversaries… They always discuss with their clients to translate their vision into the perfect pair of earrings, the bracelet of their dream or the ring that will mark a special event. I also discovered that they can take an old piece of jewelry that is either a bit old fashioned, broken or that simply doesn't get enough wear and turn it into something totally new & unique for you.
While their designs are usually classic and timeless, they have a few special pieces that are simply breathtaking. I never thought that I was much of a fine jewelry lover but after a few visits at their Sablon boutique, I have to confess that I might have fallen in love with 2 or 3 pieces… If you're in for a bit of window shopping, I highly suggest having a look at their Facebook page.
But back to the wedding bands, shall we? We first met their team in their beautiful boutique, right in the center of Brussels. It is actually located next to our wedding church, which was a funny coincidence! We first started by explaining what we wanted. Something very simple, very dainty, that would be easy to wear on a daily basis. We decided to go for platinum, as it is the material of my engagement ring. I knew that I wanted to wear my wedding band with my engagement ring, so we decided to make it pretty thin so that it wouldn't clash with my ring. For Renaud, we made it slightly wider as he has bigger hands than me!
After deciding on the design, we made an appointment to come into their ateliers, ideally located in their boutique, a few weeks later to start the production. So here we went, hand in hand, just a few weeks before our big day. We didn't really know what to expect as neither of us has ever worked in this field, and let me tell you that we were blown away. We got to meet their artisans, who do an incredible job. While we were getting ready to start, I couldn't stop admiring someone who was working on an insanely beautiful ring. It had a massive ruby in the center but the work all around it was so delicate & precise that I couldn't help but hold my breath. It is crazy to see a piece of jewelry being made right in front of you!
But it was now our time to shine! We changed into work appropriate outfits and started working on our rings. I won't get into too much details as this would take the whole day, but I was impressed by how many steps were actually needed to make these bands. We stretched the metal, hammered it down, made it into a circle, measured it countless times to make sure that it had the proper size & width, sliced it, weld it and much more. We were there for a solid three hours but I feel like time flew by.
I am so happy that we got to live such a unique experience. It was truly amazing to see how our rings were made and to actually be involved in the process. I'll post pictures of the rings on our actual wedding day next week & tips on how to choose them, so stay tuned!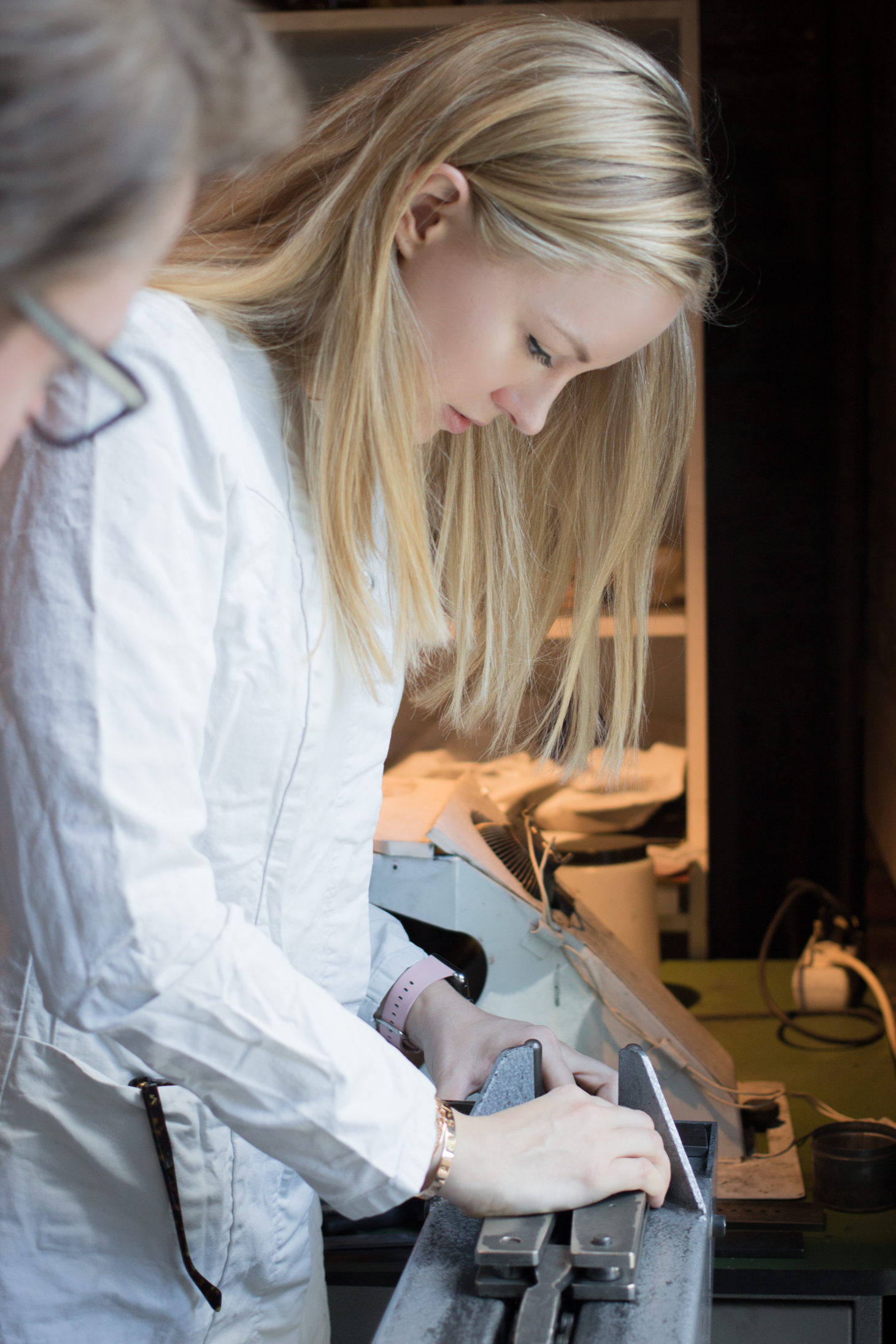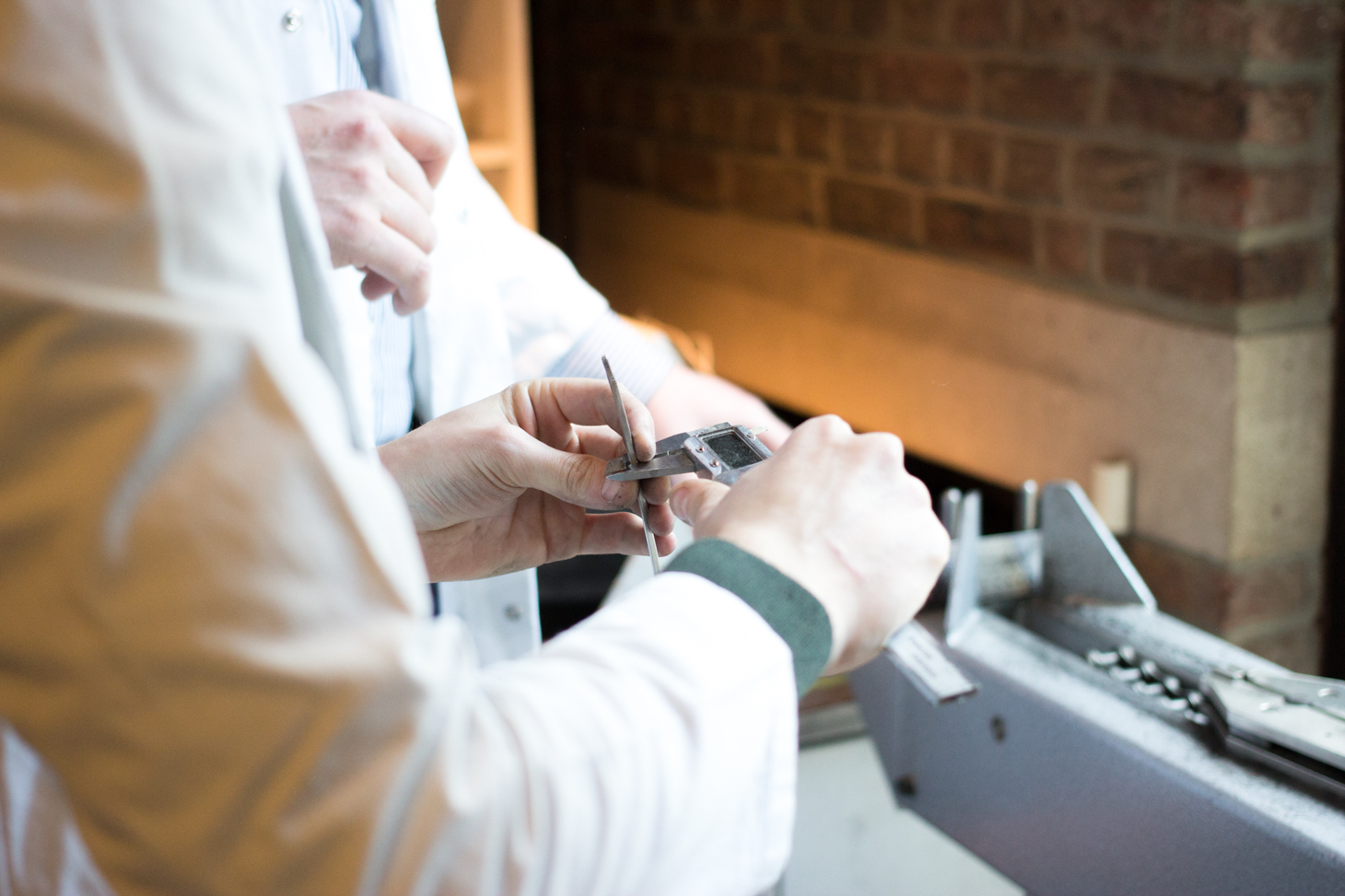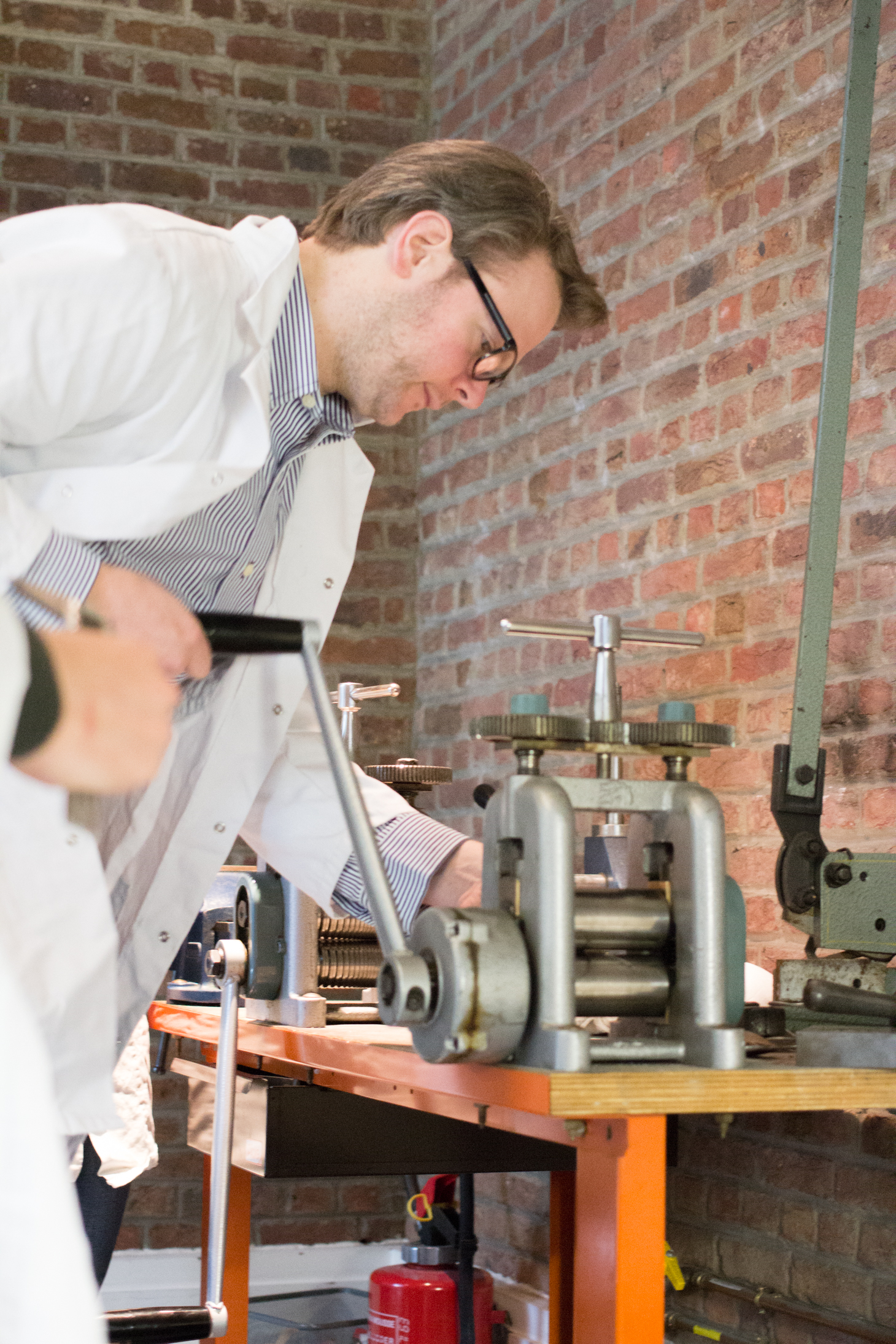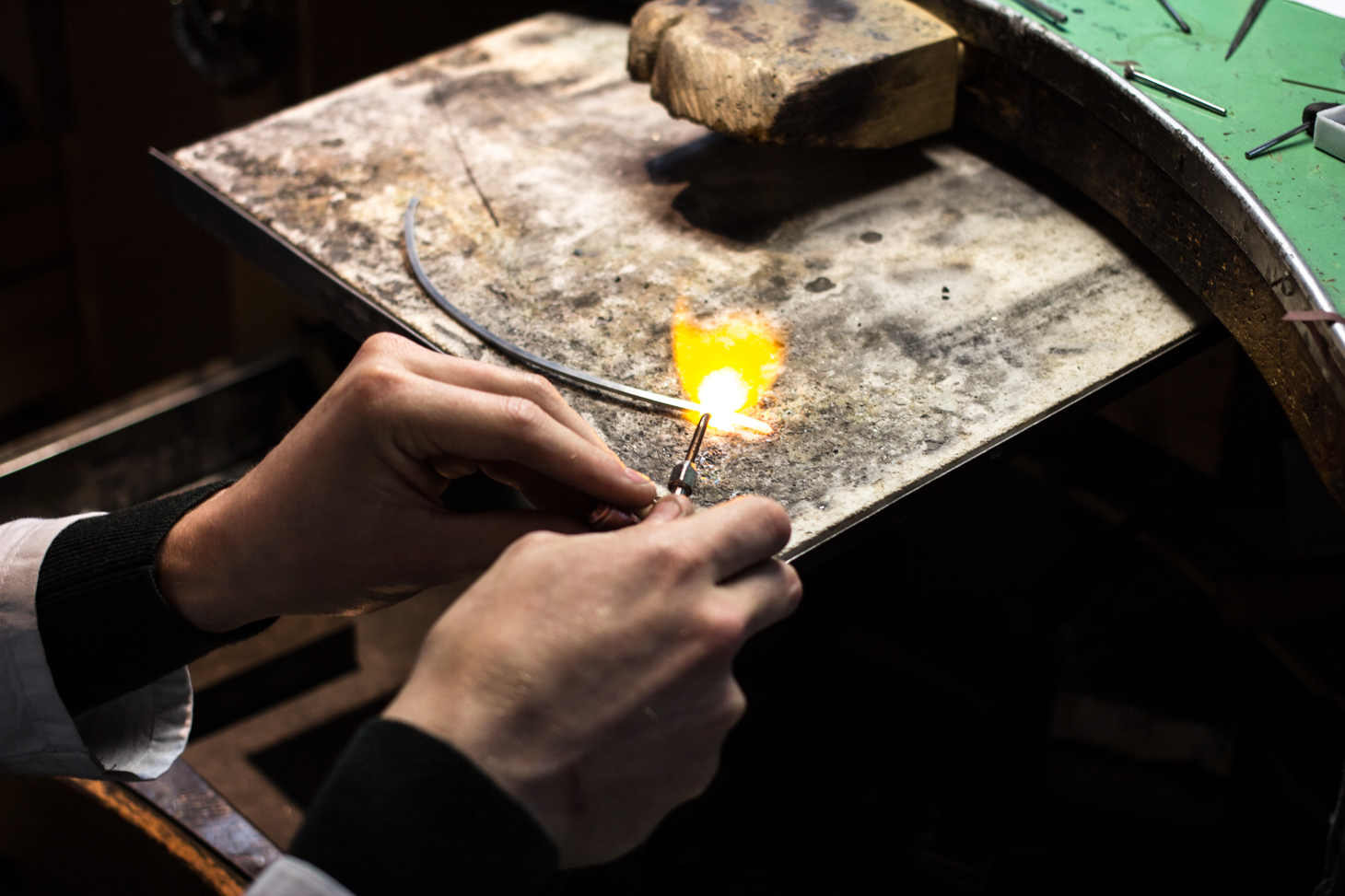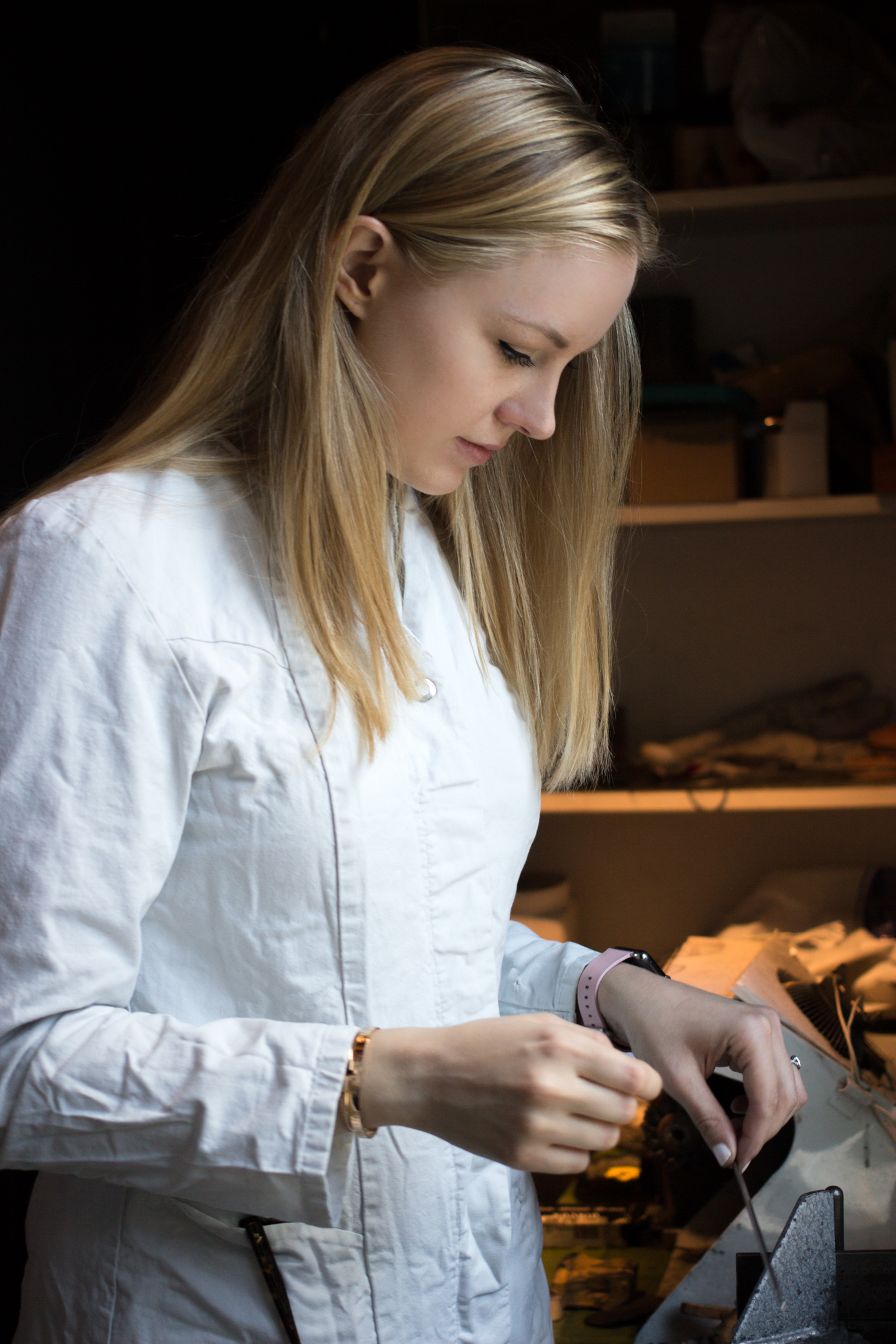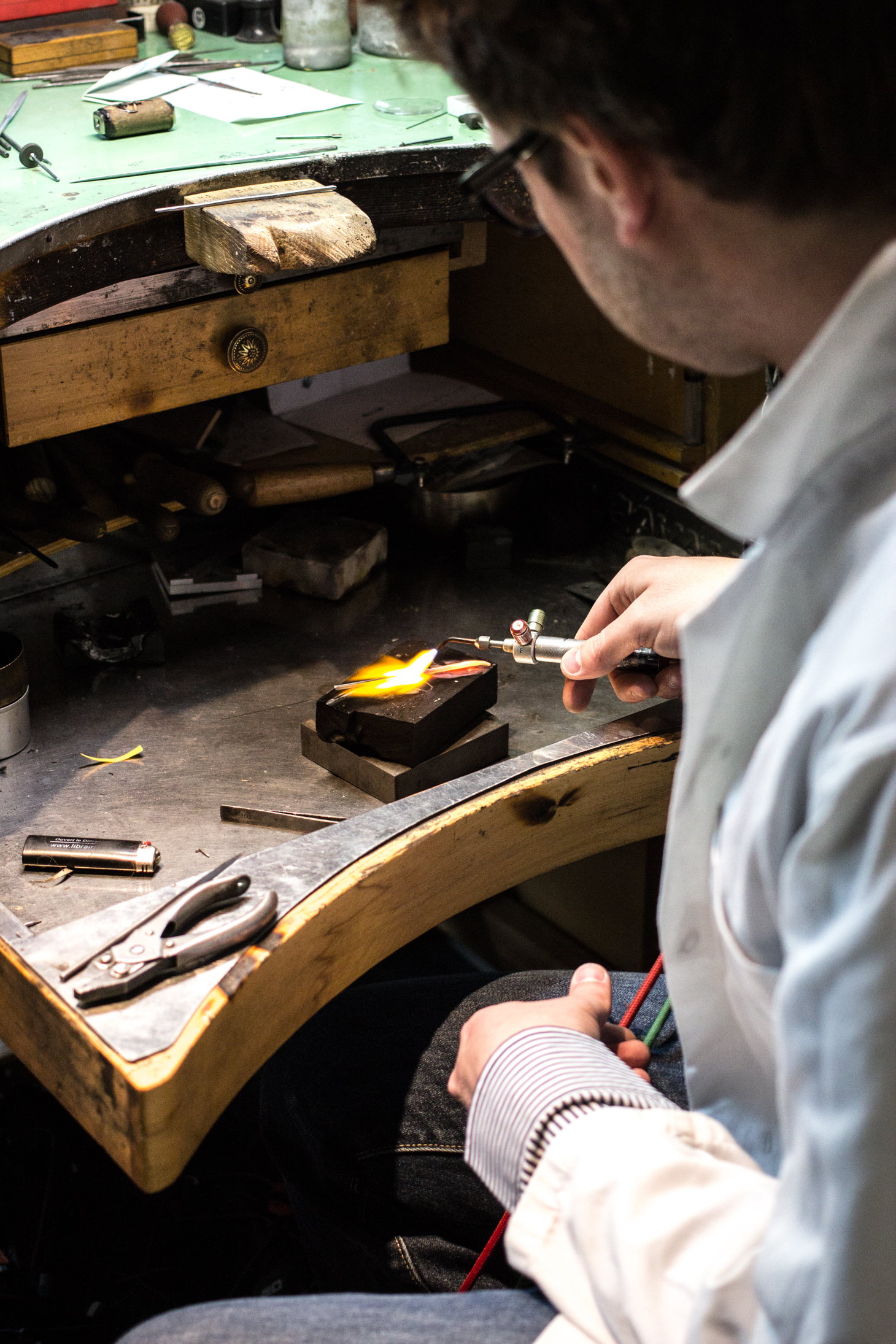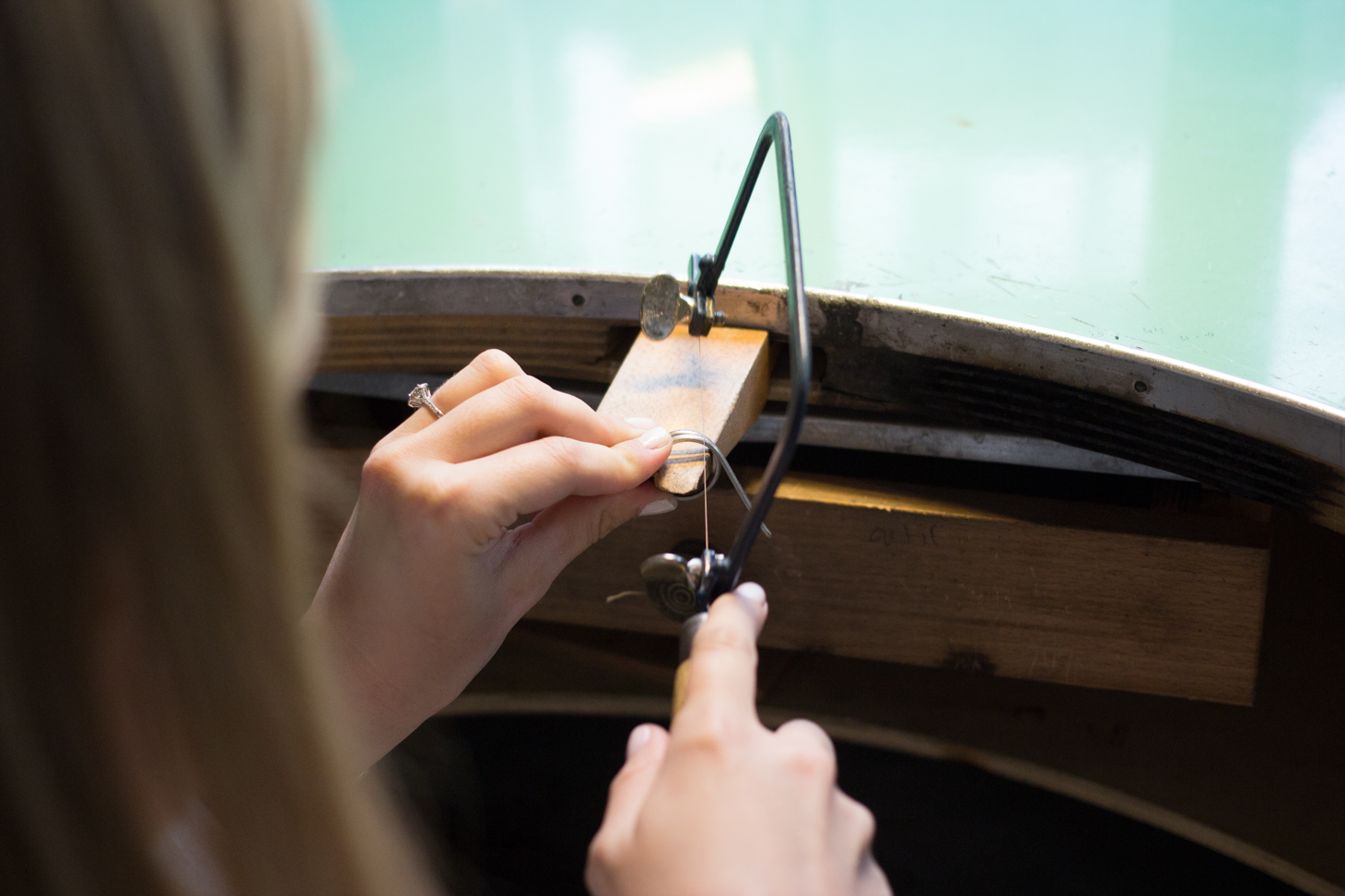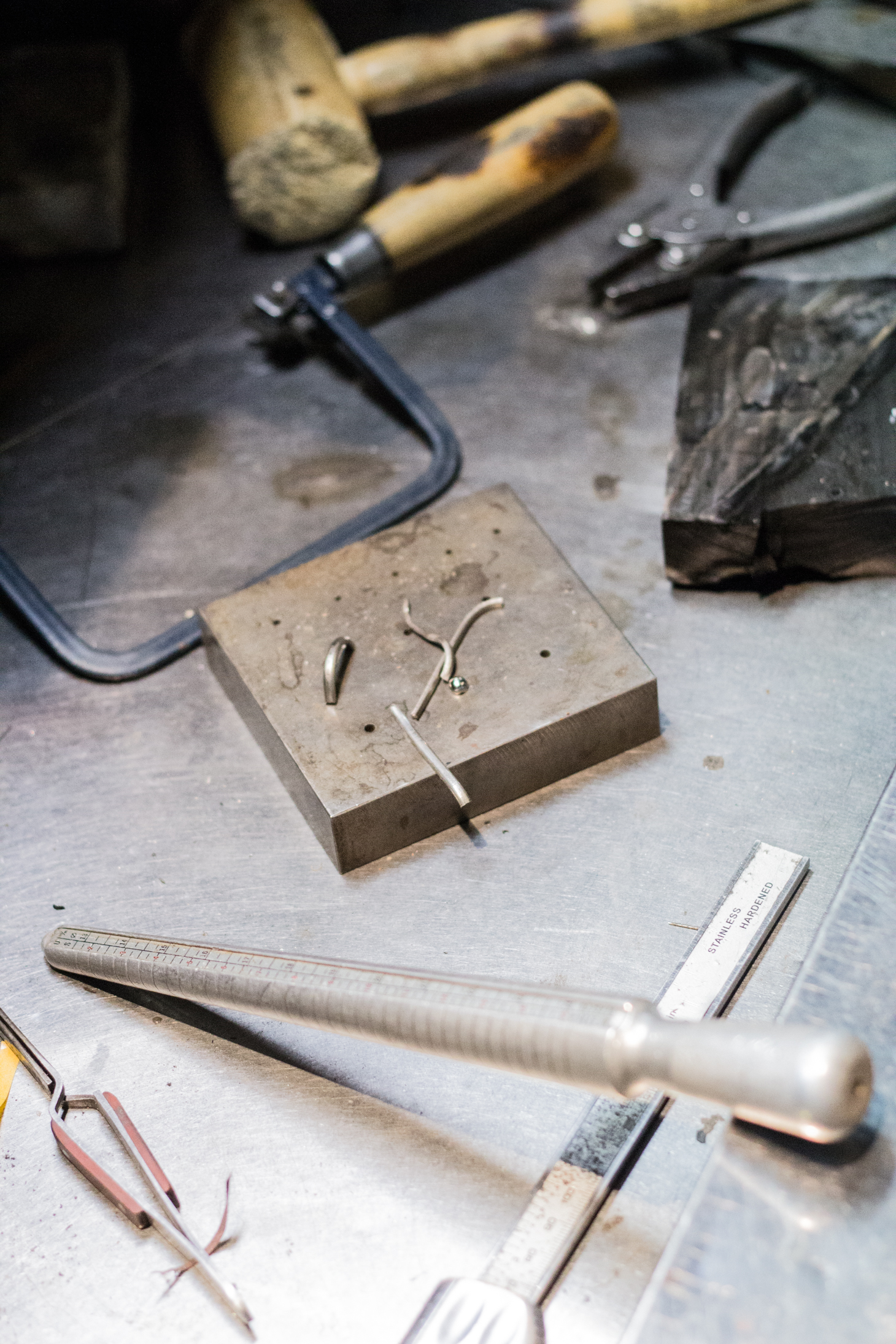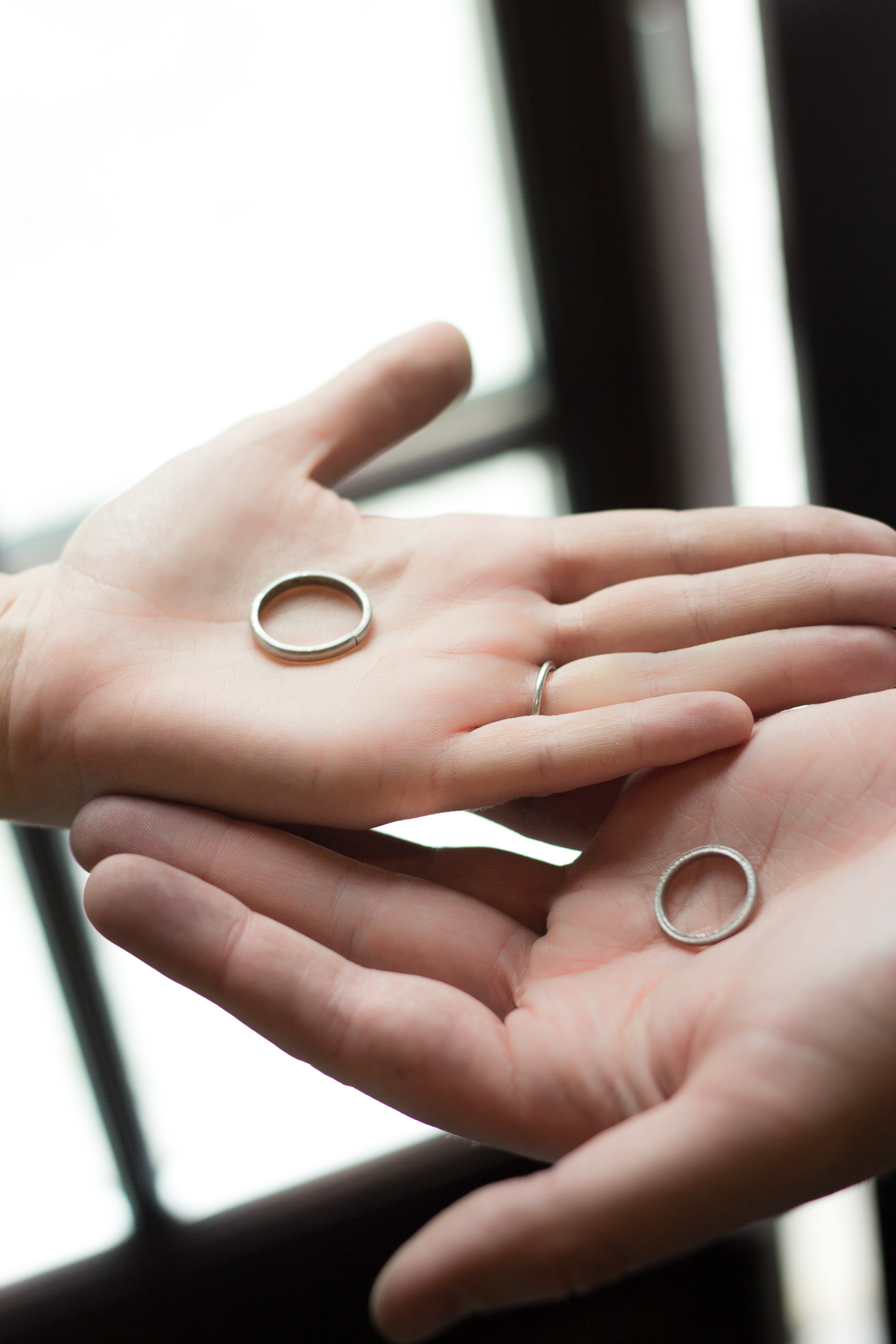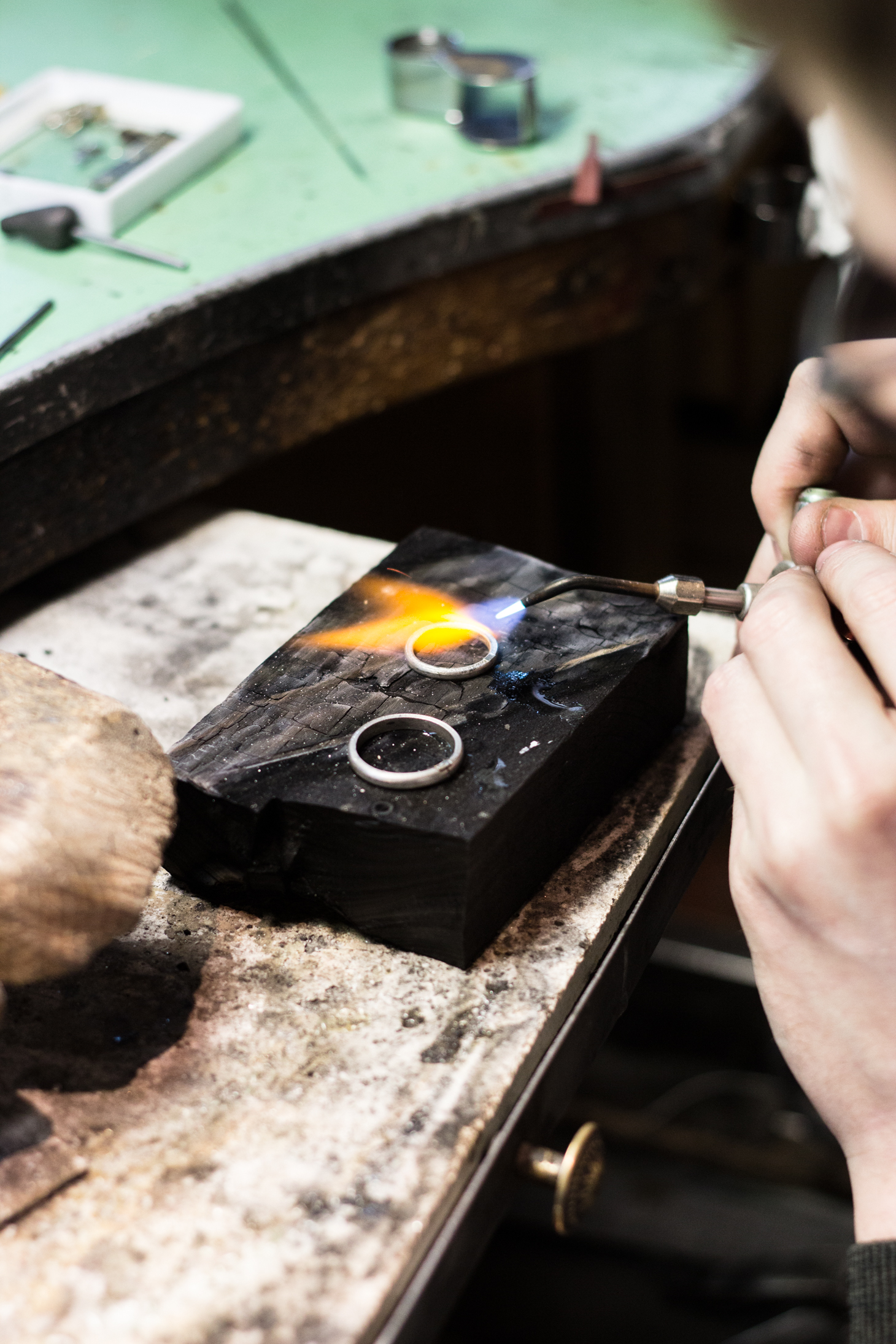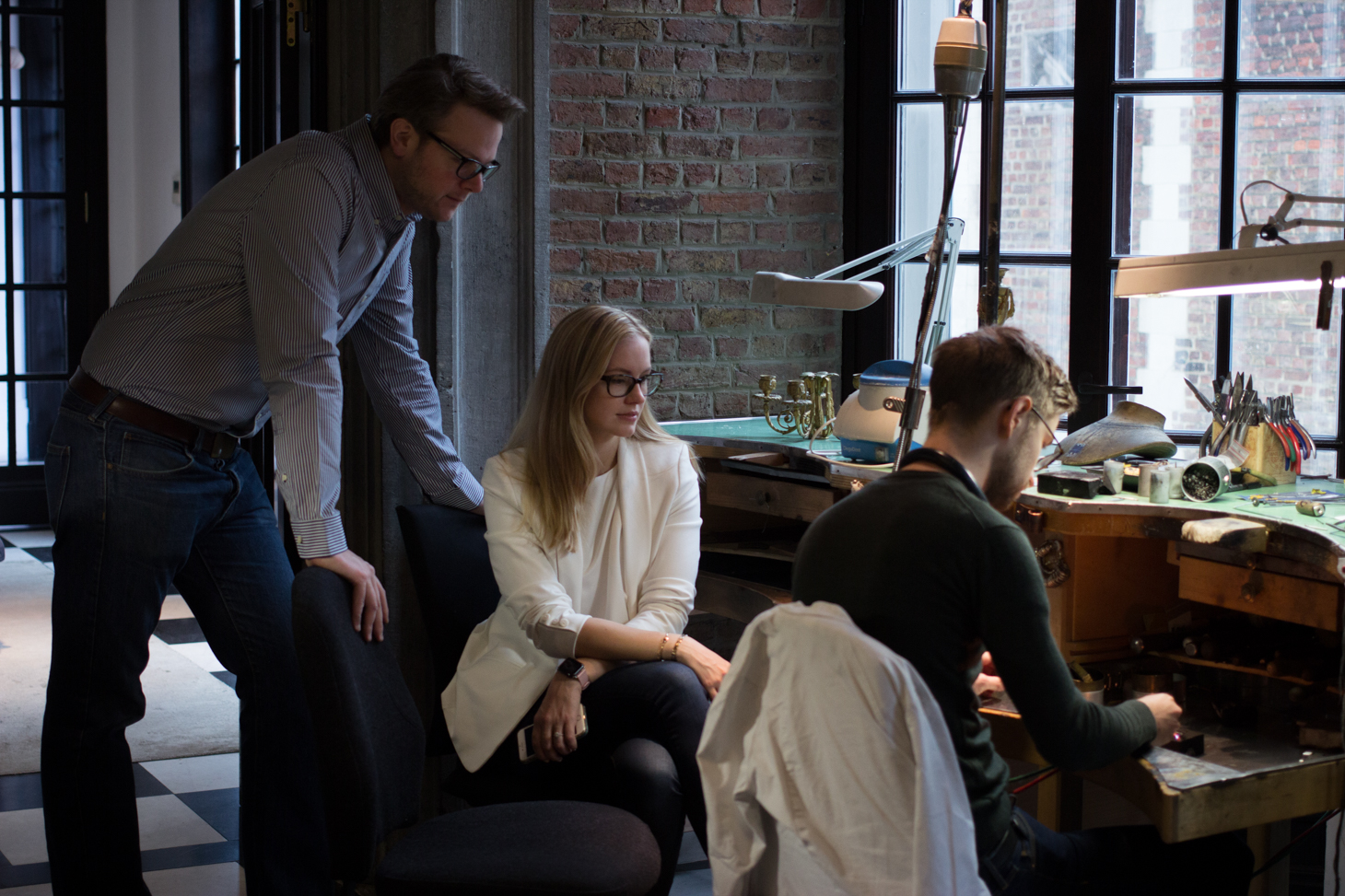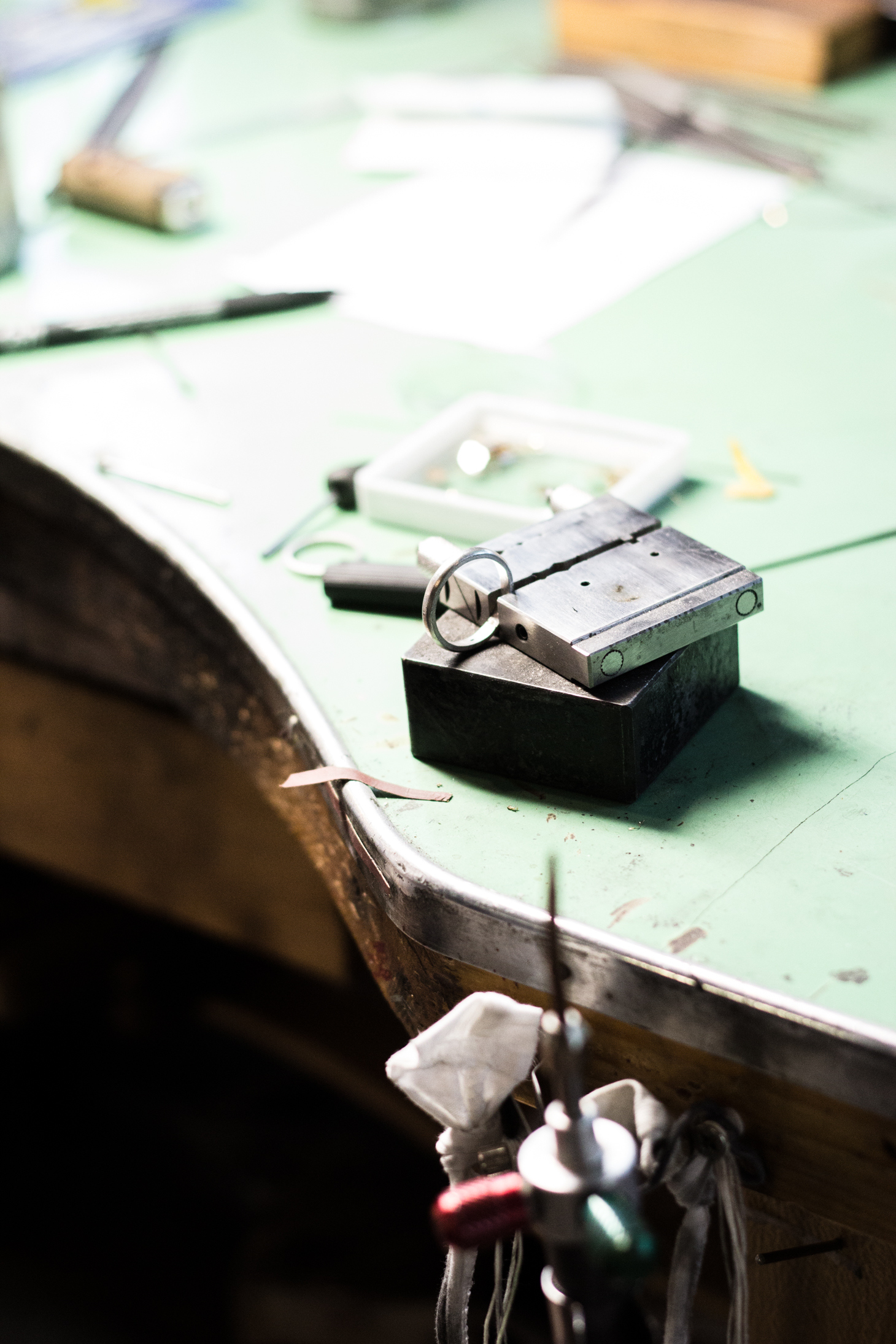 A big thank you for Holemans for working with me on this post. I honestly couldn't be happier about our wedding bands!