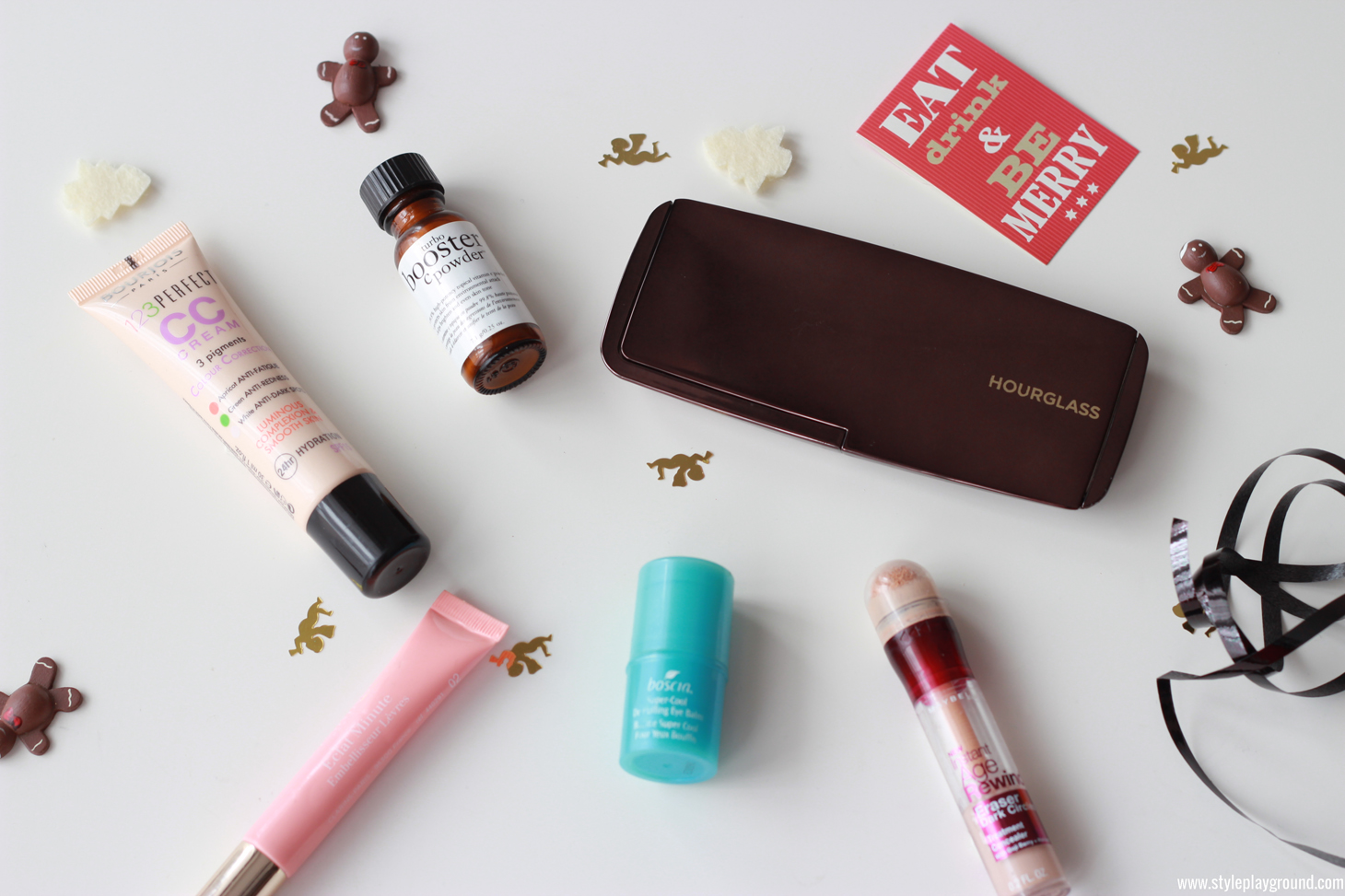 If your Christmas eve was as good as mine, you probably want to spend your whole day in your pjs and hidden underneath your duvet. Since Christmas day is usually a busy day that involves a lot of meals & family time, here are a couple of products to help you look -and feel- great!
First of all, I like to add a bit of Philosophy 'Turbo booster C powder' to my face moisturizer. This finely milled powder is packed with vitamins that will make your whole face look a bit brighter and tighter, which is always great after a short night. Make sure to apply enough moisturiser on your face if your previous day involved a bit of alcohol as it tends to dehydrate the body and the skin. For eyes, I tend to reach for my Boscia 'super cool de-puffing eye balm' just because it is easy, quick and has a cooling effect that does wonders on tired, puffy eyes.
Then, it's time for makeup. I usually go for a light base, something like Bourjois 'CC Cream'. This tinted moisturiser is really liquid, which means that it sinks really quickly into your skin. It also blends well and looks super natural while hiding redness and imperfections. I then pop a bit of Maybelline 'age rewind' concealer underneath my eyes to brighten everything and hide any dark circles. Don't be afraid to layer this up as it never looks cakey.
I also make sure to reach for my Hourglass 'ambient lighting palette' on any day where I feel like I need an extra boost. A bit of 'dim light' is the perfect way to gently mattify the complexion while keeping it healthy and natural. I also use the shade 'incandescent light' to highlight my cheekbones while I use the shade 'radiant light' to add a bit more warmth to my face. I finish off with a bit of Clarins 'instant light lip perfector' in the shade 02 which delivers a sheer wash of colour while keeping my lips moisturised.
Do you have any beauty must haves for a morning after? If so, make sure to share them in the comments down below!
Merry Christmas everyone!