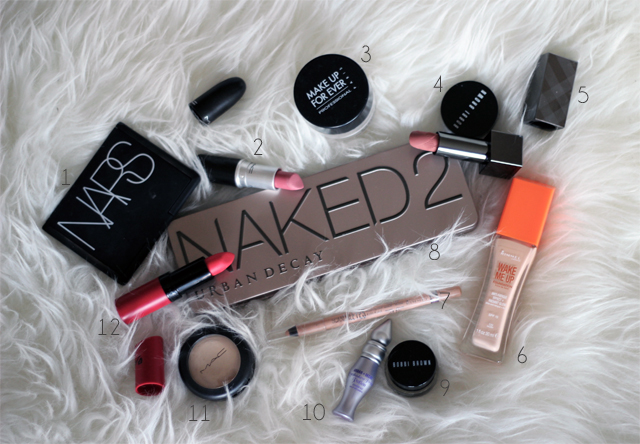 With my Thalys tickets officially booked and the first invitations that landed on my desk, I am clearly in the mood for Paris Fashion Week. Although it doesn't start officially before Monday, my place already looks like a backstage chaos. Suitcases are half filled with clothes and shoes while my bathroom counters are stacked with my favorite lipsticks and skincare.
That being said, I thought it would be nice to share with you all those little things that makes my life during fashion week even more enjoyable. So here is the first part: my makeup must haves!
Packing makeup for fashion week means two things:
-packing light but wisely to create different looks (without a makeup bag that's the size of a Proenza Schouler bag)
-packing anti fatigue products as fashion week means parties, editing photos and no sleep!
1) Nars bronzer in the shade Laguna (buy here)
My go to bronzer that helps me to look sun kissed even in the middle of winter.
2) Mac lipstick in the shade Please Me (buy here) 
A gorgeous matte pink lipstick that looks stunning during winter.
3) Make up for ever HD powder (buy here) 
My all time favorite powder. It is so finely milled that it doesn't show on your skin but leaves you with a gorgeous finish (read full review here).
4) Bobbi Brown corrector in the shade Light Bisque (buy here) 
This peachy toned corrector literally erase your dark circles, talk about something useful during this hectic time of the year!
5) Burberry lip mist in the shade Copper (buy here) 
This luxurious Burberry lipstick goes on sheer while leaving the slightest nude shade, perfect for a no makeup makeup look!
6) Rimmel Wake me up foundation in the shade Ivory (buy here)
This is my go to foundation for those mornings when my complexion needs a little something extra to look nice. While it is a bit to glowy for my taste, I love the anti fatigue effect it gives to my skin.
7) Rimmel scandaleyes pencil in the shade Nude (buy here) 
This is my secret weapon. This flesh colored pencil is a miracle to make your eyes pop and look wider. Apply a bit on your waterline and you'll see an instant effect!
8) Urban Decay Naked 2 palette (buy here) 
Does this palette really need an introduction? I talked about its big sister here but this one might just be my favorite. With 12 neutrals shades from a shimmery champagne to a matte crease color, there are plenty of looks to create.
9) Bobbi Brown long wear gel liner in the shade Black Ink (buy here) 
This gel liner is by far the best when it comes to creating to most perfect long lasting winged look. It goes on smoothly and stays in place all day, no matter what.
10) Urban Decay eyeshadow primer potion (buy here) 
This travel size eyeshadow primer is great to make sure that your eye looks remains the same through the day, no matter if you're stuck under the rain or in a hot show venue!
11) Mac cream color base in the shade Pearl (buy here) 
This creamy highlighter is perfect to make those cheekbones pop and open up your eyes.
12) Rimmel lasting finish by Kate lipstick in the shade 110 (buy here)
This super bright coral lipstick is great to accessorize any basic outfit.
❤
Axelle