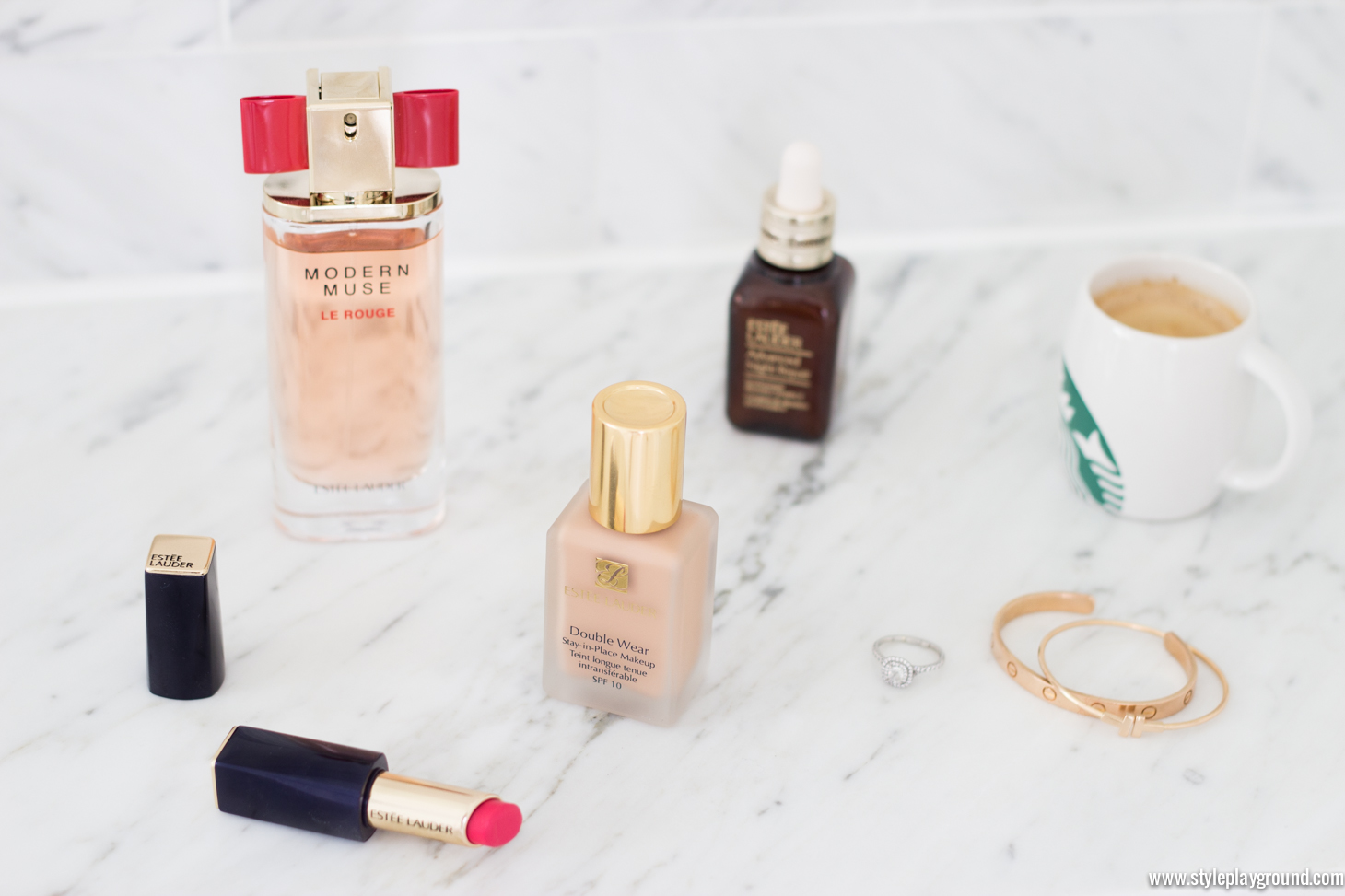 I am a creature of habit and for the longest time, I thought it was a bad thing. But, I've learned to embrace that aspect of my personality since I function way better & feel happier when I have a routine in place and little rituals that make me happy through the day.
And my morning ritual is a big part of that. Taking time for myself early in the day puts me in the right mood and makes me more creative and generally happier all day long. Everything starts when I wake up. I take a quick shower and do my morning skincare routine in my bathroom. Then, I head downstairs, make myself a cup of coffee, feed Fendi & my cats and then head back upstairs to get ready. I sit at my vanity, watch a couple of videos on my iPad and do my makeup. I always start with foundation, and right now I am using the Estée Lauder double wear. I've told you all about it here but I recently started mixing it with a few drops of the advanced night repair serum to create a more dewy finish that keeps my skin hydrated even during the colder days. If I am working from home or heading to a client's office, I simply add a bit of mascara, brow pencil but I like to apply a bit of color onto my lips to give more life to my face. My favorite right now is the Estée Lauder pure color envy in blossom bright, a beautiful coral pink that looks very sheer when I tap it on with my finger. I usually keep it in my handbag as well to reapply through the day if I want a bit more color. Finally, just before I leave, I always add a few spritz of perfume onto my neck and wrists. Right now, I am loving Modern Muse le rouge, a beautiful mix of rose, vanilla & jasmine that feels very appropriate for autumn.
Do you also have a morning ritual?
This post was created in collaboration with Estée Lauder