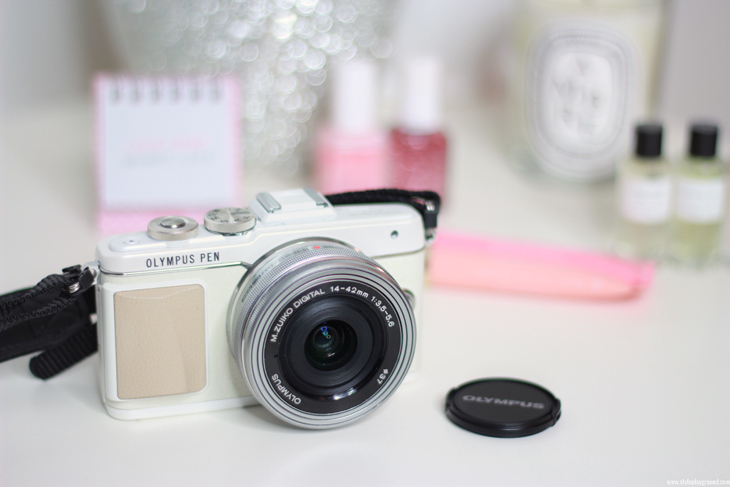 I never thought that I would say that one day but I might have found the best camera ever. I know that it is a bold statement, but ever since I got my hands on the Olympus Pen E-PL7, I've been enjoying taking photos a lot more than before.
While I love my big DSLR camera, it's far from being the best option when I am out & about. It's heavy, takes a lot of room and is far from being discrete. Well, thankfully the Olympus Pen is the exact contrary of that. It is small, compact and lightweight while looking absolutely beautiful. With its white & beige retro look it totally captures my heart while its small size makes it the perfect handbag companion.
The first thing that blew me away with this camera, is the photo quality. Too often, using a smaller camera means that we have to compromise on the quality which is absolutely not the case with this one. A great feature that I use on a daily basis is the 'selfie mode', which means that the screen actually folds down to help you get the best shot possible. And, believe it or not, it even has a built-in 'e-portrait' mode that will gently erase any pimple or dark circles… Now we're talking!
Furthermore, my absolute favorite thing about this camera is the fact that it connects wirelessly to my iPhone. Being the instagram addict that I am, this was meant to be my favorite feature. A few of you have recently commented on the quality of my latest instagram shots and this is the secret behind it. The camera itself even allows you to choose the format of your photo, which means that I can directly create a square photo without having to crop it or anything. Also, thanks to the OI Share app, I can also use my phone as a viewfinder for my camera and use it as a remote. This comes particularly handy whenever I am home alone and trying to take some photos or whenever I am filming. The app even allows me to change my settings such as the aperture or the exposure!
If you love to travel the world and snap some great shots along the way, this is for sure the camera you've been waiting for. It's super lightweight, which means that you won't end up with a sore shoulder at the end of an exploring day. It captures beautiful images really quickly and even has some incredible filters built-in, which means that you create breathtaking shots without having to retouch them.
Since I recently started filming weekly vlogs, this camera has been following me everywhere. The flip screen means that I can actually see myself and make sure that I am in frame all the time. The filming quality is beautiful and really easy to get hold of. The sound is great as well and I couldn't be happier about it!
Last but not least, this camera is a bit of a small DSLR. You can switch between lenses super easily, shoot on manual mode and have control over everything. On the other hand, if you're just getting started or are a bit of a photography novice like myself, the full automatic and semi automatic modes are great and produce good quality photos.
Here are a few photos shot with my Olympus Pen E-PL7
And some of my instagram snaps