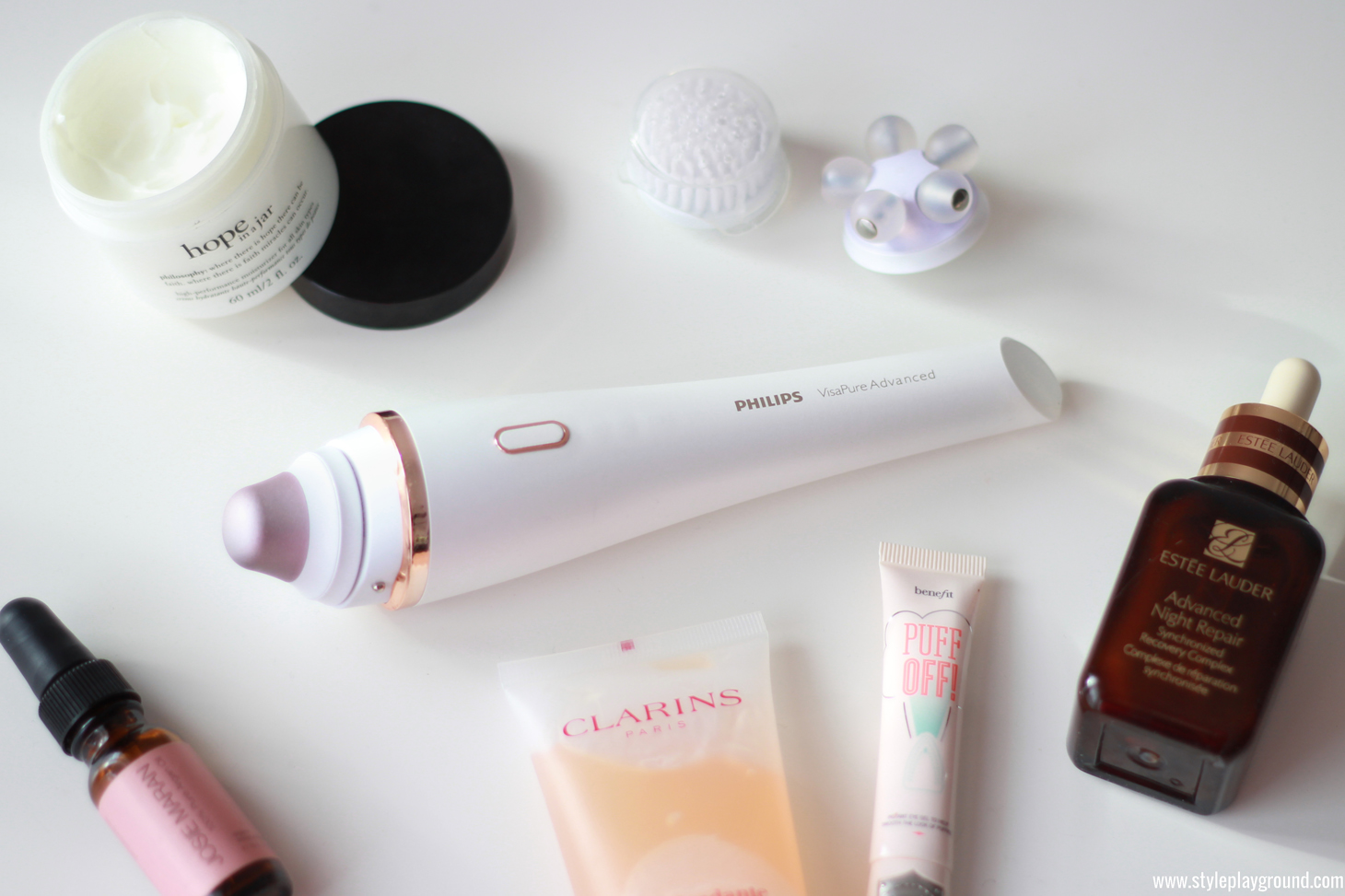 When this new beauty gadget landed on my doorstep, I was really skeptical. Don't get me wrong, I am all for new discoveries and beauty innovations, but I am so addicted to my Clarisonic Aria that I wasn't really looking for a replacement. But my skin was acting up so bad when this arrived that I decided to give it a go anyway and here's the verdict…
After sitting in its box for a few days, it was time to give the Philips VisaPure Advanced a real test drive. When I opened it up, I was welcomed by the most gorgeous beauty tool ever. Its white & rose gold design is totally unique and makes quite a statement on my bathroom counter. Sure, design isn't everything, but since this little gadget is on display 24/7, it's a real plus that it looks this good!
The main difference from its older brother, the original VisaPure, is that it comes with three different brush heads, each one serving a different purpose in your skincare routine, as well as two nifty stands (one for the Visapure, one for the heads) to keep everything nice and neat on your bathroom counter.
Because I tend to wear quite a lot of makeup, cleansing is a big part of my routine. I tend to cleanse twice in the evening to make sure that my skin is completely clean and ready to absorb all the goodness from my skincare products before going to bed. After taking my makeup off with my Nude cleansing oil, I cleansed my face using the VisaPure & my favorite cleanser. The brush is very effective and cleanses the skin thoughtfully and you even have the option to choose between two speeds to tailor it to your needs. It doesn't feel aggressive on the skin at all and I find this step to be really relaxing. The main difference with a Clarisonic is that the brush spins on the VisaPure while it vibrates on the Clarisonic. While the principle isn't the same, the results are really comparable and my skin feels very clean and plumped afterwards.
After using my Pixi glow tonic, I applied a bit of eye cream underneath my eyes and used the 'fresh eye' tip to work the product onto my skin. Now this little pink cap is by far my favorite of the bunch. I am really lazy when it comes to applying eye cream but this little guy does all the work for me. Because the tip always feels super cool, it really helps to reduce puffiness around the eyes, which comes in very handy after short nights! I also love the fact that you can either use it with vibrations or use it on spinning mode to gently massage the eye area. I personally prefer the first option but this is totally up to you. Last, but not least, the massage tip is all sorts of wonderful. It is designed to recreate to sensation of tapping fingers on the skin and it's pretty damn close! I love to use it with either a face oil (I absolutely love this one from Josie Maran) or with any face moisturiser that you like. Before this came into my life, I wasn't too much into face massage. I knew all the benefits there is to it but I couldn't be bothered. But now, I used this little thing every night before going to bed and not only do I see the results on my skin but I also feel more relaxed afterwards.
In conclusion, the VisaPure Advanced is a beautiful product to get your hands on if you pay a lot of attention to your skincare routine or if you're feeling a bit lazy and want a little gadget to help you do the work! But one thing is for sure, I am in love with mine!