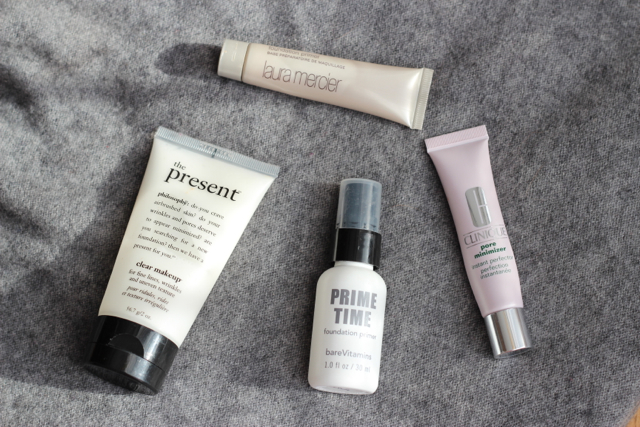 Count me in when it comes to shopping for makeup. Gorgeous lipsticks, fun shades of nailpolish and shimmery palettes are like candies to me. But shopping for primers? It doesn't sound that exciting, does it?
But the truth is that a good primer can make a whole difference. It can minimize the appearance of pores, make your foundation last all day and even give you that healthy glow that we all want. After months of try and fail experiences, here are my current favorites…
First on the line up is the latest addition to the collection. Laura Mercier foundation primer (shown here in sample size) is quite the talk of the industry when it comes to no fuss foundation primer. This water based primer goes on like a dream as it feels almost wet, but don't worry, it dries within seconds. It leaves the skin incredibly soft and really helps your foundation to look flawless. The smell is pretty light but reminds me a bit of sunscreen. Next call is Philosophy the Present, probably my number 1 beauty product when it comes to love/hate relationship. When this little guy first entered my makeup bag, it was nearly a year ago. I had seen it popping on beauty blogs before, but I decided to get it while I was beauty shopping at Harrod's. The text on the tube looked promising: airbrushed skin, minimized pores? Sign me up! But when I first tried it, it was a disaster. It made my foundation look patchy and, worst of all, cakey! I tried it with nearly every face product in my collection and I finally decided to forget about my waste of money and buried the thing deep in my collection. But recently, I gave it another try and I now love it! I use it with Rimmel wake me up foundation and it gives me the most perfect complexion on mornings post insomnia. The texture sits somewhere between a cream and a silicone primer but the smells is just perfect -think lavender applied all over your skin. But I have to warn you on this one, it still doesn't work with some foundations (like with the Laura Mercier silk cream foundation -awful).
The third one is BareMinerals prime time. This primer came in a BareMinerals starter kit that I purchased while I was in New York and to be quite honest, it isn't something I would normally go for. This gel like texture feels like pure sillicone for your skin although it is packed with vitamins. It is fair to say that I've been impressed by this little guy. It minimizes pores like nothing else (expect maybe for the Clinique pore minimizer, coming up next), keeps your skin moisturized through the day and helps with uneven texture. It works like a charm with liquid foundation but it really does its best with powder foundations. This is my number one choice for a night out in the city as it will make my makeup lasts all night without any touch ups.The last one on the board is Clinique pore minimizer instant perfector, one of my personal cult products that I keep on repurchasing ever since I turned 16 years old (oh boy, it was a long time ago!). As you know, I have pretty dry and sensitive skin right now but it hasn't always been the case. As a teenager, I had really bad acne and overly greasy skin. I went against my mum's advice and treated it myself with the Garnier Pure range (does any of you remember the stuff?). And I basically killed my skin as I was scrubbing it twice a day! Ever since, I am left with dry skin and awful large pores. So, when I first tried this Clinique gem, I felt in love with it and it hasn't left my makeup bag since. It comes in three shades (light, deep and bright)  and does wonders on my pores.  I apply it on my forehead and on the sides of my nose and voila, my pores are gone! And it leaves my skin smooth afterwards, what's else is there to ask?
❤
Axelle