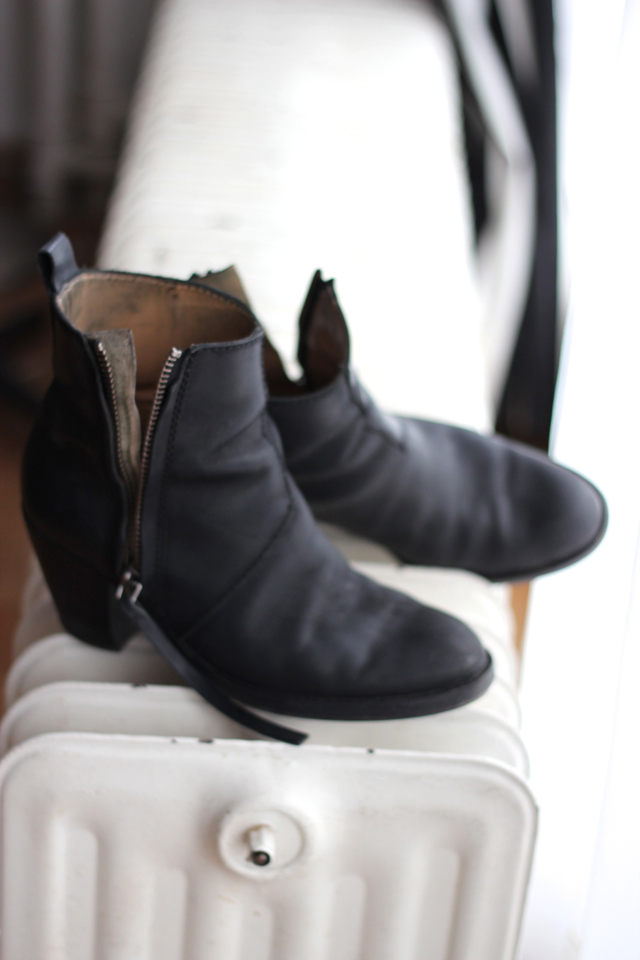 I think it is safe to say that a few items in my wardrobe are worn out. I can name a few -my beloved mouse flats from Marc by Marc Jacobs, my black Balenciaga bag or my prescription Wayfarers… It is easy to tell just by looking at them that I love them and that they define my style.
I've been thinking about these worn out items in my wardrobe while I was spring cleaning it last week (stay tuned for a massive -yes massive- sale on my Tictail shop) and I remembered this post that was posted by Sabrina on her blog AfterDRK.
My philosophy on this oh so important topic, could be this:
 they're worn out because I love them and I love them because they're worn out. 
The photo above was taken this morning. These are my Acne Pistol boots that I purchased a little less than a year ago (remember when you first saw them?) and I wear them nearly every single day. They got me through everything: a day of shopping in London, an impromptu walk in the woods and I even danced the night away wearing these babes. And truth is, I love them. I love every single scratch they have, I love that the leather is softer than ever and I love that the heels are riped, just because it reminds of so many things…
So, I want to know, what do you think about your worn out items? Do you wish they would have stayed as good as new? Or do you like their worn out look?
Je pense ne pas trop m'avancer en disant que quelques pièces dans mon dressing sont littéralement usées. Je pense directement à mes ballerines souris de Marc by Marc Jacobs, à mon sac Balenciaga noir ou à mes lunettes de vue Ray Ban- et honnêtement, je pense que ces pièces définissent à elles seules mon style ces dernières années.
Je me suis mise à penser à toutes ces pièces qui ne sont plus que l'ombre d'elles-mêmes la semaine passée quand j'ai fait un bon nettoyage de printemps dans mon dressing (en parlant de cela, préparez-vous à un arrivage massif sur mon vide dressing Tictail). Je me suis alors souvenue de ce post que Sabrina avait rédigé sur son blog AfterDRK.
Ma philosophie sur ce sujet de la plus haute importance, peut être résumée comme suit: 
c'est usé parce que je l'aime et je l'aime parce que c'est usé.
La photo ci dessus a été prise ce matin. Ce sont mes Pistol boots de chez Acne que j'ai maintenant depuis un peu moins d'un an (vous vous souvenez quand je vous les ai présentées?) et je les porte pratiquement tous les jours. J'ai tout fait dans ces chaussures: une journée de shopping intensif à Londres, une promenade improvisée dans les bois et j'ai passé des soirées à dancer avec elles à mes pieds. Et la vérité est que je les adore. J'adore chaque griffe qu'elles ont, j'adore le cuir qui est maintenant tout doux et j'adore leurs talons défoncés. Et surtout j'adore les souvenirs qu'elles me rappellent! 
Alors, je me demandais, vous en pensez quoi vous? Vous aimeriez que vos pièces restent aussi neuves que possible le plus longtemps? Ou bien vous les aimez encore plus quand elles sont usées? Dites moi tout!
❤
Axelle