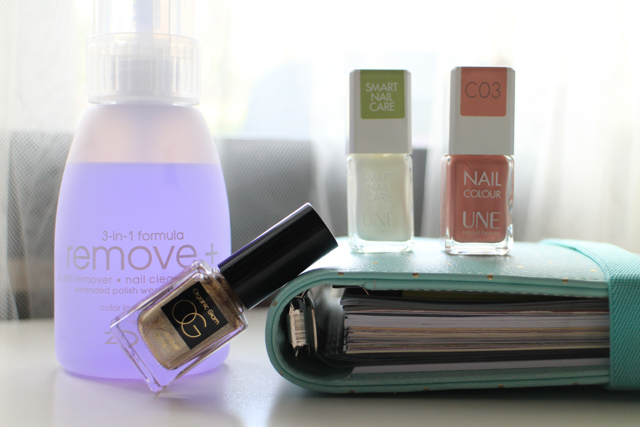 Now nails is a department in which I am particularly picky about. I am a loyal fan of Essie, I know exactly what kind of brush/finish/undertones I like and I need things to dry quickly.So when I started to look out for more natural options, I was a bit reluctant to try new things. While browsing the Whole Foods beauty section in London, I came across this Zoya 3-in-1 formula remove+ nail polish remover. I was immediately drown to it due to its incredible packaging (it's one of those pump container that is a dream to use). As soon as I got back home, I tried it and I was simply blown away. This is the best nail polish remover that you'll ever try. First of all, the scent isn't bad at all. I wouldn't say that it's really pleasant but I prefer it over anything else. Then, comes the great packaging. One pump deliver the perfect amount of solution onto your cotton pad without spilling everywhere. But most importantly, it removes nail polish like nothing else. It works perfectly on bright reds, dark blues and even gets rid of glitter polish. Yep, you read me right, it is that good. As this is a unique 3-in-1 formula, it also leaves your nails super clean and ready for the best mani ever. The only downside to this is its price -13€. It isn't the cheapest option out there but it is so good that I am ready to spend a little bit more on it than usual.Moving on to colors, I had a hard time picking one up. I know that Zoya and Kure have some good offerings, but they're pretty hard to get hold of in Belgium, so that was pretty much out of the equation.
So, of course, I turned to one of my favorite natural drugstore brand Une. They recently came up with a new nail range that includes a couple of base & top coats. I personally tried the smart nail care and it is now part of my mani & pedi routine. This white based base fills any ridges and provides the perfect base for your color of choice. The fact that it's slightly white is great as it allows your nail polish color to appear deeper and brighter. Talking about colors, I love their shade C03, a muted vieux rose that makes my nails look longer while staying relatively neutral.My last color pick comes from Organic Glam, a nail polish brand that I discovered while shopping in the Organic Pharmacy on Great Malbourough street in London. This bottle contains the shade 'gold' and delivers the perfect bronzy gold for your fingertips. It applies quite sheer so you'll need a couple of coats, but it delivers this beautiful iridescent color that looks especially flattering on pale skin, score!
Do you have any great nail polish recommandations for me? Make sure to pop them in the comments section below!