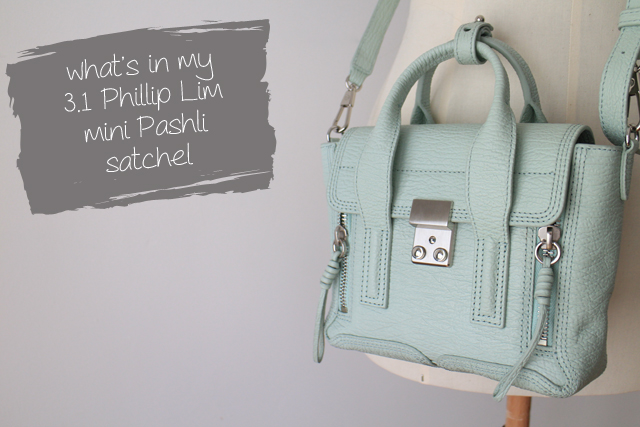 If you follow me on instagram, you might have already met the latest addition to my bag collection: this gorgeous 3.1 Phillip Lim mini Pashli satchel.Since it's a smaller bag than what I usually carry around with me, I decided to do an updated 'what's in my bag' post as I had to adjust its content!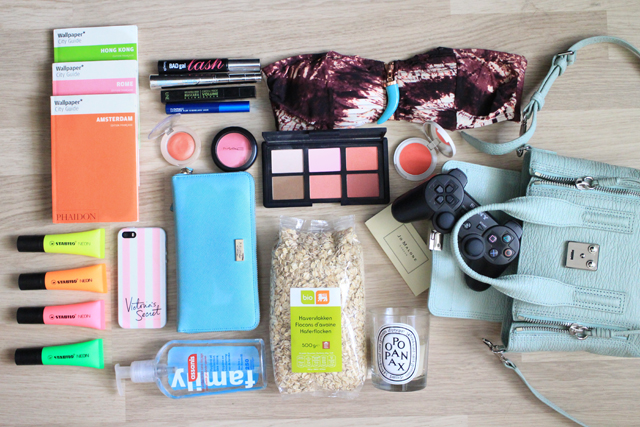 From left to right:
Wallpaper city guides: these little colorful books are great compact guides of all the coolest restaurants, monuments & shops to visit in any given city. I like to carry the Hong Kong, Rome & Amsterdam editions with me in case we decide to go on a spontaneous road trip.
Mascaras: I am a mascara junkie and I always have a couple open in the same time. I like to carry a small selection in my bag (I stick to the bare minimum) to retouch my makeup on the go.
H&M bikini top: since spring has sprung in Belgium, I like to keep a bikini top on me at all times. This way, if I ever end up having drinks on a terrace, I can quickly change into my bikini top and work on my tan.
Blushes: as I am quite pale, I like to apply blush to add a bit of color to my face. I like to carry my Nars one night stand palette with me but I often throw in another blush or two just in case.
Stabilo highlighters: although these look like lip glosses, they are actually highlighters. I don't carry any notebook with me as this bag is pretty compact but I like to be able to highlight things on the go like a restaurant menu or a telephone number on a business card.
iPhone 5S: this is a pretty obvious one. I am always checking my mails, stalking instagram or playing 2048 when I am at dinner with friends.
Kate Spade wallet: another obvious item that I always have on me. It carries everything I need on an everyday basis, from vaccination cards to receipts from my last trip to London.
Assanis hand sanitizer: I always carry some hand sanitizer with me, but since I have had the flu last month, I try to use it every 15 minutes or so. This actual bottle last me about 4 days which I think is great!
Delhaize organic oats: since I try to eat pretty healthy, I always have some organic oats in my purse just in case I get hungry.
Dyptique Opopanax candle: I am very picking about the scents that I like so if I end up in a friend's home, I like to bring my own candle to feel more comfortable & cozy.
Jo Malone matches: not only are these practical to light up my candle on the go, they're also great if I ever get stuck in the dark.
Sony PS3 controller: something you might not know about me is that I love video games. Since I don't really have time to play it when I am at home, I always keep a controller around for impromptu game sessions.
And that's it! As you can see, I try to stick with the very minimum and I think I did a pretty good job with it!I hope that all of you guys have a great April's fool day!See you tomorrow!