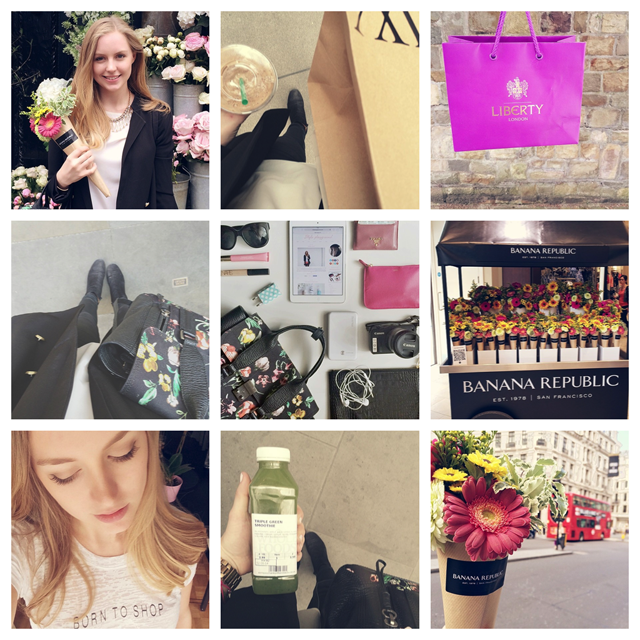 Last Saturday, something unusual happened. My alarm went off at 5.30AM and I got off my bed without slapping anyone and, even weirder, I had a big smile on my face… The reason behind that is simple: I was off to London for the day to celebrate the fifth anniversary of Regent Tweet, a social media shopping experience organized for bloggers each year in Regent Street.
After a well needed shower, I quickly got dressed in my favorite H&M blazer, slapped some makeup on my face (the Laura Mercier silk creme foundation was a saviour and lasted all day long, and trust me, it was a long one) and rushed out to door with a soy latte in my hand. Eurostar was kind enough to treat us to Business premier tickets, which means that I got to stock up on magazines in their VIP lounge in Brussels and enjoyed a power breakfast on the train… I've known worse! A good chat with fellow bloggers later, I was in my favorite city in Europe, ready for a fun (and sunny!) day of shopping. A quick tube journey later and I was in Regent Street, one of the best shopping streets in the world. With shops like Anthropologie, J Crew and Liberty, my heart was already skipping beats while my two feet were going too fast for me. Needless to say that the day went on perfectly, with special treats waiting for us at every corner and great surprises along the way. I walked up and down Regent Street like a maniac all day long, with bigger shopping bags each time… But don't worry, a haul video is on its way to you! At 7PM it was already time to say bye-bye to London and to board our Eurostar back home. I came back home and literally passed out in my bed, but not without a huge smile on my face…
You can check out my previous reports of the event, here and here.
Big thank you to Eurostar and everyone over at Regent Street & Sister PR for making this amazing experience happen every year!