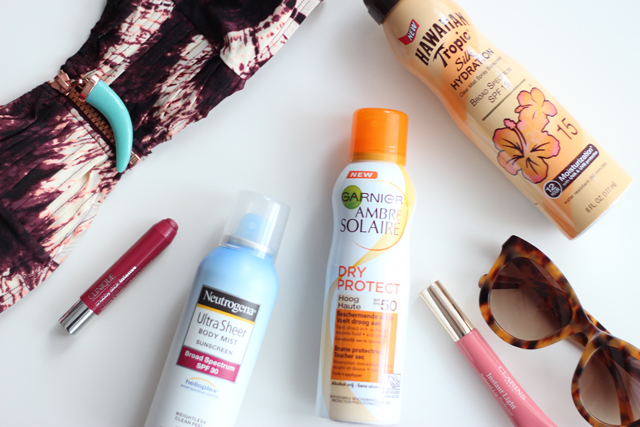 Since the weather forecast looks incredible for this (long!) weekend, I thought that I would share my top sunscreen sprays with you. Ready?
Now sunscreens in the form of a body mist isn't something that I was very familiar with until last summer. While browsing CVS alleys in Chicago, I spotted the Neutrogena 'ultra sheer body mist SPF30' and threw it in my basket. And it ended up being one of the best purchases that I made during the trip! We were out in the sun pretty much all day long and I didn't want to bother with a traditional sunscreen, so this little guy found its way to my handbag and I found myself applying it through the day. The product has a very fine mist that goes on smoothly on the skin and while I usually rub it in quickly, you can totally skip this step. It didn't leave a white cast or a funky smell on my skin at all and didn't stain any of my clothes. Best of all? I didn't sunburn at all.I loved it so much, that I decided to head back to CVS to get a new one with a lower SPF protection. I didn't find the one I wanted from Neutrogena, so I picked up the Hawaiian tropic 'silk hydration SPF15' and I immediately fell in love with it. It has the same consistency as the Neutrogena one but the smell of this is just incredible! Think sun, beach and cocktails and you'll get an idea… I find myself reaching for this one whenever I am out for a run around my neighborhood or out for drinks on a terrasse.The latest addition to the stash is the Garnier 'Ambre solaire dry protect SPF50'*. While I haven't fully tested this one yet, I used it a couple of times while sunbathing in our garden, and it is as good as the others. The finish of it is a bit whiter than the rest, but there's nothing terrible going on here. With a SPF of 50, I'll make sure to pop this one into my suitcase for Florida!
Do you guys use sunscreen sprays?