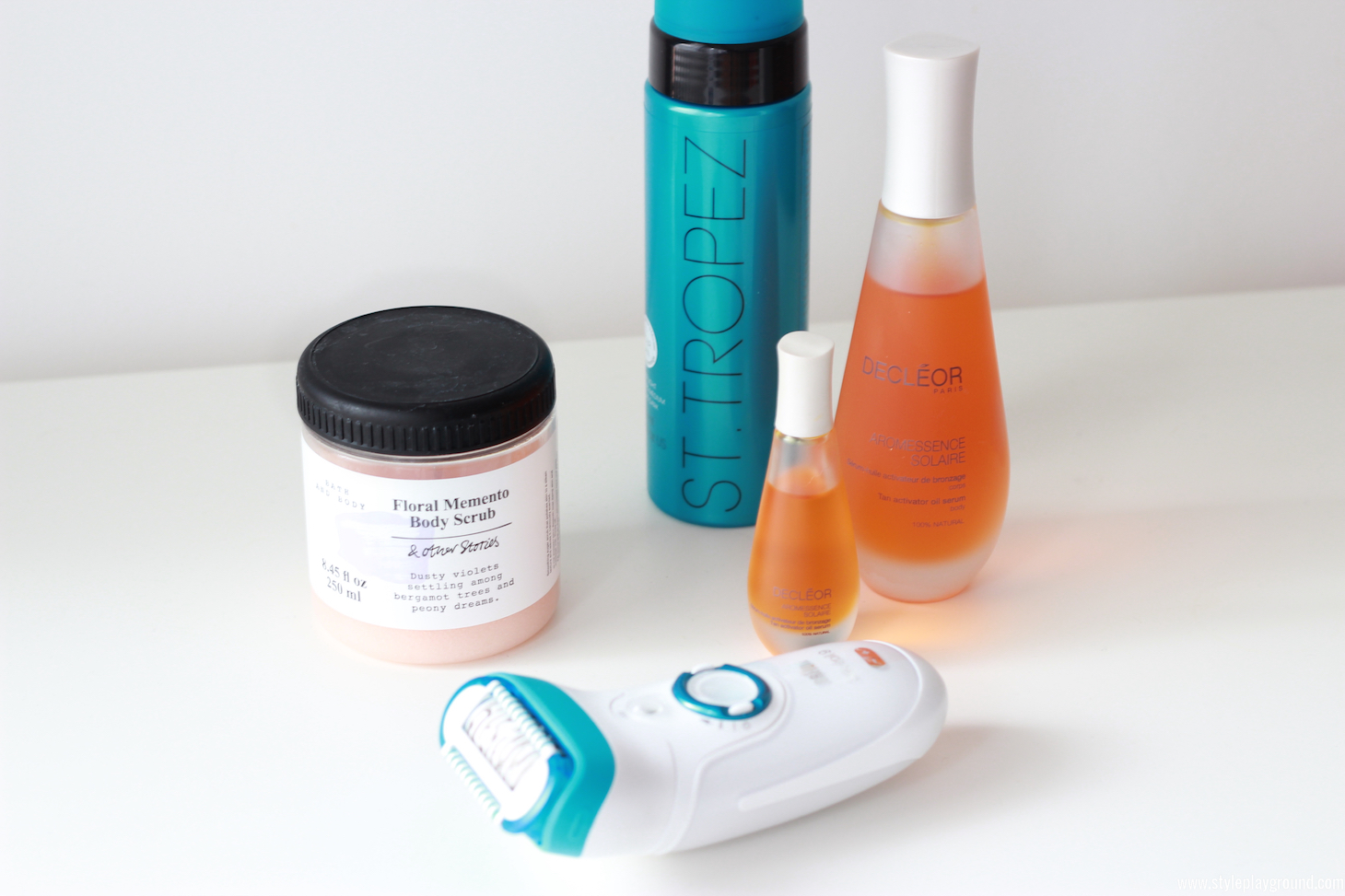 We're fast approaching the end of summer and I really can't wrap my mind around it. While I truly appreciate all seasons, summer is amongst my favorite times of the year. The sun is shinning, you always have an excuse to lounge in the backyard and enjoy drinks with friends. But it's also the time where you wear shorts, skirts and dresses, which means that your body is much more exposed than during the rest of the year. So, to keep my skin looking its best, here are all my current favorites.
The Floral memento body scrub from & other stories is simply glorious. The scent is what drawn me to this in the first place as I  I loved the hand wash so much already. This stuff is simply the best body scrub ever. Its melting consistency is so soft against the skin and leaves it looking plumped and super smooth. I use it a couple of times a week, but especially before shaving or applying fake tan. And since we're talking about fake tan, let me tell you that the St Tropez express bronzing mousse is the best thing that happened to my pale limbs this season. This super easy to apply product gives you a beautiful golden tan within 3 hours all while looking super natural. I always apply it with a mitt and I never get any streaks or patches. It doesn't leave a nasty smell behind and I find that it last a good 5 to 6 days before fading off naturally.
When I haven't been using a fake tan, I've been reaching for the Decleor Aromessence solaire for body* & face* over anything. These serum/oil hybrids are designed to maintain and enhance your natural tan while keeping your skin super moisturised. And although these are quite sticky on the skin, I find that they really make a difference. My tan is very uniform and last a lot better than previous years and I am very happy with them. The only thing is to be careful not to stain your clothes or sheets with these since they're orange. Just apply less product or wait a couple of minutes before getting dressed to avoid any accidents.
Finally, the last thing that I am going to talk about is something that I never thought that I would enjoy & use. The Braun silk epil 9* is the latest arrival on my bathroom shelf and it wasn't love at first sight. Now, as far as I can remember, I've always hated epilators and wax. I never understood why I should suffer to remove hairs while I can do it painlessly with a razor. But after a girl chat with my besties over brunch, I decided to give the epilator try and… I am hooked. Of course, it hurts like hell, especially the first couple of times, but the fact that I don"t need to worry about it for at least 3 weeks makes the whole process kind of worth it. But the real thing that got me addicted is this new epilator from Braun. It is super efficient, which makes it less painful since I don't have to go over the same area multiple times. It's cordless, charges very quickly and it is so easy to use. The little LED light is perfect to spot any missed areas and you can use it dry or wet, which is amazing to reduce pain a little bit! I've been slowing transitioning from my usual razor to this epilator and I honestly love it!
Have you tried anything great this summer? Let me know in the comments!