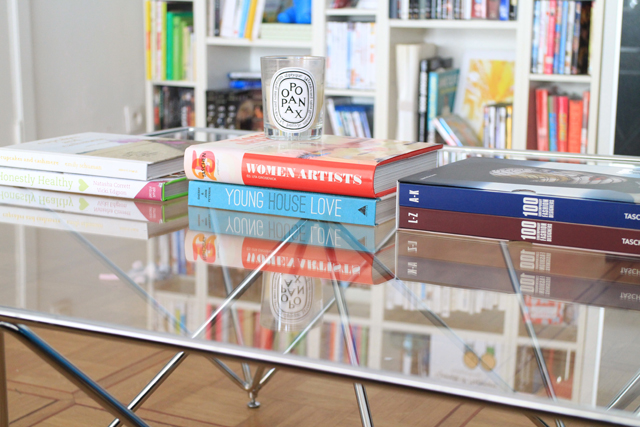 When I was living in Paris, my dining room table served as my dinning space, my working space and as a decorative space as well. Beside its multiple uses and my obvious lack of space, I always had a pile of beautiful books stacked in one corner with a candle on top of it. Nowadays, it seems that nothing has changed very much…Coffee tables are one of my favorite things in the world (is that weird?) and since it inspires me so much, I decided to dedicate a whole little series of posts about it on the blog, starting today with my favorite coffee table books.
I love to display a selection of books that inspire me on my table. Whether I enjoy a cup of ginger & lemon tea (my favorite is from Teapigs!) or simply need a little motivational kick, I always reach for these books. The key to a great selection is to stick to image heavy books on subjects that you love. I've divided my selection into 4 big categories to make sure that you'll all find something you'd like!
For the foodie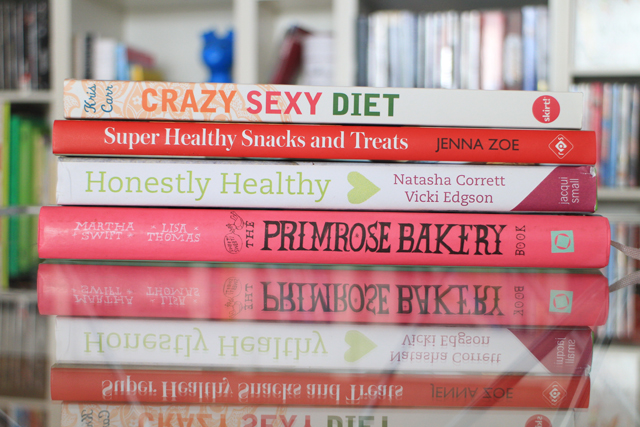 I can't seem to be able to pass a bookstore without stopping by their health and food section. Whether I am looking for something specific or just want to see what's new, I always leave with a new book to flick through… My current favorites include Crazy Sexy Diet: Eat Your Veggies, Ignite Your Spark, and Live Like You Mean It, an enlightening book about a gorgeous lady who decided to fight her cancer with superfoods and a healthy lifestyle. So inspiring. My next two favorites are Super Healthy Snacks and Treats: More Than 60 Easy Recipes for Energizing, & Honestly Healthy: Eat with your body in mind, the alkaline way, two beautiful books packed with mouth watering photos and super healthy recipes. The last one,The Primrose Bakery Book, is full of delicious recipes to satisfy any sugar cravings. From flourless chocolate cake to simple cupcakes, I always reach for this one when I have friends over.
For the fashion enthusiast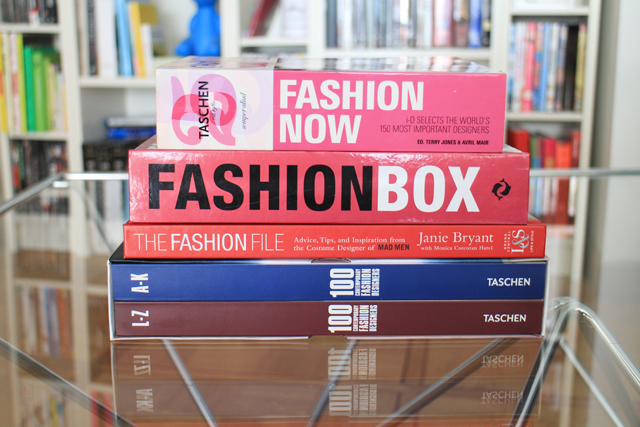 It's no secret to anyone that I am passionate about fashion. Over the years, I've collected quite a few fashion books but these are my current picks for an impromptu read.Fashion Now: i-D Selects the World's 150 Most Important Designers is a wonderful ressource on big designers. Fashion Box is a great book that focuses on 16 items of clothing and the people that made it iconic, just like Marilyn Monroe and her blue jeans or Audrey Hepburn and her little black dress. The Fashion File: Advice, Tips, and Inspiration from the Costume Designer of Mad Men is a book written by the costume director of Mad Men, so you know this one is going to be good. From the research behind every character wardrobe to tips on sourcing vintage items, this book is a must have if you love the TV show. Last but certainly not least, 100 Contemporary Fashion Designers is the latest addition to my stash. This two volumes book focuses on 100 key designers that we read about eveyday. With a short bio, a good amount of photos and a couple of questions, you'll learn everything there is to know about iconic designers like Miuccia Prada or Giorgio Armani.
For the artist in you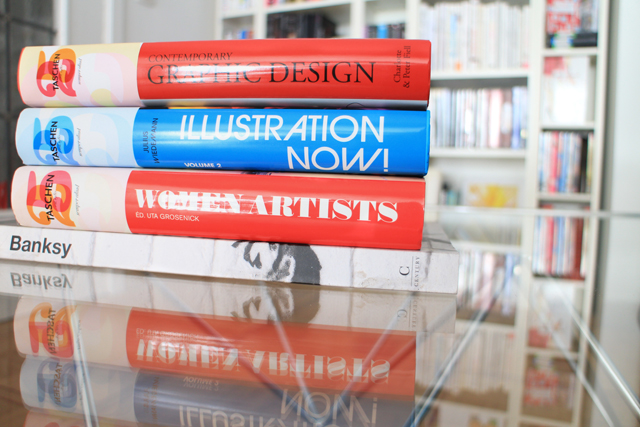 To me, Taschen does some of the best coffee table books ever. Not only are they appealing, these are packed with facts and photos that will make it nearly impossible to put it back quickly on the table. My favorites include Contemporary Graphic Design, Illustration Now: Volume 2 (25) & Women Artists in the 20th and 21st Century. Finally, another book that I always go back to is Wall and Piece. These pages are full of Banksy's work worldwide and leave me day dreaming for hours.
Simply enjoyable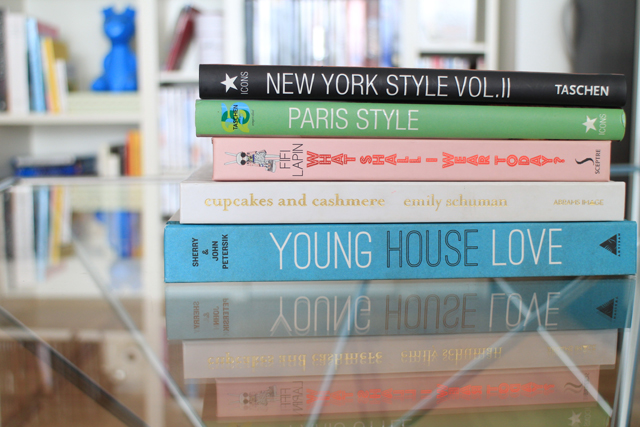 The Icons collection from Taschen has some of the best and cheapest images packed books series ever. I love to flick through New York Style, Vol. 2 and Paris Styleas it always give me new decor ideas.Last but not least, some of my favorite reads are from bloggers turned published authors. I like their blogs, and I love their books. From the great DIY ideas from Young House Love: 243 Ways to Paint, Craft, Update & Show Your Home Some Loveto the fun fashion drawings of What Shall I Wear Today?: Style Secrets of a Furry Fashionista & the wonderful entertaining ideas of Cupcakes and Cashmere: A Guide for Defining Your Style, Reinventing Your Space, and Entertaining with Ease, these are always around.
What books do you like to have on your coffee table? Let me know in the comments, I am always on the hunt for new books and I always love your recommandations guys!