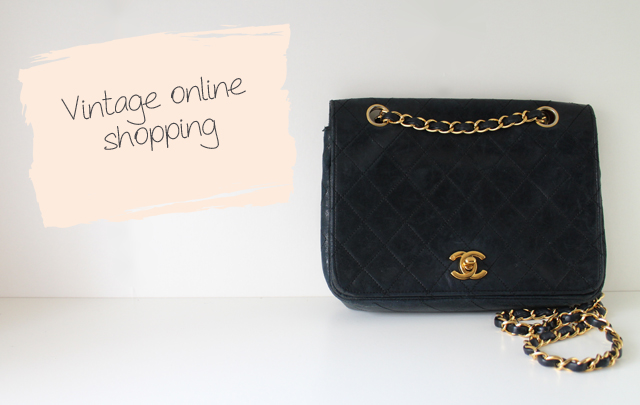 You know me, I am all about online shopping. Whether I am looking for new home goods or simply want a new shade of nail polish, I do almost all my shopping online these days. One of my favorite thing to shop online for is vintage. From 20's sequins dresses to second hand Balenciaga bags, I think that the web is a unique ressource.In today's post, I am going to share with you my favorite websites for vintage lovers like me.
EbayThe first one is an obvious one, but honestly, nothing beats Ebay. I know that some people are a bit nervous about using it, but you can read all my tips for safe Ebay shopping here. Also, a lot of people don't know that Ebay isn't just about auction; some sellers allow customers to buy directly at a fixed price.Look for: sellers specialised in vintage, specific items.
Vestiaire collectiveI have been a fan of Vestiaire Collective for years and years now. I ordered quite a bit from the site over the years, from Isabel Marant sneakers to Alexander Wang t-shirts. The great thing is that their team will check your order before sending it to you. If there's any kind of trouble with it (authenticity, size, stains,…) they'll notify you by e-mail. Look for: second hand designers goods, vintage section.
Beyond RetroBeyond Retro is one of my favorite places to visit when I am in the U.K. Their shops are usually big and filled with fun vintage garments that take you back in time. Luckily for us, they now have an online shop as well!Look for: fun 80's sweaters, unique bags.
Adored vintageAdored vintage is certainly the prettiest vintage shop ever. The average price is a bit higher than in other shops, but the quality of the items is outstanding. Beautiful silk négligés rub shoulders with velvet dresses and make you want to update your whole closet. Look for: bridal dresses, delicate sleepwear.
What goes around comes aroundThis New York City store that now ships to more than 100 countries worldwide, has an incredible collection of designers accessories. While it's not the best place for bargain shopping, chances are that you will find that limited edition Chanel purse you've been eyeing for months.Look for: it bags, Hermès scarves.